CHRISTIE'S
2017 TOP FAVORITE READS
Another year has come and (almost) passed and you know what that means! Time to reminisce on all of the amazing books I've read this year, and pick my ultimate must-reads for you all. In these books, there are pages upon pages of laughter, tears, heartache, and hope. Inspiration, empowerment, and entertainment. I hope you'll all give at least one of these a chance, even if it's stepping outside your reading comfort zone! This is often where I find the most pleasant surprises. And now, without further ado...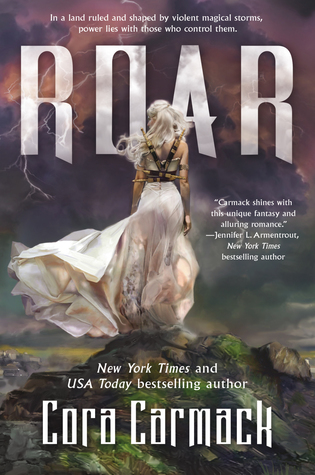 Series: Stormheart #1
Genre: Fantasy, YA
Release date: June 13, 2017
Synopsis:
In a land ruled and shaped by violent magical storms, power lies with those who control them.
Aurora Pavan comes from one of the oldest Stormling families in existence. Long ago, the ungifted pledged fealty and service to her family in exchange for safe haven, and a kingdom was carved out from the wildlands and sustained by magic capable of repelling the world's deadliest foes. As the sole heir of Pavan, Aurora's been groomed to be the perfect queen. She's intelligent and brave and honorable. But she's yet to show any trace of the magic she'll need to protect her people.
To keep her secret and save her crown, Aurora's mother arranges for her to marry a dark and brooding Stormling prince from another kingdom. At first, the prince seems like the perfect solution to all her problems. He'll guarantee her spot as the next queen and be the champion her people need to remain safe. But the more secrets Aurora uncovers about him, the more a future with him frightens her. When she dons a disguise and sneaks out of the palace one night to spy on him, she stumbles upon a black market dealing in the very thing she lacks—storm magic. And the people selling it? They're not Stormlings. They're storm hunters.
Legend says that her ancestors first gained their magic by facing a storm and stealing part of its essence. And when a handsome young storm hunter reveals he was born without magic, but possesses it now, Aurora realizes there's a third option for her future besides ruin or marriage.
She might not have magic now, but she can steal it if she's brave enough.
Challenge a tempest. Survive it. And you become its master.
Goodreads
Sometimes she was Aurora. Confident. Clever. Cultured. Sometimes she was Rora. Afraid. Alone. Ashamed. And more and more, she was Roar— bold, brash, and increasingly baffled by the situation in which she found herself. And sometimes she was none of them, lost and adrift somewhere in between, like the wildlands between Stormling cities.
MISTS OF THE SERENGETI
by Leylah Attar
Series: Standalone
Genre: Contemporary
Release date: January 31, 2017


Synopsis:
Once in Africa, I kissed a king...
"And just like that, in an old red barn at the foothills of Mount Kilimanjaro, I discovered the elusive magic I had only ever glimpsed between the pages of great love stories. It fluttered around me like a newborn butterfly and settled in a corner of my heart. I held my breath, afraid to exhale for fear it would slip out, never to be found again."


When a bomb explodes in a mall in East Africa, its aftershocks send two strangers on a collision course that neither one sees coming.


Jack Warden, a divorced coffee farmer in Tanzania, loses his only daughter. An ocean away, in the English countryside, Rodel Emerson loses her only sibling.


Two ordinary people, bound by a tragic afternoon, set out to achieve the extraordinary, as they make three stops to rescue three children across the vast plains of the Serengeti—children who are worth more dead than alive.


But even if they beat the odds, another challenge looms at the end of the line. Can they survive yet another loss—this time of a love that's bound to slip through their fingers, like the mists that dissipate in the light of the sun?


"Sometimes you come across a rainbow story—one that spans your heart. You might not be able to grasp it or hold on to it, but you can never be sorry for the color and magic it brought."


A blend of romance and women's fiction, Mists of The Serengeti is inspired by true events and contains emotional triggers, including the death of a child. Not recommended for sensitive readers. Standalone, contemporary fiction.
Amazon | B&N | iTunes | Kobo
Goodreads
This is what it looks like when you wander somewhere between the sand and stardust, and meet a piece of yourself in someone else.
Series: Winston Brothers #4
Genre: Contemporary
Release date: August 1, 2017
Synopsis:
All's fair in love and auto maintenance.
Beau Winston is the nicest, most accommodating guy in the world. Usually.
Handsome as the devil and twice as charismatic, Beau lives a charmed life as everyone's favorite Winston Brother. But since his twin decided to leave town, and his other brother hired a stunning human-porcupine hybrid as a replacement mechanic for their auto shop, Beau Winston's charmed life has gone to hell in a handbasket.
Shelly Sullivan is not nice and is never accommodating. Ever.
She mumbles to herself, but won't respond when asked a question. She glares at everyone, especially babies. She won't shake hands with or touch another person, but has no problems cuddling with a dog. And her damn parrot speaks only in curse words.
Beau wants her gone. He wants her out of his auto shop, out of Tennessee, and out of his life.
The only problem is, learning why this porcupine wears her coat of spikes opens a Pandora's box of complexity—exquisite, tempting, heartbreaking complexity—and Beau Winston soon discovers being nice and accommodating might mean missing out on what matters most.
Purchase
Amazon AU | Amazon CA
Goodreads
Her fear wasn't beautiful. But her strength, her resolve,
her brilliance and goodness were.
She wouldn't be who she was now without her struggles.
Life had shaped her, her fear had formed her,
and I wouldn't have her any differently.
Genre:
Historical Fiction
Release date: October 3, 2017
Synopsis:
An incredible story of dangerous and hidden friendships, ambition, betrayal, and sacrifice.
The year is 1739. Eliza Lucas is sixteen years old when her father leaves her in charge of their family's three plantations in rural South Carolina and then proceeds to bleed the estates dry in pursuit of his military ambitions. Tensions with the British, and with the Spanish in Florida, just a short way down the coast, are rising, and slaves are starting to become restless. Her mother wants nothing more than for their South Carolina endeavor to fail so they can go back to England. Soon her family is in danger of losing everything.
Upon hearing how much the French pay for indigo dye, Eliza believes it's the key to their salvation. But everyone tells her it's impossible, and no one will share the secret to making it. Thwarted at nearly every turn, even by her own family, Eliza finds that her only allies are an aging horticulturalist, an older and married gentleman lawyer, and a slave with whom she strikes a dangerous deal: teach her the intricate thousand-year-old secret process of making indigo dye and in return -- against the laws of the day -- she will teach the slaves to read.
So begins an incredible story of love, dangerous and hidden friendships, ambition, betrayal, and sacrifice.
Based on historical documents, including Eliza's letters, this is a historical fiction account of how a teenage girl produced indigo dye, which became one of the largest exports out of South Carolina, an export that laid the foundation for the incredible wealth of several Southern families who still live on today. Although largely overlooked by historians, the accomplishments of Eliza Lucas influenced the course of US history. When she passed away in 1793, President George Washington served as a pallbearer at her funeral.
This book is set between 1739 and 1744, with romance, intrigue, forbidden friendships, and political and financial threats weaving together to form the story of a remarkable young woman whose actions were before their time: the story of the indigo girl.
Purchase
Genre:
Historical Fiction
Release date: June 6, 2017
In an enthralling new historical novel from national bestselling author Kate Quinn, two women—a female spy recruited to the real-life Alice Network in France during World War I and an unconventional American socialite searching for her cousin in 1947—are brought together in a mesmerizing story of courage and redemption.
1947. In the chaotic aftermath of World War II, American college girl Charlie St. Clair is pregnant, unmarried, and on the verge of being thrown out of her very proper family. She's also nursing a desperate hope that her beloved cousin Rose, who disappeared in Nazi-occupied France during the war, might still be alive. So when Charlie's parents banish her to Europe to have her "little problem" taken care of, Charlie breaks free and heads to London, determined to find out what happened to the cousin she loves like a sister.
1915. A year into the Great War, Eve Gardiner burns to join the fight against the Germans and unexpectedly gets her chance when she's recruited to work as a spy. Sent into enemy-occupied France, she's trained by the mesmerizing Lili, the "Queen of Spies", who manages a vast network of secret agents right under the enemy's nose.
Thirty years later, haunted by the betrayal that ultimately tore apart the Alice Network, Eve spends her days drunk and secluded in her crumbling London house. Until a young American barges in uttering a name Eve hasn't heard in decades, and launches them both on a mission to find the truth ...no matter where it leads.
She imagined loving him
would feel like falling in love with darkness,
frightening and consuming
yet utterly beautiful when the stars came out.
When assassins ambush her best friend, the crown prince, Rielle Dardenne risks everything to save him, exposing her ability to perform all seven kinds of elemental magic. The only people who should possess this extraordinary power are a pair of prophesied queens: a queen of light and salvation and a queen of blood and destruction. To prove she is the Sun Queen, Rielle must endure seven trials to test her magic. If she fails, she will be executed...unless the trials kill her first.
A thousand years later, the legend of Queen Rielle is a mere fairy tale to bounty hunter Eliana Ferracora. When the Undying Empire conquered her kingdom, she embraced violence to keep her family alive. Now, she believes herself untouchable--until her mother vanishes without a trace, along with countless other women in their city. To find her, Eliana joins a rebel captain on a dangerous mission and discovers that the evil at the heart of the empire is more terrible than she ever imagined.
As Rielle and Eliana fight in a cosmic war that spans millennia, their stories intersect, and the shocking connections between them ultimately determine the fate of their world--and of each other.
Belief doesn't keep you alive.
But given time, it can win wars.
Criminal prodigy Kaz Brekker has been offered wealth beyond his wildest dreams. But to claim it, he'll have to pull off a seemingly impossible heist:
Break into the notorious Ice Court
(a military stronghold that has never been breached)
Retrieve a hostage
(who could unleash magical havoc on the world)
Survive long enough to collect his reward
(and spend it)
Kaz needs a crew desperate enough to take on this suicide mission and dangerous enough to get the job done - and he knows exactly who: six of the deadliest outcasts the city has to offer. Together, they just might be unstoppable - if they don't kill each other first.
I will have you without armor, Kaz Brekker. Or I will not have you at all.
Welcome to the world of the Grisha.
After pulling off a seemingly impossible heist in the notorious Ice Court, criminal prodigy Kaz Brekker feels unstoppable. But life is about to take a dangerous turn—and with friends who are among the deadliest outcasts in Ketterdam city, Kaz is going to need more than luck to survive in this unforgiving underworld.
I would have come for you.
And if I couldn't walk, I'd crawl to you,
and no matter how broken we were,
we'd fight our way out together-knives drawn,
pistols blazing. Because that's what we do.
We never stop fighting.
There's no such thing as safe in a city at war, a city overrun with monsters. In this dark urban fantasy from author Victoria Schwab, a young woman and a young man must choose whether to become heroes or villains—and friends or enemies—with the future of their home at stake. The first of two books.
Kate Harker and August Flynn are the heirs to a divided city—a city where the violence has begun to breed actual monsters. All Kate wants is to be as ruthless as her father, who lets the monsters roam free and makes the humans pay for his protection. All August wants is to be human, as good-hearted as his own father, to play a bigger role in protecting the innocent—but he's one of the monsters. One who can steal a soul with a simple strain of music. When the chance arises to keep an eye on Kate, who's just been kicked out of her sixth boarding school and returned home, August jumps at it. But Kate discovers August's secret, and after a failed assassination attempt the pair must flee for their lives.
Purchase
It was a cruel trick of the universe,
thought August,
that he only felt human after doing something monstrous.
Our Dark Duet Synopsis:
THE WORLD IS BREAKING. AND SO ARE THEY.
KATE HARKER isn't afraid of monsters. She hunts them. And she's good at it.
AUGUST FLYNN once yearned to be human. He has a part to play. And he will play it, no matter the cost.
THE WAR HAS BEGUN.
THE MONSTERS ARE WINNING.
Kate will have to return to Verity. August will have to let her back in. And a new monster is waiting—one that feeds on chaos and brings out its victims' inner demons.
Which will be harder to conquer: the monsters they face, or the monsters within?
Purchase
People were messy.
They were defined not only by what they'd done,
but by what they would have done,
under different circumstances,
molded as much by their regrets as their actions,
choices they stood by and those they wished they could undo.
Of course, there was no going back -
time only moved forward -
but people could change.
For worse. And for better.
It wasn't easy. The world was complicated.
Life was hard. And so often, living hurt.
So make it worth the pain.