Thrilling, witty, and oh-so-sexy, Lynsay Sands' Argeneau novel brings together a beautiful Immortal and the man who is her destiny…
For someone who's been around for over a hundred and forty years, immortal Elspeth Argeneau hasn't done a whole lot of living. Now that she's moved away from her controlling mother, she's tracking down rogue vampires and enjoying some overdue freedom. A fling would be fun. A life mate can wait. Yet to Elspeth's surprise, her landlady's hot grandson checks both boxes.
Wyatt fell instantly in love with Elspeth four years ago. He's stunned to run into her again, especially as she has no memory of him. Then again, there are a lot of things about Elspeth that don't make sense, like the miraculous speed with which her wounds heal. And the chemistry that transforms every touch into an explosion of desire. But with mysterious "accidents" besieging Elspeth, the ex-Special Forces soldier appoints himself her bodyguard. But time is running out to uncover the truth about her enemies—and rediscover the man determined to love her for eternity.
Each book in this series can be read as a standalone story.
About the Book
Twice Bitten
by Lynsay Sands
Series: Argeneau #27
Genre: Adult Paranormal Romance
Publisher: Avon Books
Publication Date: March 27, 2018
EXCERPT:
"Wyatt?" she said, surprised at how breathless her voice was.
She was panting, Elspeth realized. The man hadn't even touched her and she was panting like an overheated dog . . . or a horny one.
"I'm sorry," Wyatt growled, and turned away to quickly search the room, and then spotting the bath towel over the towel rack, he grabbed it and turned back to offer it to her.
Elspeth reached for it, but froze when their hands touched. For a minute, they just remained like that, both silent and still as shockwaves rolled through them, and then Wyatt cleared his throat. His voice was husky as he said, "I know you're not ready for a life mate, and I-"
That was as far as he got before Elspeth finished taking the towel from him, let it drop to the floor, and reached for him instead.



Tour Wide Giveaway
To celebrate the release of TWICE BITTEN, we're giving away five paperback copies of A QUICK BITE, the first installment in the Argeneau series by Lynsay Sands!
GIVEAWAY TERMS & CONDITIONS: Open to US shipping addresses only. Five winners will each receive a paperback copy of A Quick Bite by Lynsay Sands. This giveaway is administered by Pure Textuality PR on behalf of Avon Romance. Giveaway ends 4/6/2018 @ 11:59pm EST. Avon Romance will send the winning copies out to the winner directly. Limit one entry per reader and mailing address. Duplicates will be deleted.


About Lynsay Sands
LYNSAY SANDS is the nationally bestselling author of the Argeneau/Rogue Hunter vampire series, as well as numerous historicals and anthologies. She's been writing stories since grade school and considers herself incredibly lucky to be able to make a career out of it. Her hope is that readers can get away from their everyday stress through her stories, and if there's occasional uncontrollable fits of laughter, that's just a big bonus. Please visit her on the web at
http://www.lynsaysands.net
.
Author Links
This promotion is brought to you by Pure Textuality PR.

REVIEW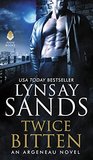 Twice Bitten
by
Lynsay Sands
My rating:
4 of 5 stars
When I first started exploring the paranormal genre years ago, Lynsay Sands' Argeneau series is one of the first I discovered. (We're on book twenty seven, guys. This series is no joke.) You would think after all of this time taking a hiatus from the long continuing storyline, there would be some confusion. I admit, I was wondering if that issue would arise here. If you're like me and want to return to the Argeneau world, don't hesitate. Ms. Sands did a wonderful job integrating me back into recent events, and refreshing me about her immortals without affecting my interest in the central plot.
I liked the fact that the immortal in this scenario was the female. It's not exactly uncommon, but more often, it's the other way around. Elspeth Argeneau was strong, level-headed, and intelligent with a sense of humor to boot. She's a heroine that I really enjoyed getting to know. Over hundred and forty years old, she's considered young in comparison to the other ancient family members like her mother. But even in her "youth" she's
way
past the time when she should be leaving the nest and struggling for her own independence. That's exactly what she did when she moved from England to Canada...or perhaps a more apt description would be
escaped
to Canada.
Elspeth has been nothing short of enslaved by her mother for more than a century. Think about the most controlling and overbearing parent you know, then multiply that by a million. Add mind control, and incredible power and influence? You have Martine. After tragically losing her husband and children centuries before, she took the role of protective mother to a whole new, scary level.
Heaving a sigh, Elspeth shook her head. Honestly, having a mother who could read your mind was a real pain. It made for extremely well-behaved and miserable children.
Her free will had been taken away for years, her ability to choose her own path. Just when she was attempting to spread her wings and finally fly, her mother shows up with the intent to drag her home. You'd better believe that she wasn't just going to fall in line and go meekly. Elspeth sets out to outsmart her, and hold onto her new life and freedom.
Wyatt MacKay is the landlady's grandson who's visiting her in the downstairs apartment. When Elspeth comes face to face with the ex-special forces man for the first time, she finds him attractive, but had more important matters weighing on her mind. The same couldn't be said for Wyatt, who seemed to be at a loss for words and struggling to contain his shock. Searching for something in her eyes that doesn't seem to be there. There's more to this brooding man than meets the eye...but then again she has a few secrets of her own. I loved Wyatt for her almost immediately. He had a calmness, and a strong and capable presence about him without being "alpha" or bossy. His one weakness was the power this woman had to leave him breathless without even trying.
"I dated a lot of women before you. It was a different girl in every port kind of a deal. But none of them even touched my heart, while you flat-out owned it before I even kissed you,"
Elspeth struggles to come to terms with the fact that her independence could be threatened in more ways than one. She's not in any way, shape or form looking for a life mate, but that doesn't stop fate from intervening when we least expect it. On top of that, mysterious "accidents" keep piling up, and the tension is mounting with the rogue hunters who are already dealing with their own mess. With her extensive family and a very protective Wyatt standing as bodyguard, they race to find the person responsible as the attacks gain momentum. I enjoyed this little mystery, and the moments of suspense thrown in, though I could have perhaps done with a little bit less of them. The book dragged a shade in the middle, and I feel like the emotional punch could have been stronger between the main couple. But overall, I found
Twice Bitten
to be quite the refreshing and entertaining read.
If you're looking for a paranormal book that has plenty of action with a little mystery thrown in, pick this one up. It could be just what you're in the mood for. I'll be keeping my eye on the series in the hopes that G.G. eventually gets his own full length story!
FOLLOW SMOKIN HOT BOOK BLOG ON: