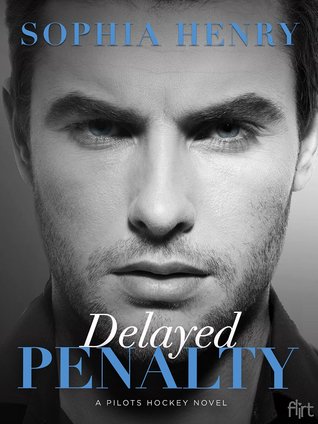 Title: Delayed Penalty
Series: Pilots Hockey #1
Author: Sophia Henry
Release Date: September 1st, 2015
Rating: 3 stars
Cliffhanger:. no


She closed her heart long ago. He just wants to open her mind. For fans of Toni Aleo and Sawyer Bennett, the debut of Sophia Henry's red-hot Detroit Pilots series introduces a hockey team full of complicated men who fight for love.
Auden Berezin is used to losing people: her father, her mother, her first love. Now, just when she believes those childhood wounds are finally healing, she loses something else: the soccer scholarship that was her ticket to college. Scrambling to earn tuition money, she's relieved to find a gig translating for a Russian minor-league hockey player—until she realizes that he's the same dangerously sexy jerk who propositioned her at the bar the night before.
Equal parts muscle and scar tissue, Aleksandr Varenkov knows about trauma. Maybe that's what draws him to Auden. He also lost his family too young, and he channeled the pain into his passions: first hockey, then vodka and women. But all that seems to just melt away the instant he kisses Auden and feels a jolt of desire as sudden and surprising as a hard check on the ice.
After everything she's been through, Auden can't bring herself to trust any man, let alone a hot-headed puck jockey with a bad reputation. Aleksandr just hopes she'll give him a chance—long enough to prove he's finally met the one who makes him want to change.
[ yes (hide spoiler)]
In nutshell, Delayed Penalty is a story about Auden, college student who was raised by her Russian grandparents and Alexandr - a Russian hockey player. When Alexandr comes to play for one of the Canadian's hockey teams, Auden gets a job as his translator.
I've been trying to write my review for Delayed Penalty for a very long time. Every time I sat down and started writing I couldn't get into it. I stared at a blank page and nothing worth sharing was coming to my mind. I guess Sophia Henry's book is one of those 'meh' 'forget-all-about-it-in-ten-seconds-flat' reads for me.
It was not bad! Nope. There were few parts that I definitely did enjoy, but it just didn't leave a permanent mark on me. I've been reading it without feeling connected to the story or the characters. And that what was really disappointing, because the premise of the story was solid and it had a potential to become stellar new adult sports romance.
Mostly, I missed the chemistry between the main characters. It was more of a slow burn and I hoped for something more intense and blazing. I am not even talking about sex, as I know that it is possible to write intense, sexy story without it, but about the 'spark' that was nonexistent there. Auden and Alexandr didn't have the strength to pull me in. Their relationship lacked of depth and sometimes it felt rushed.
Overall, it was a three stars read for me. Not bad, yet not good enough to make me love it.
However, even though it missed the mark for me, I am certain that Sophia Henry's debut novel will appeal to other readers and I really hope that her next addition to Pilots Hockey series will be more developed.
FOLLOW SMOKIN HOT BOOK BLOG ON: