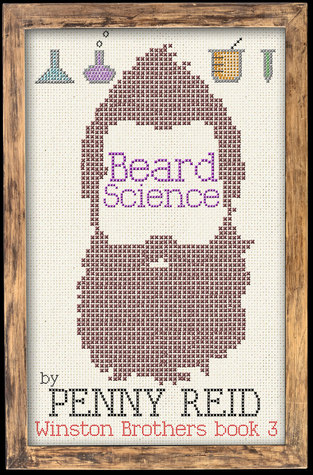 Title: Beard Science
Series: Winston Brothers #3
Author: Penny Reid
Release date: October 11, 2016
Cliffhanger: No
Rating: 5 stars
Synopsis:
Make a deal with the devil and you might get what you want, but will it be what you need?
Jennifer Sylvester wants one thing, and that one thing is NOT to be Tennessee's reigning Banana Cake Queen. Ever the perpetual good girl and obedient daughter, Jennifer is buckling under the weight of her social media celebrity, her mother's ambitions, and her father's puritanical mandates. Jennifer is officially desperate.
And desperate times call for Cletus Winston.
Cletus Winston is a puzzle wrapped in a mystery covered in conundrum sauce, and now he's in a pickle. Despite being convinced of his own omniscience, extortion by the exalted Banana Cake Queen of Green Valley has taken him completely by surprise. So... what's a maniacal mastermind to do?
Likely, the last thing you expect.
'Beard Science' is the third book in the Winston Brothers series, is a full-length romantic comedy novel, and can be read as a standalone.
By now everyone knows how obsessed I am with Penny Reid's books. You're probably sick of hearing me talk about all of the books I've read and loved. So it will not come as much of a surprise that I fell hard for her latest addition to the Winston series. Going in, I will admit that though I was looking forward to reading this, I wasn't quite as excited as most. I know this will make me a bit of an outcast for saying this but...
wait for it...
Cletus was not my favorite brother. You read that right, I'm not kidding. Yes, I found Cletus to be funny, but it was always Billy who fascinated me the most. Maybe it's the fact that I want to get to the bottom of his history with the woman who has him in such turmoil. Or maybe it's his evident longing and heartache that I want to see assuaged. Regardless, I started this book knowing I would get something worthwhile, but Penny has really outdone herself. Cletus is one of the quirkiest and diabolically genius characters I've come across, and he completely won me over. His unique idioms and personal standards to live by were absolutely hilarious. Ones such as this:
"I only had time for twenty-four people (tops) in my life, and I already had six siblings. Twenty-four people was an average of two birthdays a month. Ain't nobody got time for more than two birthday celebrations a month."
He's so unapologetically wicked and shameless.
I don't like to judge people. I love it. Writing people completely off was liberating.
He's also stealthy and devious-in a good way. Up until this point I didn't know it could be a good thing, but underneath his wily ways is a heart of gold. Cletus is one of those people who can quietly plot a revolution or maneuver people like chess pieces and no one suspects a thing. Well, with the exception of his family. They've been controlled unwittingly by his machinations one too many times to not take notice. And that is what Cletus is all about. Always enigmatic, looking at life in an objective way.
...he was always in control of himself, never losing his temper, never displaying anything but premeditated emotion. Control was his comfort zone.
So when Jennifer Sylvester comes to him with a shocking request, and demolishes all of his preconceived notions of her, he's suddenly lost. How could this quiet, unassuming girl have this kind of fire inside of her? How could he have missed it? From the outside, she's the girl who is to be pitied. Controlled and manipulated by her parents, she's easily dismissed as someone not worth his time. I myself didn't understand her at first. I couldn't explain her loyalty and obedience to the two people who cut her down and make her feel worthless. But as Cletus unraveled her secret desires, and her hidden depths, I did as well. I began to not only root for her to come out of her shell and find independence, but discover the self worth that was damaged. And it was a beautiful process, seeing her grow in strength, all while Cletus adjusts to his unexpected feelings for her.
I loved her both rationally and irrationally. And I wanted her with a ferocity that had kept me awake at night and tortured during the day.
*swoony sigh*
I don't think there was anything I didn't love about this story. Without a doubt, it's one of Penny's best books to date. Beard Science is an intelligently written book with everything you could ask for in a romance. Richly developed characters, a layered storyline, laugh out loud humor, and passionate, achy love. Even if you haven't read any in this series yet, don't miss out. These are all standalones and can be read independently. I highly recommend this book to anyone and everyone. You're going to want to acquaint yourself with these The Winston Brothers, they're not to be missed.
FOLLOW SMOKIN HOT BOOK BLOG ON: