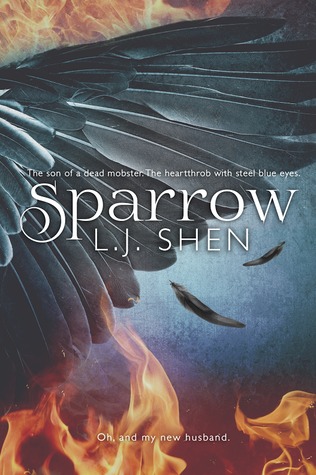 Title: Sparrow
Series: Standalone
Author: LJ Shen
Release Date: 8 March, 2016
Rating: 4.5 stars
Cliffhanger:. No


Every southie in Boston knows that name. The son of a dead mobster. The heart throb with steel blue eyes. "The Fixer" who can make or break you in this city.
That's me. No one seemed to remember my name up until he barged into my life.
And killed every chance I had to runaway from the place where we grew up.
Put simply, Troy Brennan clipped my wings.
I have dreams, big ones, but I doubt he'd ever let me chase them. I have no idea why he'd decided to take me as his wife. But I do know this: pissing off this man will not do me any good. At all.
Sparrow is a standalone, full-length novel. It contains graphic violence and adult situations some may find offensive.
Some time ago I've read and really enjoyed LJ Shen's debut novel titled Tyed. I was curious to see how her next story will play out. The blurb of mysterious 'Sparrow' revealed very little so I didn't know exactly what to expect. I thought it would be rough mob story (and it was in many ways) but it turned out to be super angsty love story with a twist! And I loved it! I'm impressed. Awe-struck even.
Sparrow Reynes has no idea why she was chosen to become a wife of the most dangerous man in Boston. She's not unusual in any way… she's neither rich nor model like beautiful. She has absolutely nothing that a man like Troy Brennen should be interested in. Yet, here she is in a wedding gown being forced to marry a man without morals… a criminal, a murderer… She's scared and even though she's forced to say 'yes' she refuses to play nice, little wife and let that dirty man touch her.
"Mr. Brennan's here to see you."
She announced in her syrupy-sweet, insincere voice.
"It's bad luck to see the bride before the wedding."
"Trust me, it's even worst luck to piss off your future husband."
This is an arranged marriage type of story. There is a lot of lust/love/hate going on, lots of lies and dramatic situations. It's crude and sometimes violent while still being very endearing and entertaining. Fans of unique stories will love this book. It is definitely surprising story, fast paced and real.
What I really liked about the main heroine was that even though she was very innocent and nice girl, she had a strong backbone. She fought hard, didn't let Troy intimidate her and was not a cry baby (thank god for that!). Maybe I didn't agree with everything she's been doing but I appreciated her.
Troy Brennen is one big mistery. He's rough, coarse and dangerous. He has a secret vendetta and nothing will stop him from finishing his mission… I won't be telling you more about his secrets you just need to find out yourself.
"I'm saying if I can't eat it, fuck it or kill it I have no interest in it."
On the one hand, I liked Troy and found him sexy as hell but… there were times when I was absolutely disgusted by his actions. He was not a good man and definitely not a decent husband. I guess it made his character more real. No flowery bullshit or insta-love from him.
"Pretend to be happy, or I will provide you with a real reason to be sad."
Sparrow positively surprised me! This story was far better and definitely more complex and angsty than I've imagined it to be. I ate it all up. The burning chemistry, lust and the love/hate thing that's been going on between the main characters- it was all perfect for me. Job well done!

FOLLOW SMOKIN HOT BOOK BLOG ON: