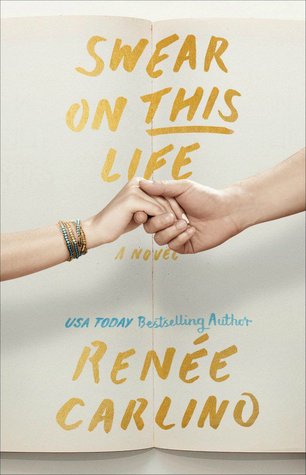 Title: Swear on This Life
Series: Standalone
Author: Renée Carlino
Release date: August 9, 2016
Cliffhanger: No
Rating: 5 stars
Synopsis:
When a bestselling debut novel from mysterious author J.Colby becomes the literary event of the year, Emiline reads it reluctantly. As an adjunct writing instructor at UC San Diego with her own stalled literary career and a bumpy long-term relationship, Emiline isn't thrilled to celebrate the accomplishments of a young and gifted writer.
Yet from the very first page, Emiline is entranced by the story of Emerson and Jackson, two childhood best friends who fall in love and dream of a better life beyond the long dirt road that winds through their impoverished town in rural Ohio.
That's because the novel is patterned on Emiline's own dark and desperate childhood, which means that "J. Colby" must be Jase: the best friend and first love she hasn't seen in over a decade. Far from being flattered that he wrote the novel from her perspective, Emiline is furious that he co-opted her painful past and took some dramatic creative liberties with the ending.
The only way she can put her mind at ease is to find and confront "J. Colby," but is she prepared to learn the truth behind the fiction?
This is one of those stories that will leave its mark on many readers. I thoroughly consumed this book, not in several mini-meals, but in one huge satisfying bite. Once I started, I was pulled in so completely that I didn't want to set it down. I
couldn't
set it down. Renée Carlino has a way with words that really reaches down deep and grabs you.
It's a story about a boy and girl both living in a dark and bleak reality, who found friendship and a deep and powerful love. Theirs was a love that transcended poverty, abuse, and years of separation. Nothing could dull the strength of what they felt for one another, and no one else could ever come close to making them forget the immensity of what they lost.
Jase had planted himself inside of my heart so deeply that when we parted he kept growing there.
Her past was off-limits, even to her long term boyfriend. The was so much resentment, hurt, and shame from her upbringing and the events that led to her leaving her small town for good. All she wanted to do was move on and fulfill her dreams of being a writer, but suppressing her emotions was causing her dreams to be unreachable. That long dirt road where hunger, fear, and loneliness overwhelmed her was a road she no longer wanted to travel. She escaped and made a life for herself, a life she was just going through the motions in now.
Even through years of trying to bury the importance of her feelings, one moment brought a flood of emotions back into her neatly ordered life. Emiline's discovery of her life fictionalized and exposed for the world to see left her raw and wounded.
My heart was growing right alongside the pain, and I didn't know what to do with myself.
I really loved the story within a story that we're given. If was such a unique reading experience to view the flashbacks as Emiline was viewing them. As a novel that she was reading and interpreting. What was Jase's motivation in airing all of her most hidden hurts? Was it purely selfish, or something more? These were all questions that spun around in her head and she wasn't going to leave them unanswered.
They made a promise to one another, in another life. But they hadn't seen each there in twelve years, so why drag everything out of the dark, why now? Emiline's turmoil was heart wrenching, but something told me that Jase wasn't the self-serving person whom she believed him to be.
"Jason Dean Colbertson, how'd you get so great?" There was a silence. He kept his eyes closed and said, "You made me this way, Em."
Revisiting her past through her readings opens your eyes to how desperate their situation was. Their last day together was the culmination of a series of misfortunes. An impossible choice had to be made, and that decision altered the course of their lives. At this point in the book, I was desperate to find out Jase's motivations, where his heart lay. I needed to know the ending of their story. Was it a closed door in the past, or were they heading toward a window of opportunity in the future? There were no easy answers. Emaline had a lot of soul searching to do and allow forgiveness to lift the burden on her heart.
For me, Swear on This Life was emotion-packed and beautifully written. Though it falls into the common categories of second chance romance and friends to lovers, nothing about this story is standard fare. It explores several heavy topics but manages to hold that weight without pulling you down along with it. The love that they shared was unquestionable, leaving no doubt in the mind that these two were meant to be. If only they could finally shape their own fates.
FOLLOW SMOKIN HOT BOOK BLOG ON: