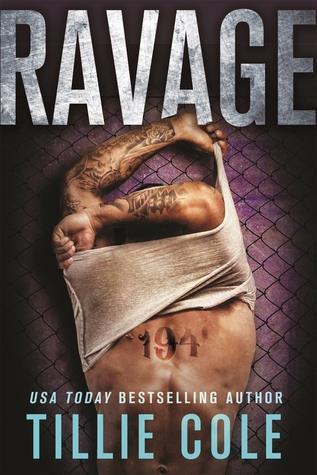 Title: Ravage
Series: Scarred Souls #3
Author: Tillie Cole
Release Date: August 16, 2016
Cliffhanger: No
Rating: 3 stars
Synopsis:
Taken by the Jakhua Clan as a teen, 194 was stripped of his name, his identity, and his freewill, meticulously honed to be a ruthless, soulless killing machine, trained solely to spill blood and stop hearts. This is a role he resents with every fiber of his being, but one he embraces to gain back the precious leverage the Georgians wield as their weapon of control: his younger sister, 152.
Mzia Kostava is in shock. After fleeing her mafia family's massacre in Georgia as a child, Mzia lives in secret, hiding from her enemies in the dark shadows of Manhattan. At age twenty-five, believing all her family is dead, word reaches Mzia that her brother Zaal is very much alive... and living with their family's greatest enemy: the Volkov Bratva in Brooklyn.
Yearning to be reunited with her beloved Zaal, Mzia risks her safety and anonymity for the brother she had mourned since childhood. But just as she reaches Zaal's apartment, Mzia is seized and taken captive by a strange man, who is strong, dark, and brutal... Unyielding, he demands her utter obedience as he locks her away in darkness. He is highly skilled in torture and inflicting pain, and demands to know everything about her brother Zaal and everything about her. He is a man that'll do anything to get what he wants.
Sometimes love requires the sacrifice and betrayal of those held most dear. But is finding one's true love worth committing the greatest sacrifice of all?
After the tease for this book at the end of
Reap
, I was beyond excited to read the next installment in the Scarred Souls series. Raze and Reap were big winners for me. The continuing mafia storyline is one that roused my attention and frayed more than a few nerves. Intense, savage, and powerfully done, these books
will
make you feel an overwhelming array of emotions. There are parts that made my skin crawl, and made me squirm in my seat at the horrible atrocities and evil that was displayed. Yet Tillie Cole always manages to deliver a love story underneath all the grit that calls to my love of romance. Sadly, while the mafia aspect was once again just as engrossing, the emotional connection between Valentin and Zoya was lost to me.
Once again, we meet another poor unfortunate soul who has been tormented and drugged by this horrible crime faction. Abducted as a child with his sister and enslaved to the mind-altering drug pumped into his body, Valentin is forced to become an animal with no free will. He's a stone cold killer with no hope of becoming anything more in his lifetime. And worse, the evil "mistress" who controls him takes joy in demanding his obedience even further. Stringing him along with the faint hope that one day he could earn his sister's freedom, he clings to his desperate goal in vain.
The enormity of the bleak world Valentin resides in is almost too much to contemplate. It's devastating what he experiences and sees every single day. There is no relief from his hellish life, and despite his grim existence, his one ray of light is that somehow he could save his beloved sister. There is nothing, absolutely nothing that he wouldn't do. His moral code has been obliterated, and he has nothing left to fear-not even death.
I think seeing the boy he was, how protective and loving he was towards his sister really made his current situation even more heartbreaking. You really get to see what drives his desperation in the horrible things that he's forced to do. Even in the moments when the drug allows some semblance of free will, he crushes his qualms quickly and carries on with his directive. To kill Zaal by any means necessary.
Zoya's news that her brother lives after all these years has her making a very foolish mistake. One that could cost her her life. In her haste to reunite with Zaal, she puts herself in the path of a killer and what follows is one excruciating situation. Let me just come right out and say that this was the turning point of the story for me. Up until Zoya's abduction and the following events, I was fully on board with the plot. I truly believe that Valentin had no other options and understood what forced his hand when his conscience kicked in over what he was doing.
However,
it was their lightning quick switch in emotions to "love" that I completely did not feel or see happening in a realistic way. The reasoning was too flimsy for my liking, I was never made to feel their connection growing naturally.
This feeling, this strange feeling for the savage but mysterious man, was engulfing me.
Now, to be real, I wasn't expecting an idyllic stroll through romance land with this book. I was expecting dark and gritty and that certainly was what you get in Ravage. Nonetheless, a romance was fed to us, and I feel that it was the weak side of the story. As hard as I tried, I could not understand the feelings that they supposedly had. Especially growing from their unfortunate meeting in that much haste. I'm sure many will disagree with me, but for me it wasn't fitting in with the circumstances.
The latest installment in the series certainly wasn't short on suspense. It takes you on a break-neck pace through the vile Jakhua Clan's vicious depravity. You also get to catch up with the couples and family from the previous books which was for me, very satisfying. This is no light and easy read by any means, it's disturbing at times and not for the faint of heart. Valentin's sister's book is next, and I'm extremely curious how her story will pan out. I have no doubt that it will be another crazy ride from Tillie Cole.
FOLLOW SMOKIN HOT BOOK BLOG ON: