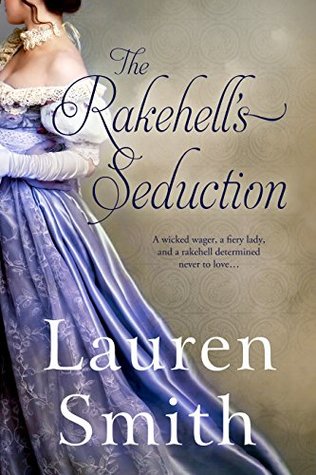 Title: The Rakehell's Seduction
Series: Seduction #2
Author: Lauren Smith
Release date: February 6, 2017
Cliffhanger: No
Rating: 4 stars
Synopsis:
HE'S MADE A DANGEROUS WAGER
Ambrose Worthing is no gentleman. He's a proud cold-hearted rake who's determined to stay a bachelor forever. He enjoys bedding a different woman every night without the risk of falling in love. When he hears about a wager over the seduction and ruination of the daughter of his father's best friend, he knows he must intervene. Committing himself to the bet, he agrees to seduce Lady Alexandra Rockford—for her own good. He never expected the lady in question to be a beautiful, fiery creature who has passions of her own that call to his guarded heart.
SHE'S VOWED NEVER TO FALL IN LOVE AGAIN
Alexandra Rockford has sworn off men, her heart still broken from the false promises of a childhood sweetheart who left her to marry an heiress. When she stumbles into Ambrose outside of a country ball, she knows the rake his trouble. His smile, his touch, his forbidden kiss are all too tempting but being with him would ruin her. Determined to enjoy herself without falling in love, Alex can't help but let her defenses down with the too charming rake. But when she discovers Ambrose is seducing her to win a bet, it will take everything Ambrose has to prove to her that he is worthy to love her.
Ambrose and Alex's story is book two in the Seduction series, each book starring its own disreputable rake. I enjoy reading about these heroes in historicals, there's something so satisfying about seeing these men meet their downfall. Particularly if its with a sassy and strong-willed heroine, and that's exactly the pair that we had here.
Ambrose set out to (out of the goodness of his heart, mind you) seduce and ruin the Earl of Rockford's daughter. The Earl and his father had been good friends and he holds a lot of respect for him. It just wouldn't do for any scoundrel to succeed in the wager to steal her innocence. He's doing her a favor saving her from those ruthless other men. He genuinely felt that he was noble to "save her from a fate with a worse man than him." At least that's what he starts out telling himself.
Things quickly get complicated when he has an interlude with a bewitching woman outside the ballroom. The beautiful lady who stirs his interest turns out to be none other than his unfortunate target. An invite from her father to stay at their home only serves opportunity on a platter for him. He's sure she's ripe for the picking and sets out to charm her out of her corset with everything he has. But Alex is no wilting, meek country girl. She's more than up for his game, and she's a worthy opponent.
I should not be tempted by him. No matter what she told herself, she was tempted. It was a good thing she despised everything else about the man. She would not give in to such an arrogant, pompous arse.
Alex has been trying to move past a broken heart for some time. Betrayed by the man she loved and set her dreams on, she has no interest in forming any type of attachment with a man. She wasn't counting on this charmer to awaken passions that she thought had been buried for good. Ambrose has his own fears of love, which led to his disreputable behavior in the past. But now he starts to realize that he's growing an attachment at the worst possible time. He's found someone special, but they're built on a foundation of lies. How long will it be before everything crumbles underneath them?
This was my first by this author, and overall I really enjoyed it. It took me a while to get into it in the beginning, but eventually I got hooked and flew through the rest. The heroine was strong, intelligent, and no pushover. The hero wasn't the most noble of guys starting out, but by the end he had been truly reformed and transformed. He had some very satisfying groveling as well, I have to say that was particularly gratifying for me.
If you're looking for a fairly short and light read, this will be the one for you. It was pretty low on drama, though there was a little twist in the end. I'll be interested to see what's in store with Vaughn's story in the following in the series, The Rogue's Seduction.
Who knew that accepting a wicked wager in a betting book would lead to the love of his life?
FOLLOW SMOKIN HOT BOOK BLOG ON: