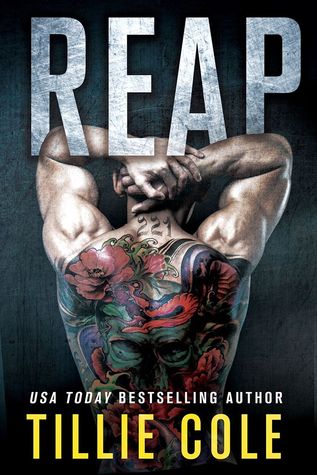 Title: Reap
Series: Scarred Souls #2
Author: Tillie Cole
Release Date: November 10, 2015
Rating: 4.5 stars
Cliffhanger: No
Raised as a prototype for the Georgian Bratva's obedience drug, 221 fails to think, act, or live for himself; he's his master's perfectly-crafted killing puppet. Standing at six-foot-six, weighing two-hundred-and-fifty pounds, and unrivaled in to-the-death combat, 221 successfully secures business for the Georgian Mafiya Boss of NYC, who rules the dark world of the criminal underground. Until his enemies capture him.
Talia Tolstaia dreams to break from the heavy clutches of Bratva life. She dreams of another life--away from the stifling leash of her Russian Bratva Boss father and from the brutality of her work at The Dungeon, her criminal family's underground death-match enterprise. But when she stumbles upon her family's captive who is more monster than man, she starts to see the man underneath. A powerful, beautiful, damaged man whose heart calls to hers. But sacrifices must be made--blood for blood...life for life...souls for scarred souls...
Dark books aren't my genre of choice, but sometimes a book will catch my attentio
n and this series is one that I've become a faithful follower of. Tillie Cole is an author I respect and have had many huge successes with, so I was hoping she would pull me through yet another difficult read with her captivating writing. There's something about her stories that hold me prisoner: the raw honesty, the grittiness. In my experience, I've found her books to be well developed and completely gripping-no matter what genre she chooses to work in. The Scarred Souls series takes you into the Russian Bratva, into the dark places containing unimaginable horrors of abuse and killing. It's not a place with happily ever afters and hope. It's about survival-whatever the cost may be.
In the second installment to the series, we're introduced to Zaal, or 221. In the underground, men and women lose their history, their humanity. They become nothing more than a number and an object to use for monetary gain and entertainment. Zaal is a slave who was captured as a young boy and has been used his entire life as a test subject for a drug that drains his memory, induces a killing rage, and forces his "obedience" to his master. His job is to kill upon demand to help sell this drug that leaves him crippled in pain and rage.
Talia is a Russian Bratva princess, and at this point in her life feeling dissatisfied and unhappy with the restrictions and the dangerous life she has been forced into. When she goes away to a family home to relax and retreat from her everyday stress, she finds the thing she's yearned for the most in the last place she would ever want to look. She finds an unbreakable connection and love with a man who should be her enemy. But her compassion for him, her care and sympathy grow into a slow blossoming affection.
Zaal is just a shell of a man, in fact, he's more animal than human in a lot of ways. He's been so brutalized and drugged that he has no sense of anything anymore. Family, love, affection. These are things that have been categorically removed from his mind.
I'd never seen anyone like him. He was...he was perfect. Yet savagely imperfect at the same time.
But when the drug slowly drains from his system, his eyes begin to open to his new reality. And Talia is right there to cushion his pain and give him comfort when his memories return to him.
My heart was in the enemy's hands. Betrayal of my family brought me to my knees. I had nothing left to give.
Her tenderness any mercy toward him are things that he can't stay away from. She's like his first breath of fresh air since the heaviness of his abuse has been lifted from him. This couple had a beautiful, savage, and forbidden love that really held me tight.
He's no longer a prisoner-he has been freed by a man who vowed to put right all the injustices that have handed out. Luka Tolstoi is his emancipator, and the successor to his family's enemies' empire. These two men escaped the atrocious life they were forced into, and share a bond that neither can deny.
I loved getting Luka's continued story in this book. We get to see his struggles with adjusting to life on the "outside". How he learns to accept the man who has formed from his past while leading the family into the future. This book had a lot to offer-suspense, action, revenge, and love. It had the perfect balance of romance verses the Bratva history and story progression. I never felt like anything was lacking in that regard. I have to say, I was doubtful after reading about what Zaal went through that the revenge would ever be enough. I came to loathe their tormenters and couldn't imagine any retribution that would ever measure up. Well let me just say, Tillie Cole proved me wrong. It was brutal and gratifying all at the same time. Who knew I was so bloodthirsty?
That epilogue...I had a feeling throughout the story who the next book would be about and I was so excited that my prediction was right. I can't wait to get my hands on that one.
FOLLOW SMOKIN HOT BOOK BLOG ON:


View all my reviews