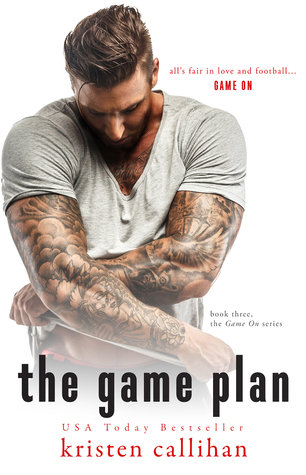 Title: The Game Plan
Series: Game on #3, can be read as a Standalone
Author: Kristen Callihan
Release Date: 1st November, 2015
Rating: 4 stars
Cliffhanger:. No
A beard-related dare and one hot-as-hell kiss changes everything.
NFL center Ethan Dexter's focus has always been on playing football and little else. Except when it comes to one particular woman. The lovely Fiona Mackenzie might not care about his fame, but she's also never looked at him as anything more than one of her brother-in-law's best friend. That ends now.
Fi doesn't know what to make of Dex. The bearded, tattooed, mountain of man-muscle looks more like a biker than a football player. Rumor has it he's a virgin, but she finds that hard to believe. Because from the moment he decides to turn his quiet intensity on her she's left weak at the knees and aching to see his famous control fully unleashed.
Dex is looking for a forever girl, but they live vastly different lives in separate cities. Fi ought to guard her heart and walk away. But Dex has upped his game and is using all his considerable charm to convince Fi he's her forever man.
"You're my kind of perfect."
If you are familiar with Game On Series you probably have been waiting anxiously for Ethan Dexter's story. Fortunately the long wait is now over! And The Game Plan turned out to be another winner. It made me all gooey inside.
Kristen Callihan delivered another sexy, cute as ever sports romance that filled my heart and soul with warmness that spread all over my body. That woman knows exactly what to write to tick all the boxes! Not only can she captivate the reader with endearing storyline but create characters so complex they seem like real people. I love that about Kristen's books – well along with great sex scenes she writes like a champion too!
The Game Plan was absolutely delicious read! The author wonderfully composed the story – from the sweet and heart melting parts of it to some drama and angst (yes, this book has it all) - Dex and Fi's story was entertaining and addicting. I loved every part of it. It was sexy, flirty and funny. Complete cuteness overload and I couldn't stop smiling. My cheeks hurt.
If you are like me addicted to fun and sweet and sexy, Ethan and Fiona's story should be a must read for you. It is too good to pass up.
It was so nice to be able to relax and enjoy this charming novel. I am dying to see what else will Kristen come up with. I hope she'll rock my world once again.
"She's my One, whether I want her to be or not.
But want her I do. And now I'm going to have her."
FOLLOW SMOKIN HOT BOOK BLOG ON: