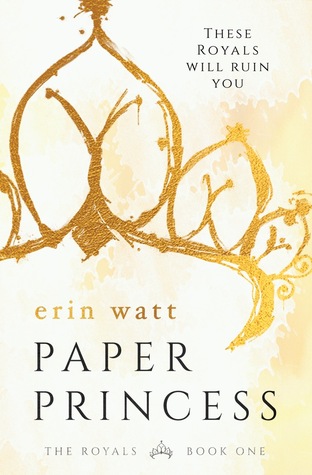 Title: Paper Princess
Series: The Royals #1
Author: Erin Watt
Release Date: April 4, 2016
Rating: 5 stars
Cliffhanger: Yes
From strip clubs and truck stops to southern coast mansions and prep schools, one girl tries to stay true to herself.

These Royals will ruin you…

Ella Harper is a survivor—a pragmatic optimist. She's spent her whole life moving from town to town with her flighty mother, struggling to make ends meet and believing that someday she'll climb out of the gutter. After her mother's death, Ella is truly alone.

Until Callum Royal appears, plucking Ella out of poverty and tossing her into his posh mansion among his five sons who all hate her. Each Royal boy is more magnetic than the last, but none as captivating as Reed Royal, the boy who is determined to send her back to the slums she came from.

Reed doesn't want her. He says she doesn't belong with the Royals.

He might be right.

Wealth. Excess. Deception. It's like nothing Ella has ever experienced, and if she's going to survive her time in the Royal palace, she'll need to learn to issue her own Royal decrees.
Buy Links:
Amazon US
Review
This book surprised the hell out of me. I'm just going to put that out there right from the start. I knew that this was written by two of my most trusted authors, so I was willing to give this book a chance regardless of what the blurb was. But I didn't know how this would completely draw me in from page one.

There were several things about the story that would have normally made me pause before requesting a copy. Not only is it YA (which I rarely read), it has the type of hero that doesn't always work for me. Just my personal preference, I know a lot of readers go for the asshole hero every time, but I'm very, very picky when it comes to that. These authors weaved their magic for me because they made me addicted and desperate for more of Ella and Reed's love/hate war relationship.




What made me accept Reed's attitude and behavior? A combination of the spellbinding writing and the heroine who doesn't take one ounce of his shit.




I loved this girl. LOVED For every hit he tried to make with her, she hit back just as hard, or harder. She's seen more struggle and tragedy than most people see in a lifetime. And it's made her tough-a fighter. Living in the Royal's house and inner circle, it's a life skill that she desperately needs.

Ella comes to live with Reed when his father becomes her guardian. She never knew her father, and her mother recently passed away from cancer. She's an (underage) ex-stripper, supporting herself through high school trying to find a way to a better life. Then Callum comes along and whisks her away to a whole new world. A world of privilege, excess, and people who are most likely to hug her with a smile while they stab her in the back and laugh. She's learned some valuable life lessons through all her hardship, though, and one thing she knows is that the fairytale is an illusion. Trust is something she doesn't know the meaning of.

This will never be my home. I don't belong in splendor, I belong in squalor. That's what I know. It's what I'm comfortable with because squalor doesn't lie to you. It's not wrapped up in a pretty package. It is what it is.

The five Royal boys are what I would describe as entitled teens with a god complex. Not only do they have power over their father, but they hold court as the monarchs of their private school. No one dares to question or cross them. Until Ella came to town. This was one of the most addictive parts of the story for me. Seeing this power struggle between Elle and the Lion's Den that she landed in. Though she had moments of intimidation, she never backed away from any of their challenges. She was witty, strong, and had an overall unique character with a fascinating personality.

If you're hoping for a hearts and flowers type of romance, you won't find that here. Reed can be downright despicable and intolerable at the best of times. He uses his mother's death as a free pass to cause havoc on anyone whom he sees fit. That being said, it didn't deter me one bit from the story as it played out in its grim glory. There were manipulations around every corner and I blissfully ate it up with a spoon.

All the power play between Ella and Reed developed into the kind of ripe sexual tension that readers dream of. It was positively decadent and made my heart flutter. It was passionate. Thrilling. It had my heart racing and turning the pages until I saw that tension reach its breaking point.




To sum things up, I was thoroughly ensconced in this glittering world of privilege and wealth. That glitter concealed a whole lot of depravity and sins. I took off half a point from my rating because of the events that occurred right before the cliffy. My jaw dropped and I was ready to kick Reed in his gold plated nuts. I'm really hoping that what happened wasn't what it appeared. (Though that seems pretty impossible)

Paper Princess was a far cry from your typical YA book, maybe that's one of the things I enjoyed about it the most. It was bold and brilliantly executed. Now after that horrendous cliffy, I'm just going to pretend that I don't have to wait until this summer to continue with the insanity with the Royals. I don't think I'll have the patience otherwise.


View all my reviews