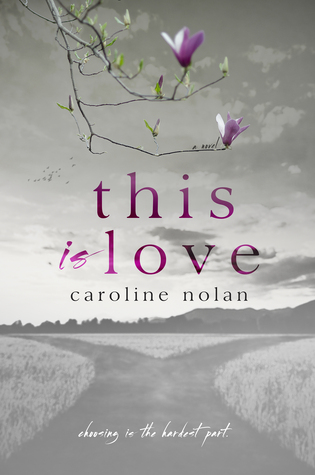 Title: This is Love
Series: Standalone
Author: Caroline Nolan
Release date: November 3, 2015
Cliffhanger: No
Rachel Miller had love, life and happiness...until she didn't. Uncertain of how to cope and move on without him, Rachel's life comes to halt as she mourns the loss of her fiance Ben. Then one night she discovers it doesn't have to. By way of dreams, Rachel and Ben continue to live the life they had planned together. It's unconventional, it's not even real, but it's enough for Rachel. For the first time since Ben's death, she's happy...whole. That is until she runs into someone she barely knew from years ago and suddenly real life is just as great as her dream one. Now Rachel doesn't know what to do. Will letting someone new in threaten what she has with Ben? Or will their love story threaten her new happiness? Is it crazy to chase after a ghost while being caught up by someone very real?
This is Love was such a powerful and moving story. It's a story about one woman's tragic loss of her beloved fiancé and how she struggled to cope in the aftermath. What follows is a pointed and thoughtful look at the healing process that someone struggling with grief must go through. Despair, guilt, anger, numbness, and fear are only a few of the stages and expressions of her loss.
My world had forever changed in a matter of a minute. Sixty seconds. How many people can say that? Be prepared for that?
So far, you're probably thinking that this sounds pretty depressing, aren't you? Well, you'd be wrong. That was the beauty of this book, and one of the reasons why I was so impressed with this new author's talent. Even though the subject matter was very weighty, it wasn't excruciating to read. The heaviness was cut with really engaging and witty characters that I didn't want to stop reading about. I can't tell you how many times Rachel or her friends made me smile or even outright laugh. I wasn't expecting it to have that added layer to the story and it made a world of difference.
After a long year of merely surviving and going through the motions rather than living, Rachel has found sweet relief from her unhappy reality. She's visited by her beloved Ben in her dreams. In brief but comforting flashes, she grasps on to him with everything she has. Those fading feelings of happiness she once had flare to life again with her walk through her memories with the man she loved.
Until everything comes to a screeching halt again when a new man enters her life.
Jackson was that guy in high school everyone wanted, a couple of years ahead of Rachel, but she was well aware of his presence. When she sees him on her first night out with friends, she's strangely shaken and unsettled. A fragile friendship forms and Jackson slowly coaxes her out of the safe bubble she's been existing in. Suddenly she's smiling in the
present
, finding joy in new moments. And slowly he starts to stir emotions that she has no desire to have and no ability to stop.
I want Jax too much. My feelings for him have grown so strong that losing him would devastate me.. I should have stopped this months ago, but I didn't. I couldn't. I was powerless against him then, even more so now.
One of my concerns was that her love that she held and cherished for Ben would detract the attention away from her present with Jax. Thankfully, that wasn't the case at all. I came to love both men, and I could honestly feel how she could be so torn and unable to take the steps to move firmly into the unknown with this wonderful man waiting quietly for her.
I loved seeing watching Jax and Rachel's attraction slowly and tenderly unfurl. He was so patient and respectful even while the sexual tension was heavily patent. I swear, these two had my heart pounding so many times, just waiting for him to break through her delicate emotional barriers. It was so,
so
good.
"If you want this even a fraction of how much I want it, tell me." His hands come up, spreading across the sides of my face, the tips of his fingers now lost in my hair. "Are you telling me, Rachel?" he whispers, almost pleading with me to say yes.
This is Love is more than just a story about another broken woman who finds love again. It's a depiction of the emotional battle that someone dealing with loss goes through. The choices that must be made in order to let go without a burdened spirit into the future. Caroline Nolan has presented a book that I not only devoured, but would gladly re-read many times. It was such a beautiful and poignant story, and one I won't soon forget.
FOLLOW SMOKIN HOT BOOK BLOG ON: