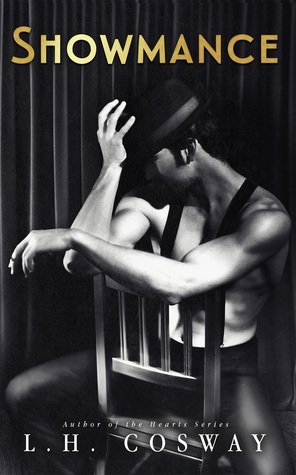 Title: Showmance
Series: Standalone
Author: L.H. Cosway
Release date: May 16, 2016
Cliffhanger: No
Synopsis:
Damon Atwood was Hollywood's golden boy. Having won an Oscar at the tender age of thirteen, he had the life many could only dream about. But his success came at a price, and after a short but fruitful film career, he chose to live a life of obscurity on a remote Scottish island. Almost a decade later he's finally ready to make his return, starting with a lead role in a musical on London's West End.
As a choreographer's assistant, Rose Taylor has always faded into the background. She watches shows come to life from the side lines, but has never craved the attention of stardom. When rumours begin circulating of Damon's involvement in her latest gig, she doesn't predict how she will be thrust into the limelight, nor how the mysterious and strangely introverted man will need her to teach him how to be a star again.
Rose knows that show crushes don't last. Actors fall for each other during the intensity of a production, often losing themselves in their roles. These kinds of affairs burn bright and then they fade. The question is, should Rose let herself shine with Damon, or guard her heart from being broken after the final curtain call?
I'm such a fanatic about L.H. Cosway's writing. Her stories are rich with detail and authenticity. She takes unexpected and flawed characters and makes them leap right off the pages and capture your whole imagination. Showmance was no exception, I was completely absorbed and luxuriating in the setting, the characters, and the wonderful world of theater. This is the captivating story of two talented people finding love on the set of Moulin Rouge in the British theater district.
I think my favorite thing about this book was Damon, hands down. I always expect the unexpected with one of her books, but he was a very welcome surprise for me. Here's why I loved him so much: he was a reclusive ex-Hollywood star who is socially awkward and uneasy about being around people. His awkwardness was so endearing and original to me.
The man was such a contradiction, with the rugged good looks of a heartthrob and the personality of a hermit just coming out of hibernation.
He's an extremely sweet and sensitive type of guy, he's just unable to express himself capably and I could really identify with that. His character was just so fascinating to read about, the many complexities he had, and his imperfections. He was vulnerable, but not weak. Quiet, but steady and unimpressed by the artificial side of being in the public eye. I melted all over his tender yearnings toward Rose right from the start. He exuded nothing but intensity and sincerity, there was nothing phony about him.
FOLLOW SMOKIN HOT BOOK BLOG ON: