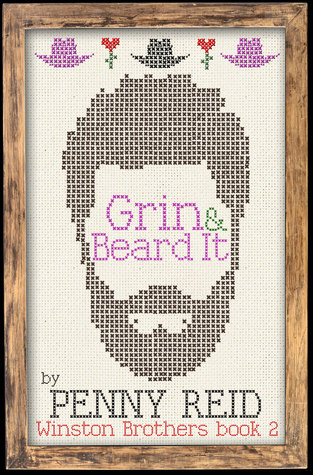 Series: Winston Brothers #2
Author: Penny Reid
Release Date: May 31, 2016
Rating: 5 stars
Cliffhanger: No

Sienna Diaz is everyone's favorite "fat" funny lady. The movie studio executives can't explain it, but her films are out-grossing all the fit and trim headliners and Hollywood's most beautiful elite. The simple truth is, everyone loves plus-sized Sienna.
But she has a problem, she can't read maps and her sense of direction is almost as bad as her comedic timing is stellar. Therefore, when Sienna's latest starring role takes her to the Great Smoky Mountains National Park she finds herself continually lost while trying to navigate the backroads of Green Valley, Tennessee. Much to her consternation, Sienna's most frequent savior is a ridiculously handsome, charming, and cheeky Park Ranger by the name of Jethro Winston.
Sienna is accustomed to high levels of man-handsome, so it's not Jethro's chiseled features or his perfect physique that make Sienna stutter. It's his southern charm. And gentlemanly manners. And habit of looking at her too long and too often.
Sienna has successfully navigated the labyrinth of Hollywood heart-throbs. But can she traverse the tenuous trails of Tennessee without losing her head? Or worse, her heart?
Oh, my. If there was any doubt how much I loved these mischievous, rascally Winston brothers (there wasn't) then this book would have clinched the matter. There is something so comforting about returning to this family that's bursting with Southern charm and wisdom. I don't think I could ever get enough of them. What I love about this series is that all seven Winston siblings come to life so vividly in their own special ways. They're so delightful that they share the spotlight with the hero and heroine, I could never use the term "secondary characters" to describe them. They shine too brightly for that.

The very first scene with Sienna is sure to make you fall in love with her. She's a comedian, screenwriter, and actress who is attempting (unsuccessfully) to maneuver the Tennessee roads. This leads to a murderous rampage directed towards her map that had me laughing at her plight. Her wit, and her unpretentious inner thoughts were charming-she was charming. Which made her the perfect match for her bearded rescuer, Jethro Winston. One flash of her dimples and his irresistible smile and they were both lost. They flirted like masters on a mission.


These two begin a slow burn relationship that felt natural in its development. Though they had an intense, instant attraction they didn't rush into anything based purely on lust. They were cautious and made rational, adult decisions about how to approach the possibility of dating. Sienna is a city girl, only in town temporarily for filming her latest movie. Jethro is born and bred in the country and planned on starting his own family there when the time came. He's interested in dating with a future in mind. She...well, hasn't wanted anything but casual in the past. She hasn't found anyone to tempt her. Until Jethro.

My despondency was borne from already feeling invested in a girl who had a history of not investing.

They were naturally guarded at first, but eventually they came to see how desperately they needed each other. Being apart led to a constant ache on both sides that couldn't be extinguished. There was nothing to alleviate the suffering except exploring the emotions that they had buried. Through communication and the very hilarious intervention of his brother Cletus, they set their reservations aside.

Jethro has shown himself to be one of the most steadfast and humble of the brothers. His shameful past through the influence of his despicable father has made him eager to be the brother that everyone can now depend on. He was the oldest, but instead of protecting his brothers growing up, he perpetuated the the trouble their father brought on them. This is something that he can't, and won't forgive himself for. I really felt his remorse, and his need to make amends was a sign that he had truly matured past his own mistakes.

Seeing how each of their lingering labels acquired from childhood affected each other was a healing balm for both of them. They were free to shed their superficial pretenses and grow together as a couple. They saw each other in a light that no one else could.

Being Sienna Diaz, movie star, was easy. Tiring, but easy. It was a role, a mask I could slip on at will. Being myself wasn't usually as easy. Jethro had made it easy for me, which was one of the reasons I loved being around him.

There is such a feeling of completeness when these two are around one another, a feeling as if being together made them more whole and at ease within themselves. And Jethro was so tender and passionately adoring of Sienna, he never failed to capture my heart.

"You are so beautiful," he said, his attention from my hair to my neck and chin. "I don't think I knew what beauty was, until I met you."

This book was delightfully drama free. Not to say there wasn't conflict, but it was based on realistic concerns and not born out of manufactured situations. The brothers added an amusing layer of shenanigans that was such diverting fun. Personally, my favorite brother is Billy and I was thrilled to see more of his story unfold on the sidelines. I cannot wait to hear more about him and get the missing pieces filled in with his future book.

If you're going into this story looking for something witty, enchanting, and entertaining you'll get everything you bargained for. The bearded brothers have done it again, be prepared to be dazzled in all of their bearded glory.


FOLLOW SMOKIN HOT BOOK BLOG ON: