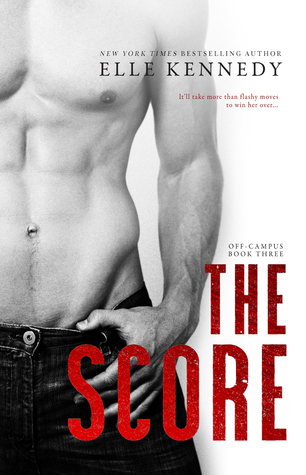 Title: The Score
Series: Off Campus #3
Author: Elle Kennedy
Release Date: 11 January, 2016
Rating: 4 stars
Cliffhanger:. No
He knows how to score, on and off the ice
Allie Hayes is in crisis mode. With graduation looming, she still doesn't have the first clue about what she's going to do after college. To make matters worse, she's nursing a broken heart thanks to the end of her longtime relationship. Wild rebound sex is definitely not the solution to her problems, but gorgeous hockey star Dean Di-Laurentis is impossible to resist. Just once, though, because even if her future is uncertain, it sure as heck won't include the king of one-night stands.
It'll take more than flashy moves to win her over
Dean always gets what he wants. Girls, grades, girls, recognition, girls…he's a ladies man, all right, and he's yet to meet a woman who's immune to his charms. Until Allie. For one night, the feisty blonde rocked his entire world—and now she wants to be friends? Nope. It's not over until he says it's over. Dean is in full-on pursuit, but when life-rocking changes strike, he starts to wonder if maybe it's time to stop focusing on scoring…and shoot for love.
How much I enjoy reading Elle Kennedy 's Off – Campus Series is indescribable. Gah! The sizzling chemistry and intense intimacy between the MCs is what makes those books so freaking awesome! They are just so damn good and funny! A perfect escape from boring reality – something I desperately needed this year.
The Deal and The Mistake – which I've read few months before, were so good they both made it to my list of top picks of 2015.
"I'm not ready to be with anyone else yet."
"Sure you are. Seriously, just find yourself a rebound." Dean whips up his arm. "I volunteer as tribute."
The Score, newest addition to Kennedy's series, is not disappointing either. It delivered exactly what I've been craving from NA and had everything I learned to expect from Kennedy's work: great banter, hot sex scenes, swoony and touching moments and fabulous characters! It was flirty, sexy and damn cute. We have tons of lust, lots of sassiness and wittiness, a tad bit of drama and complex, vivid characters you won't be able to not fall in love with. See, I am still all gooey inside.
I decided to not give away any plot details here – if you really want some info just check all those awesome reviews of my friends; the best though, is to meet the characters by yourself and slowly unravel all of the elements of the novel. Especially because it is very similar in trend to the previous books.
"Dean Di Laurentis oozes sexuality. He could slap his face on a laxative label and every woman in the world would be praying for constipation just to have an excuse to buy it."
My only concern and something that put me off a little bit is the repetitiveness of the story – it really is a copy of previous books – same things happen, the characters are very similar in behavior, their relationships are alike and.. to be frank there was nothing fresh or different about it. Same story told in the same way – with great humor (trademark of Kennedy's), fantastic style of writing and scorching sex. And while I did have a lot of fun (how could I not?) I was still worried about it. And I certainly hope that in the future releases Elle Kennedy will do everything in her power to take her work into another level so the storyline will be refreshed and more surprising.
On the other hand, I am sure that every fan of Off – Campus boys will be thrilled and super excited while reading Dean and Allie's story. I believe that high expectations of almost everyone will be met. It's good, satisfying and dirty story so be sure to check it out!
FOLLOW SMOKIN HOT BOOK BLOG ON: