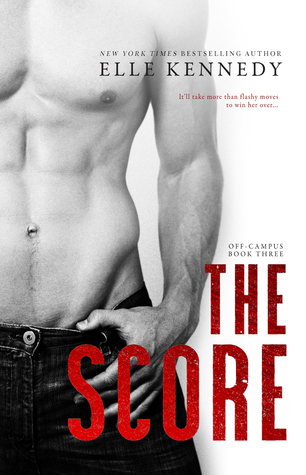 Title:The Score
Series: Off-Campus #3
Author: Nancy Haviland
Release Date: January 11, 2016
Rating:5 stars
Cliffhanger: No
Allie Hayes is in crisis mode. With graduation looming, she still doesn't have the first clue about what she's going to do after college. To make matters worse, she's nursing a broken heart thanks to the end of her longtime relationship. Wild rebound sex is definitely not the solution to her problems, but gorgeous hockey star Dean Di-Laurentis is impossible to resist. Just once, though, because even if her future is uncertain, it sure as heck won't include the king of one-night stands.

It'll take more than flashy moves to win her over

Dean always gets what he wants. Girls, grades, girls, recognition, girls…he's a ladies man, all right, and he's yet to meet a woman who's immune to his charms. Until Allie. For one night, the feisty blonde rocked his entire world—and now she wants to be friends? Nope. It's not over until he says it's over. Dean is in full-on pursuit, but when life-rocking changes strike, he starts to wonder if maybe it's time to stop focusing on scoring…and shoot for love.
This series for me has been nothing short of magic. And I don't throw out those words lightly. I've gone through so many NA books that were passable, but just didn't have anything special to differentiate them from any of the others in the genre. What makes this series so great is that every single book has been memorable enough to land them on my favorites shelf. They're packed with flawless banter, and a genuine quality you find in not only the romance, but the friendships between the entire group of characters. The wittiness between Garrett, Logan, Dean and Tucker has been a bromance made in heaven. They love to bust each other's balls on a daily basis and that makes me one happy reader to be able to get a front seat for the show. I've become so attached to this group, it almost feels like coming home when I get to revisit them again with in every new story.
I've been waiting with bated breath for Dean's book. The college manwhore athlete is not a new concept, yet I had every faith that Elle Kennedy would infuse life right back into it and put her own original stamp on it. And let me set your fears aside right now, she once again has delivered a well executed story. The manwhore hero is not always a winning character for me, but Dean completely won me over-with one cocky wink and glimpse of his shameless swagger, I was charmed. He's just so
completely over-the-top
sinfully sexy and confident, you can't help but fall for his shamefulness. But the cherry on top of the manwhore cupcake was his complete and utter reform, and his surprisingly emotional path to becoming a better man.
Dean has always been portrayed as sex obsessed and simply put: only out for physical pleasure. His own, and any girl who's willing to partake with him. He's the jokester, the one who doesn't take life too seriously. People tend to underestimate him. But we get to see a whole other side to him in The Score, and though he had his faults, he also had some hidden facets that will be sure to surprise you. His sweetness was just adorable as he was discovering his feelings for Allie were rooting deeper than he had anticipated. And yeah, he had that dirty side to him just as you'd expect and It. Was. Good.
"Get over yourself," I mutter. "I'd be wet if any guy was rubbing up against me."
"Bull. Fucking. Shit." His thumb brushes my clit. I almost fall over.
"It's me. You want me.
Allie was a fantastic heroine. She turned out to be perfectly paired with Dean in several ways. She was adventurous, and blunt. She was bold and strong, and refused to accept being Dean's temporary plaything. I loved seeing her put him in his place and cut his confidence down a size or two.
"My face? Turn-on. Chest? Turn-on. I'd roll over and show you my ass, but we both know the answer will be 'turn-on' so I'll skip that one. Dick? Turn the fuck on. And then we get to the non-physical awesomeness that is Dean."
"Speaking in the third person? Not a turn-on."
She demanded respect and she gave it back in return when he let her in and showed her the side of himself that no one else gets to see. It all started with an embarrassing one night stand, and Allie vows to move on and forget it ever happened. She's still in recovery mode from her recent break up with her long time boyfriend. While Dean was a good time, he's not boyfriend material. And she's not a casual sex type of girl.
Unfortunately for her, Dean develops a surprising obsession for her since that night and they're both drifting in uncharted territory. The man who is used to getting everything he's ever wanted suddenly has a hunger that can't be quenched. And Allie? She's just trying to mend her broken heart, not break it all over again.
They lead each other on a merry chase that will leave you spellbound. I just can't express the hilarity, the explosive chemistry, and the poignant levels that this book attains. My smiles were too many to count. They both had hurdles to overcome, growing to do, and path to get there was not an easy one. None of the drama felt overdone or unnecessary however. Everything had a purpose and was explored with sensitivity. This book is the total package, I couldn't give it less than five enthusiastic stars. Obviously I highly recommend this one, but don't take my word for it. Go march your fingers to that Amazon one-click button on release day and judge for yourself. The entertainment value you'll find in this one is priceless.
FOLLOW SMOKIN HOT BOOK BLOG ON:


["br"]>["br"]>["br"]>["br"]>["br"]>["br"]>["br"]>["br"]>["br"]>["br"]>["br"]>["br"]>["br"]>["br"]>["br"]>["br"]>["br"]>["br"]>["br"]>["br"]>["br"]>["br"]>["br"]>["br"]>["br"]>["br"]>["br"]>["br"]>["br"]>["br"]>["br"]>["br"]>["br"]>["br"]>["br"]>["br"]>["br"]>["br"]>["br"]>["br"]>["br"]>["br"]>["br"]>["br"]>["br"]>
View all my reviews