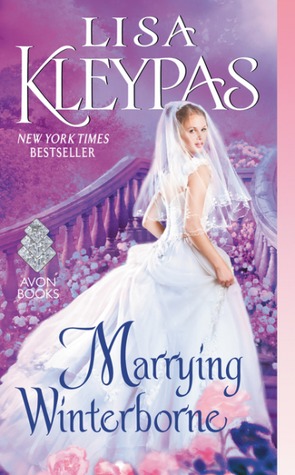 Title: Marrying Winterborne
Series: The Ravenels #2
Author: Lisa Kleypas
Release date: May 31, 2016
Cliffhanger: No
Rating: 5 stars
Synopsis:
A ruthless tycoon
Savage ambition has brought common-born Rhys Winterborne vast wealth and success. In business and beyond, Rhys gets exactly what he wants. And from the moment he meets the shy, aristocratic Lady Helen Ravenel, he is determined to possess her. If he must take her virtue to ensure she marries him, so much the better…
A sheltered beauty
Helen has had little contact with the glittering, cynical world of London society. Yet Rhys's determined seduction awakens an intense mutual passion. Helen's gentle upbringing belies a stubborn conviction that only she can tame her unruly husband. As Rhys's enemies conspire against them, Helen must trust him with her darkest secret. The risks are unthinkable…the reward, a lifetime of incomparable bliss. And it all begins with…
Marrying Mr. Winterborne
Ahhhh.
Rhys
Marrying Winterborne. You lived up to all of my hopes and dreams. With every new book I read from the incredibly talented Lisa Kleypas, I'm reminded why she was one of the original authors to get me excited about reading romance. She is nothing short of gifted when it comes to her ability to create memorable characters and resonating stories. Her attention to the smallest detail about living in the late 1800's in England makes reading her books feel like time travel. From the sights, the sounds, the clothing, to the culture...everything is crystal clear right there before you. And her beautifully poetic style of writing makes reading about her classic romances a pure pleasure and delight.
She had never imagined that a man would kiss her as if he were trying to breathe her in, as if kisses were words meant for poems, or honey to be gathered with his tongue.
Marrying Winterborne continues on with the characters who were introduced in
Cold-Hearted Rake
. Rhys is one of the "nouveau riche" in London. A self-made extremely wealthy man who came from the lower classes and now mingles with the titled and most respected families in the country. He may have earned entry, but will never earn respect. So the possibility that graceful lady Helen of the Ravenels would want someone so rough around the edges, so much beneath her is an impossibility. He has her up on a pedestal, and when their engagement is broken it comes as no surprise that she came to her senses. Little does he know, Helen is just extremely shy and untutored in men and things pertaining to the physical side of love. She marches right over to his home and sets the record straight about her desire to be with him.
If she married Mr. Winterborne, she might come to regret it. But not nearly as much as she would regret it if she didn't take the chance.
Rhys sets out to guarantee that she would
have
to become his. He wasn't risking her slipping through his fingers again. For better or worse, she would be his and there was no turning back. I love, loved,
LOVED
Rhys' constant and unconditional protectiveness and gentle manner he held with Helen. It was totally contradictory to his gruff and blunt natural personality. He's not the type of guy you would think of when you think hearts and flowers. I imagine he doesn't have a romantic bone in his body. But when it comes to Helen...
sigh
he's utterly charming and passionate and worshipful.
He burned with desire, a constant fever beneath his skin. He wasn't sure if Helen was the illness or the cure.
Helen was a great heroine. She was extremely shy and unworldly, yet she wasn't afraid to pursue Rhys and she had the intelligence to recognize his worth despite society labeling him as unworthy. More than anything else, she respected his overwhelming accomplishments and wanted to start a new life with him. Everything seems to be going smoothly after their engagement is reinstated. Until she learns a horrible truth about her past that may ruin their happiness forever. This was the main conflict of the book, and thankfully it didn't cause any unnecessary drama. It was just the right amount to keep the story flowing fast and easy.
I enjoyed book one of the series, but this one far surpassed everything I anticipated it would be. The h/H had some incredible chemistry, and it was oh-so-romantic. Pandora's story is up next, and the fact that she is going to be paired with Evie and Sebastian's son...
Can it just be here now? Or yesterday? That's not too much to ask. Right?
FOLLOW SMOKIN HOT BOOK BLOG ON: