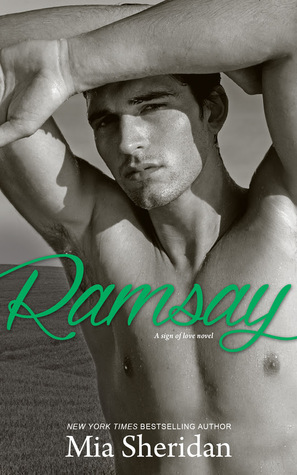 Title: Ramsay
Author: Mia Sheridan
Series: A Sign of Love
Release Date: June 19, 2016
Rating: 2 stars
Synopsis:
Lydia De Havilland
is shocked when
Brogan Ramsay
suddenly reappears in her life. Several years before, Brogan was the son of her family's gardener, and the boy she hurt and betrayed. But Brogan is no longer the quiet, sensitive boy she remembers. Now he's a man—gorgeous, powerful . . . and seeking vengeance.
Brogan Ramsay can't let go of the memory of Lydia tricking him cruelly, leaving his heart shattered and his family penniless. And now he's back to destroy her family the way his was destroyed. There's only one problem . . . the girl who wounded him so badly years ago is now a woman who still has the power to render him breathless.
Ramsay is the story of betrayal and wrath, of the strength of regret and the power of forgiveness. It is the story of the thin veil between love and hate, and how more often than not, when we seek to inflict pain on others, the heart we wound is our own.
THIS IS A STAND-ALONE SIGN OF LOVE NOVEL, INSPIRED BY ARIES. New Adult Contemporary Romance: Due to strong language and sexual content, this book is not intended for readers under the age of 18.
Let me start off by saying that I truly respect this author's talent, but when it comes down to it not every book is going to be the right one for you. Ramsay was one of those books. In parts, it was engaging and even had its sweet moments. However, my frustration over the characters' behavior and the type of drama that formed because of it was not particularly enjoyable to me. I gave it my everything and tried to push past my frustrations. But even in the conclusion of the story when I should have been feeling happy and satisfied, everything was overshadowed by events that were too much for me.
It has been quite some time since I've read a Mia Sheridan book, but what I think attracted me to this originally was the revenge factor to it. This is one of my weaknesses and I'm not sure why, but I'm drawn to a story of revenge like a moth to a flame. My only concern starting out was that the hero would take it too far and treat the heroine cruelly for too long. I'm all for some revenge, but I'm not one to like seeing a woman abused. Thankfully, that never was an issue here for me.
Brogan had a lot of anger and resentment built up from years of hardship and struggle. Struggle that was brought on after getting caught in a compromising position with Lydia as a teen. Her brother Stuart took joy in making him beg for the sake of his family. And after suffering the humiliation and shame, he swore that one day he would be the one to hold all the power. He would never beg anyone again, and the betrayal from the woman he loved would not be forgotten.
If I exacted revenge I'd been imagining for so long, I'd be free of her. Exorcised of her ghost, the one that had been haunting me for seven years.
In seven years time, a lot has changed. Positions of wealth and power have been reversed and the Havilland family is on the verge of bankruptcy. All of Brogan's plans were coming to fruition and Stuart plays right into his trap. Her brother's alcoholism, drugs, and gambling have left its toll on Lydia. He's still the same selfish and worthless person he ever was. But she has struggled for survival and has learned some important lessons in life. She's no longer the spoiled and thoughtless person she once was. In some ways I admired her strength, and she she never lost pride in herself or allowed Brogan to take his retribution too far. It was her extremely frustrating attitude toward her brother I could not accept or get past.
His betrayals against her kept piling up by the minute. He was the worst lowlife, selfish brother I have ever seen. And time after time, she would swoop right in and make excuses for him. Clean up his messes. And accept the loss of her home, her security, and her happiness. He was a master manipulator and she was taking it all like it was her due.
(view spoiler)
[The first nail in her coffin for me was when she runs to her brother's to check on him. Even though she knows the mob is after him and she was warned to stay in the apartment. Of course she doesn't listen. She goes and gets stabbed...and is anyone going to be surprised besides her? After everything he did, you would think that light would finally dawn on her to cut this toxic person from her life. But no. And it only continued and got worse. (hide spoiler)]
Lydia and Brogan surrendered to their feelings from long ago that never died. he had such a protective and tender side to him that was beautiful to see. It was still buried under the pain, the hurt, and the feelings of betrayal. After spending a short time in her company, he knew that he couldn't hold on to his anger any longer. She wasn't the cruel person he once thought he was, and his tenderness resurfaced.
I had always loved her, even when I hadn't wanted to. But now it was different. I had wanted to give her the world when I was seventeen, and now I could. I had wanted to give her my heart, and now I could. I would. Every part of my heart.
But outside forces weren't going to let a reconnection between these two happen. And herein lay my major problem with the story. Between her brother and Courtney (Brogan's ex), there was no end to the lies, mistrust, and miscommunication. Which led to a tumultuous, drama laden string of events that fast flew out of control. I just can't even begin to say how frustrating this was, or how their actions didn't make a bit of sense to me.
(view spoiler)
[Lydia believing her brother AND Courtney when they planted lies in her head about Brogan was annoying. She chose to trust two people like them over the man she loves who took on her brother's debt for her? Once again supporting her brother by giving him money? And then blaming Brogan for protecting himself when once again her brother proved that he was dangerous and didn't care about her feelings whatsoever? Too. Much.

The folder that was stolen from her room with all of Brogan's secrets? Someone please tell me why he would leave something of that importance sitting out on a bedside table? Something that had ties to the mafia and secrets he was ashamed of?? I don't see this as plausible.

Neither of them got angry at the meddlers even after KNOWING that they were manipulated. Even after Brogan finds out that Caroline has lied to both of them in an attempt to break them apart...he only feels pity for her? I wanted to cut that bitch. She was blatantly taking advantage of Brogan's guilt and trying to come between him and the woman he loved. Yet it barely phased him when he discovered the truth. They were both martyrs for their guilt that they felt they deserved over past actions. It led to nothing but frustrating times for me. (hide spoiler)]
Let me wrap this up by saying that many will not feel the same as me to the extent that I did. But these characters pushed all the wrong buttons repeatedly and in the end I couldn't look past it. There were some moments that I enjoyed between the H/h when the focus was simply on
them
. Their reconnection was beautiful at times. They had a deep and present understanding of one other that was touching and sweet. But for me, it fell short in compensating for my issues.
FOLLOW SMOKIN HOT BOOK BLOG ON: