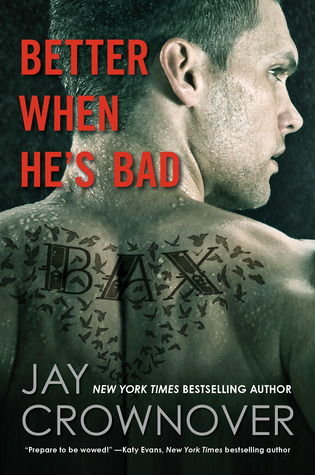 Title: Better When He's Bad
Series: Welcome To The Point
Author: Jay Crownover
Release Date: June 17, 2014
Rating: 4 stars
Cliffhanger:. No
Welcome to the Point
There's a difference between a bad boy and a boy who's bad . . . meet Shane Baxter.
Sexy, dark, and dangerous, Bax isn't just from the wrong side of the tracks, he is the wrong side of the tracks. A criminal, a thug, and a brawler, he's the master of bad choices, until one such choice landed him in prison for five years. Now Bax is out and looking for answers, and he doesn't care what he has to do or who he has to hurt to get them. But there's a new player in the game, and she's much too innocent, much too soft…and standing directly in his way.
Dovie Pryce knows all about living a hard life and the tough choices that come with it. She's always tried to be good, tried to help others, and tried not to let the darkness pull her down. But the streets are fighting back, things have gone from bad to worse, and the only person who can help her is the scariest, sexiest, most complicated ex-con The Point has ever produced.
Bax terrifies her, but it doesn't take Dovie long to realize that some boys are just better when they're bad.
[ Yes (hide spoiler)]
Bad boys. The best book boyfriends' inspirations ever thought of. They're intense, extreme, smokin' hot and dangerous. They come in all the shapes and sizes. They make good girls gone wild and that's why they are loved, lusted after and desired. They make ovaries go boom! And Jay Crownover certainly excelled in creating grade – A bad boys worth swooning over.
Every time I picked her novel I knew I have to ready myself for some rough lovin'. My heart beat furiously for every hero from Marked Men series. But after finishing Crownover's newest book I must say 'damn but this woman still has some aces up her sleeves' and she's not afraid to use them. In her Marked Men series, her heroes were slightly less badass and weren't as extreme as main character in 'Better When He's Bad' Shane Baxter. Why? Because he is as bad as they come. In comparison to Bax, Rule, Jet and Rome looked like a little, sweet lambs.
When I cracked 'Better When He's Bad' open for the first time, I was as excited as nervous. I knew that Jay Crownover can write very well and her books are just as splendid. Yet the idea of her Welcome to the Point series made me uneasy. How could she overbeat Marked Men and their badass attitude? Could her new boys be worse and sexier? Is that even possible? Let me tell you, Bax certainly made Rule, Jet, Rome and others run for their money.
Shane is not only tatted and pierced twenty something young man who has some serious problems with bad attitude and manwhoring ways. Nope, Bax is convicted felon with few years spent in prison under his belt. He's one of the best car thieves, that was unfortunate enough to get caught. Deeply connected to other criminals and in the world where law is constantly broken, Bax tries to fit. The same day he is released, Bax wants to find his best friend Race and the man that probably is the one who helped cops put him behind the bars. Trying to find Race before other thugs, Bax finds himself in close proximity with innocent looking red head called Dovie.
Told from dual point of view, Better When He's Bad is a book full of suspense, action and hot romance. It's a novel set in criminal world where the villain becomes a hero and unexpected romance between two very different people blossom.
Just like Jay Crownover's previous books, Better When He's Bad is steamy, heart racing romance that doesn't slow down for a single second. With yummy, dangerous hero too swoon over and very relatable heroine, you can't help yourself but fall head over heels in love with this story. I didn't have a problem with finding myself in the rough world of Welcome To The Point and quickly started to crave even more.
If you are looking for fast paced plot full of unexpected twists and turns, spicy romance, with panty dropping bad boy and sweet heroine, you will definitely love this one as much as me!
Review Copy provided by publisher, via Edelweiss in exchange for honest revier
. FOLLOW SMOKIN HOT BOOK BLOG ON: