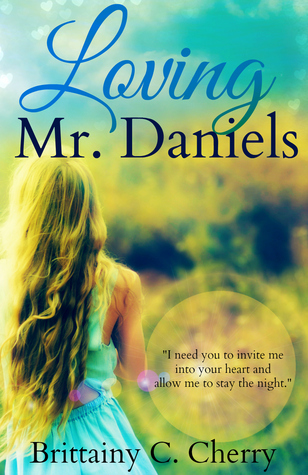 Title: Loving Mr Daniels
Series: No
Author: Brittainy C Cherry
Release Date: May 13, 2014
Rating: 5 ++ stars
Cliffhanger: No
To Whom it May Concern,
It was easy to call us forbidden and harder to call us soulmates. Yet I believed we were both. Forbidden soulmates.
When I arrived to Edgewood, Wisconsin I didn't plan to find him. I didn't plan to stumble into Joe's bar and have Daniel's music stir up my emotions. I had no clue that his voice would make my hurts forget their own sorrow. I had no idea that my happiness would remember its own bliss.
When I started senior year at my new school, I wasn't prepared to call him Mr. Daniels, but sometimes life happens at the wrong time for all the right reasons.
Our love story wasn't only about the physical connection.
It was about family. It was about loss. It was about being alive. It was silly. It was painful. It was mourning. It was laughter.
It was ours.
And for those reasons alone, I would never apologize for loving Mr. Daniels.
-Ashlyn Jennings
☆ 5 GOLDEN STARS ☆
"When hearts are set on fire no complications can extinguish the flames"
Loving Mr Daniels by Brittainy C. Cherry is completely amazing, touching and exceptional bittersweet tale of love, life and moving on. It's a book that touches the subject of unconditional love and asks important questions, only to answer them in the most beautiful way –no, it doesn't give away simple responses, it makes you think and feel. And that what's counts the most.
What a wonderful story! I'm wowed. I'm swept of my feet. I'm totally, entirely, wholly, utterly, absolutely in love with this magical, heartbreaking tale of forbidden love. There are really no words to summarize how I felt while reading this novel, this book is just one of those that grab your soul, heart and mind and don't let go; this is a story that will stay with me for quite some time and I am so sad, I reached the ending so quickly.
"The best things in life aren't easy. They are tough, they are painful, and they are raw. That makes the arrival to the final destination that much sweeter."
Ashlyn is depressed, lonely and lost nineteen year old young woman who just lost her twin sister. Gabrielle was her best friend, her better part, her soul mate, her confidante. Now, after she died, Ashlyn is all alone. Her mother sent her to live with her dad, who she almost doesn't know. Wisconsin seems like a very distant place and Ashlyn has one more year of high school to go through.
Daniel is as much broken and lost as Ashlyn. Although he's sexy, intelligent and a good man, he's also living in the world where everything is marked by pain and grief. He lost his mother and father; his younger brother is more trouble than you can think. And even being a lead singer of Romeo Quest or teaching English doesn't soothe his tortured soul.
When Daniel and Ashlyn meet in train to Wisconsin and quickly learn they share the same passion for Shakespeare's work, something inside them clicks. It's like a new beginning for both of them. It's the start of something beautiful yet forbidden.
"There had been one moment when I saw someone who might understand, based solely on her eyes. Her eyes were surreal, haunting even. Green, powerful eyes that looked so sad. Broken. Beautiful."
So strong, so powerful and so intense - Loving Mr Daniels is not average forbidden love story. This student/teacher relationship is in no means your usual dose of angst and typical problems and issues we generally get in this type of romances. It's so much more.
From the complex characters that won me over to heartbreaking storyline Brittainy C. Cherry astounded me. I loved everything that was the part of this novel, and that rarely happens these days. Even secondary characters were perfect addition to it.
Loving Mr Daniels is breathtaking, thrilling, sometimes overwhelming and gutting read and I loved every minute of it. This is a book that is not only worth reading, but is worth writing about, talking about it and recommending to your best friend. This is unforgettable tale of love I will carry close to my heart forever.
ARC provided by author in exchange for honest review
FOLLOW SMOKIN HOT BOOK BLOG ON: