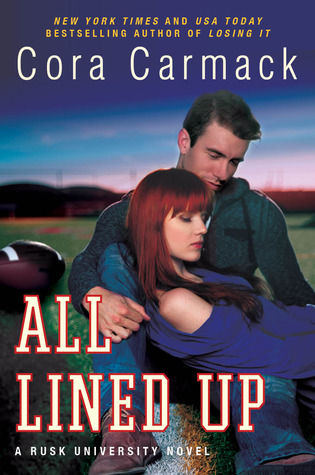 Title: All Lined Up
Series: A Rusk University #1 (every book in the series can be read as a standalone)
Author: Cora Carmack
Release Date: May , 2014
Rating: 4.5 stars
Cliffhanger:. No
New York Times and USA Today bestselling author Cora Carmack follows up her trio of hits—Losing It, Faking It, and Finding It—with this thrilling first novel in an explosive series bursting with the Texas flavor, edge, and steamy romance of Friday Night Lights.
In Texas, two things are cherished above all else—football and gossip. My life has always been ruled by both.
Dallas Cole loathes football. That's what happens when you spend your whole childhood coming in second to a sport. College is her time to step out of the bleachers, and put the playing field (and the players) in her past.
But life doesn't always go as planned. As if going to the same college as her football star ex wasn't bad enough, her father, a Texas high school coaching phenom, has decided to make the jump to college ball… as the new head coach at Rusk University. Dallas finds herself in the shadows of her father and football all over again.
Carson McClain is determined to go from second-string quarterback to the starting line-up. He needs the scholarship and the future that football provides. But when a beautiful redhead literally falls into his life, his focus is more than tested. It's obliterated.
Dallas doesn't know Carson is on the team. Carson doesn't know that Dallas is his new coach's daughter.
And neither of them know how to walk away from the attraction they feel.
[ Yes (hide spoiler)]
Sweet, sexy and seductive, All Lined Up is Cora Carmack in her best. A little bit of drama, lots of lots sexy and the couple worth swooning after, make it light, heart fluttering romance perfect in its own way. Fans of Carmack's previous series will definitely be mesmerized by the first novel in A Rusk University Series and will quickly crave more.
In light, completely enjoyable New Adult style, the author delivers heart racing, sexy college romance you won't be able to say no to. I was rapidly thrown into this world full of sexy football players and I really, really liked it!
Dallas is stuck in life where she's constantly on the tongues of other people. Living under the shadow of her father and his job was always hard, but learning that she can't even escape it and go to college somewhere else was even harder. As a daughter of football coach in Texas, Dallas was, let's put it mildly, squished between football and even more football.
"In Texas, two things are cherished above all else—football and gossip. My life has always been ruled by both."
Boys her age were only interested in getting into her father's good graces or too afraid of him to make a move. And now, after her father got the position as a coach for Rusk's football team, Dallas is back to square one , with her father as a shield and douche of an ex-boyfriend as the team's QB.
When she met Carson, a brilliant, handsome student she instantly felt at ease with him. For the first time, Dallas was so connected to the other person. But Carson is also a football player and is aspiring for the quarterback's position, which is a BIG FAT NO in her book. She doesn't do the same mistakes twice, does she?
From the start to finish Dallas and Carson made me swoon, laugh and tingle. The chemistry between them was so vibrant and strong. They were perfect for each other, even when they tried to stay in the friend zone. Reading about them made me grin so hard!
"I don't know anything about this guy except that his eyes make my mind fuzzy and his muscled arms make my mouth water, and the things he keeps saying... they burn - beginning in my flushed cheeks, blazing through my blood, and curling between my legs until I feel like I have to squeeze them together just to keep from combusting on the spot."
What's more, all this talking about sexy football players, preferably sweaty, sexy, naked football players was awesome! I literally know nothing about football but I want to learn now.
All Lined Up is another very well done New Adult novel by Cora Carmack. She perfectly pictured romance, college, football, parties all that jazz. I can say she has an amazing talent to write in this genere.
Overall, if you want crazy, sweet and sexy, first novel in Rusk University Series will give you exactly what you need. Be ready for some heart fluttering, swooning, laughing, and panty soaking.
*Review Copy provided by publisher via Edelweiss in exchange for honest review *
a Rafflecopter giveaway
Cora Carmack is a twenty-something writer who likes to write about twenty-something characters. She's done a multitude of things in her life-- boring jobs (like working retail), Fun jobs (like working in a theatre), stressful jobs (like teaching), and dream jobs (like writing). She enjoys placing her characters in the most awkward situations possible, and then trying to help them get a boyfriend out of it. Awkward people need love, too. Her first book, LOSING IT, is a New York Times and USA Today bestseller.
FOLLOW SMOKIN HOT BOOK BLOG ON: