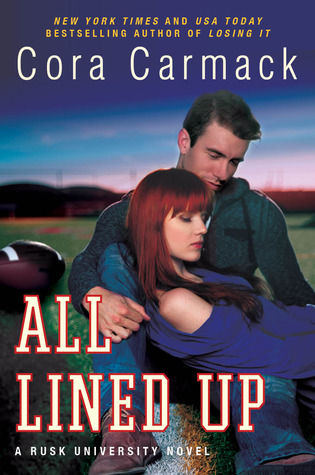 Title:All Lined Up
Series: Rusk University #1
Author:Cora Carmack
Release Date: May 13, 2014
Rating:4.5 stars
Cliffhanger: No
[Yes (hide spoiler)]
New York Times and USA Today bestselling author Cora Carmack follows up her trio of hits—Losing It, Faking It, and Finding It—with this thrilling first novel in an explosive series bursting with the Texas flavor, edge, and steamy romance of Friday Night Lights.

In Texas, two things are cherished above all else—football and gossip. My life has always been ruled by both.

Dallas Cole loathes football. That's what happens when you spend your whole childhood coming in second to a sport. College is her time to step out of the bleachers, and put the playing field (and the players) in her past.

But life doesn't always go as planned. As if going to the same college as her football star ex wasn't bad enough, her father, a Texas high school coaching phenom, has decided to make the jump to college ball… as the new head coach at Rusk University. Dallas finds herself in the shadows of her father and football all over again.

Carson McClain is determined to go from second-string quarterback to the starting line-up. He needs the scholarship and the future that football provides. But when a beautiful redhead literally falls into his life, his focus is more than tested. It's obliterated.

Dallas doesn't know Carson is on the team. Carson doesn't know that Dallas is his new coach's daughter.

And neither of them know how to walk away from the attraction they feel.
I was so pleasantly surprised with All Lined Up. The New Adult genre has been inundated with so many additions in the last couple years. The sheer number of them is mind boggling. Some memorable and some not so good. As many great examples there are, there are probably 5 times as many unoriginal and trite with frustrating characters. This book definitely did it right. I've read several of Cora Carmack's books in the past and while I didn't love them all, there's no denying her talent as a writer. She has a great style that I connect with that makes reading her books smooth and enjoyable. This book in particular though probably now gets the top spot for my favorite Cora Carmack New Adult. The characters were completely likable-which made for a pleasurable reading experience. The story had a deeper meaning than just "Hey, there's this hot guy, he's a bad boy, he's a manwhore, he plays in a band, and oh, yeah, the heroine is broken". The characters were people that felt so genuine, like I could meet and know them in real life. They had everyday, plausible problems that many could identify with, and that's what made this book surpass all so many others in this genre. It seems like lately, after finishing a book, even though I enjoyed it, I still come away from it thinking: I just wish it was…more. That's what this book gave me. More.
Dallas is a young woman trying to make sense of her life and her emotions. She's flawed and feeling lost about how to make everything right that's been wrong and been ignored for so many years. Her relationship with her father is rocky and they're not close-nor do they know the first thing about how to communicate with each other or show affection. Growing up, football has always seemed to be his main focus-turning around failing teams and making them champions was top priority.
There is a gap in our house. Maybe it's the mom I never knew. Maybe it's the words we never say. Or maybe it's both of us.
She's also scared of asserting herself, quick to anger, and tends to run away or ignore her problems. She doesn't take chances because it's too risky. Chances lead to hurt and she's all about self-preservation.
"Sometimes I hold people at arm's length, so that it's harder for them to hurt me."
But the problem is, she doesn't want to be that way. She's spent so long in her father's protective bubble that she's not sure how to navigate her own life. He's always been there, caging her in and controlling her freedom. He's overprotective-at a distance.(If that makes sense) Her many reasons for being unsure and unhappy don't bleed into her one true passion. Dancing.
I loved the fact that she was a dancer. There doesn't seem to be that many heroines with a love of dance. Dance is one of life's true forms of expression. Like music, you don't need words to feel the emotion and heart poured into it. Dance is her way of feeling free, expressing herself, and makes her feel whole like nothing else.
I love the silence before the music starts. There's potential in the quiet, an opening for something new and beautiful to enter the world.
Carson...what wasn't to love? This guy was bordering on perfect. He's a total sweetheart, sexy with a footballer's body, and has respect for women and his family. He's focused and driven. His life revolves around football-working 3 steps ahead of everyone else so that he can take the financial burden off his family and get a football scholarship. He wants to make all his father's sacrifices worth something and make something of himself. Everything depends on him keeping his grades up and catching the attention of the coach. If he can be better-faster, stronger, maybe he might get his chance to make it. What he didn't account for was one crazy, bold, and honest readhead who jumps off a balcony into his arms.
Their attraction is instantaneous and overwhelming. He makes her act brave like she's never been before. She makes him act impulsive like he told himself not to be. She's his Daredevil and she wants to be the person that she is in his eyes.
She is the most intoxicating mix of hard and soft-lean, strong muscles covered in silken skin. That's her personality, too: combative and shy, bold and insecure.
After realizing that her father is his football coach, they have even more reason to stay away from each other. Not one good thing could come from them being together and they try their hardest to avoid each other but they keep getting pulled back in. They both become better when they're around each other. She loves who she is when she's with him and it makes her fight to be a better version of herself.
She jerks in my arms, and I can't tell whether she's trying to get closer or pull away. "Please. Just help me, " she demands. "Help how?" Her fingernails dig into my shoulders, and I can't tell what she's thinking. Not at all. "Fix me," she whispers.
I loved this book. There were many factors that made a winning combination. The passion and the tension were there. You could feel their incredible attraction and their need to be with each other as much as they tried to deny it. The characters were well thought out and interesting. Flawed yet endearing. I recommend this book to NA readers AND non NA readers. It has a little something for everybody.
***ARC provided by Edelweiss in exchange for an honest review***
FOLLOW SMOKIN HOT BOOK BLOG ON: