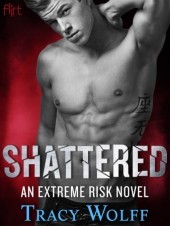 Title: Shattered
Series:Extreme Risk
Author: Tracy Wolff
Release Date: May 20, 2014
Rating:4 stars
Cliffhanger:No
The Extreme Risk series—Tracy Wolff's edgy, emotional take on the New Adult genre—continues with the story of a lost soul and the fearless beauty who inspires him to take a flying leap back into life.
Ash Lewis has poured every last ounce of his blood, sweat, and tears into reaching the very top of the professional snowboarding world—until the unthinkable happens. After the biggest competition win of his career, Ash's mother and father are killed in a tragic accident. Unable to handle the idea of going back out on the snow to pursue the dream his parents shared with him, Ash feels that he has no choice but to walk away from snowboarding forever. Then he meets Tansy Hampton.
Wild, fun, and impulsive, Tansy has a different look and a new passion every week. As a cancer survivor who spent the past several years waiting to die, Tansy has a fresh perspective on life—even if she doesn't have a clue about what she actually wants to do with it. But she's determined to find out, and that means making the most of her time while she still can.
From the very beginning, their chemistry is intense. But while Ash can't stop chasing the ghosts of what can never be, Tansy stays firmly focused on the possibilities the world holds for her—and for them. She's already picked up the pieces of one shattered life. Now she's determined to help Ash do the same.
This book packs an emotional punch. It deals with some very serious issues on both the hero and the heroine's side. I knew from reading the last book that Ash was going to have a lot to deal with and get through, but the addition of the heroines issues made for quite the amount of angst. I'm a big fan of Tracy Wolff and especially the extreme risk series in particular. The snowboarder aspect is something different from the norm and this group of friends has really been a treat to read about. There was something about this couple that I really connected with though. From the beginning of this book, I soaked up their story like a sponge. I read their story from beginning to end with minimal pauses, and though I left the book wishing it had more of a solid HEA, overall I relished the story so much. I was willing to look past some issues that others may have a problem with.
Tansy:
Tansy is a fighter. She's struggled, battled and overcame cancer and at the age of 19, has a fresh start on a real life. She wants to experience life to it's fullest and find all the things she's been missing out on. She's only been in remission for 7 weeks so she's still fragile, but immediately her giving heart brings her to the Make a Wish foundation where she gets her first job making sick kids' wishes happen. I loved how caring and selfless she was. And though she's pretty innocent with not much life experience, she bravely sets out to find herself.
I'm trying to be me. The only problem is I don't know who that is. I've been cancer girl for so long that trying to find another identity is…challenging, especially when everyone around me still sees the sick girl with the port in her chest.
Her own sense of style, her likes and dislikes-those were all insignificant when she was battling for her life. But now she's a revolving door of fashion and hair colors. Hipster, hippie, rocker, pink hair, blue hair, purple hair…she's trying everything on and out and finding what feels right. I loved her bright colors and pixie hair-it was so cute to me.
Ash:
Ash is, in one word-numb. After the loss of his parents, he's absolutely set adrift and fumbling. He's inconsolable and drowning in guilt. He feels like his parents would still be alive if they hadn't been coming to see him compete. They never would have been in their car crash and his brother would still be whole again. His younger brother is now paralyzed and all he ever seems to do is make a mess in taking care of him. He gives up snowboarding-his passion and true talent out of guilt and depression and he's not sure if he's ever going to find his way back again.
I need to do something. Every fucking breath I take is like a knife in my windpipe, like shards of shattered glass working their way through my veins. Only there's nothing to do. Nothing to say. Nothing to stop the fucking nightmare Logan and I are locked inside.
Ash was the sweetest and the responsible one of the group of friends, but now, in this new reality, he's nothing like himself. He's lashing out at people, having random hook-ups, anything to numb the pain. When Tansy approaches him to ask him to make a dying boy's wish come true-to spend the day with him snowboarding he immediately turns her down. Nothing will make him climb back on his board. She's hellbent on making him change his mind though. She doesn't put up with his crap and she's not afraid of him. Okay, maybe intimidated, not afraid. I loved how she gave it right back to him when he gave her attitude.
"What are you doing?
"Making Tea."
"What if I don't like tea?"
I look at him and shrug. "Then get your own drink. I like tea."
He gives a surprised laugh, then watches silently as I rummage through the kitchen.
Ash fights his feelings hard. With all the turmoil in his life, even if he wanted to build something with her, it would never work. She's too innocent and good. He's too lost and angry. But the more he tries to ignore his true feelings, the more they keep bubbling up, threatening to overflow.
Everything about her is calling out to him. Not just her sexy lips, her adorable hair, and her sass. It's her strength and her ability to see him and what he's going through. She always seems to know what he's feeling and how to make him feel better. But something isn't adding up about her. What isn't she telling him?
As I watch her walk away, I can't help wondering about the secret I can see lurking in her eyes. Wondering what put them there. And wondering why I care so much more than I should.
The one thing that she couldn't handle would be for him to look at her differently if she told him what she's been through. He would never treat her like she's normal ever again. Right now, they have a passion together that she's never experienced before and she doesn't want it to end. They seem to be getting closer and closer to giving in to their unspoken urges and there's nothing she wants more. When they finally caved...it. was. HOT.
They fall into...something together. Neither knows what it is, neither knows what they're doing, but all they know is they can't quit it. Their feelings did admittedly form fast and that was my biggest complaint. I wanted their getting to know each other phase to be longer. Did I still enjoy the hell out of it and devour every page? Most definitely-yes. This is also quite an angsty book with (in my eyes) not a solid HEA, but more like a HFN. (Happy for now). The future is uncertain for them but at the moment they're strong and happy.
**ARC provided in exchange for an honest review.**
FOLLOW SMOKIN HOT BOOK BLOG ON: