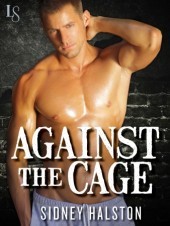 Title: Against the Cage
Series: Worth the Fight #1
Author:Sidney Halston
Release Date: May 27, 2014
Rating:3.5 stars
Cliffhanger:No
In her Loveswept debut, Sidney Halston turns up the heat as a sexy cage fighter shows a former bookworm how delicious a few rounds between the sheets can be.
For Chrissy Martin, returning to her Florida hometown always seems to bring bad luck. The day starts with a breakup text, followed by a jailhouse phone call from her troublemaker brother. Now a routine traffic stop has ended with her accidentally punching an officer . . . in adelicate place. Then Chrissy realizes that the hot cop on the receiving end of her right hook is none other than the man from her teenage fantasies.
Jack Daniels knows how to take a hit. After all, when he's not chasing reckless drivers, he's kicking ass in a mixed martial arts ring. So what takes his breath away isn't the low blow, but the woman who dealt it: a gorgeous knockout with legs Jack wouldn't mind being pinned under—who just so happens to be his best friend's nerdy little sister, all grown up. Soon their instant chemistry leads to a sizzling affair, but Jack and Chrissy are fighting an uphill battle if they want to make love last beyond the final bell.
Includes a special message from the editor, as well as excerpts from other Loveswept titles.
Chrissy is on her way home to Tarpon Springs, Florida after her brother calls her from jail asking her to come bail him out. They're not really on speaking terms, but he's the only family she has left after their father passed away and she's not the kind of person who forgets about family.
On her way there she has a day from hell. She broke a heel off one of her favorite pair of shoes, got a flat tire, and now is getting pulled over by the police. What else could go wrong? This was one of my favorite parts of the book. Because yes, something else could go wrong-and his name is Jack Daniels (the cop who pulled her over). Yes, his name is really Jack Daniels. Who is Jack? Her brother's best friend all through childhood and as adults and one half of the duo that annoyed the hell out of her until she moved away. Not only did she have a crush on him that was unrequited, but he and her brother were always treating her like an annoying pest and preventing her from having any fun. Now here he is about to give her a ticket. Unfortunately, a small mishap happens with her hand and his crotch and he's on the ground. I cracked up at this tough guy cop brought down by little old Chrissy and once she realizes who he is, she loses her regret and apologetic attitude. He's not exactly her favorite person.
Jack squinted. "Chris?"
"Hi, Jack."
"Now, it all makes sense. You punched me in the balls on purpose!"
"No way! That was completely by accident. But, had I known it was you, the results would have probably been the same."
Chrissy is there to get her brother out of trouble and then she wants to head out of town as quickly as possible. Ever since her brother blamed her for their father's death at his funeral, she hasn't wanted to contact him and avoids their hometown as much as possible. She's no longer a gawky kid trailing behind her brother and his friend trying to make them happy. She's an independent woman, a doctor, and now has more self-confidence and knows how to stick up for herself. Jack isn't the same as he was all those years ago either. From the minute she steps out of the car and he sees her fully for the first time, he isn't exactly picturing her like a little sister anymore. Now he's developing a strong attraction and a serious obsession with her amazing pair of legs. But she can't stand him….right?
She's always had a crush on him and that seems to still be there-though she would never admit it. He's not about to let her pretend for a second though. He's not exactly a shy or uncertain guy. He wants her and she's about to find that out.
Chrissy was not one of my favorite heroines. I thought I would like her based on her character traits, but her personality seemed to prissy and judgmental. She spent a lot of time in the book lecturing her brother and Jack, following Slade around making sure he wasn't getting into trouble. He's a grown man! It got annoying to me. She wasn't TSTL, but she wasn't what I was expecting either. Jack I thought was great. He had a very bossy, controlling, yet protective personality. I liked how take charge he was and man did that guy have a dirty mouth! Holy Hell he could dirty talk.
Their personalities caused them to clash a lot. There was a lot of bickering. She didn't like to be bossed around, and he didn't like her never taking his advice or doing what he wanted. She hated the fact that he's an MMA fighter-she can't stand the violence and his enjoyment of that worries her. She had a horrible experience with an ex-boyfriend that ended badly and she doesn't want history to repeat itself.
One minute you're this sweet protective cop that has me so completely smitten that I forget all logic and reason, and the next you're violent and savage and happy about it. Guess who that reminds me of?"
There were misunderstandings from their past that had to be cleared up, and her relationship with her brother needed some work as well. But his insistence on cage fighting in dangerous fights weren't helping. He was trying to earn some quick money in order to start up his own gym and as his sister and a doctor, she was fighting him every step of the way. And poor Jack was stuck in the middle.
I gave this 3.5 because Jack was quite yummy, the sex was definitely hot, but it really wasn't what I was expecting. There was too much focus on her brother and his fighting. There was only one fight scene with Jack and I was expecting him to be more involved with the sport, but it was more of a hobby for him. The heroine was getting irritating to me by the end, and some scenes came off as silly rather than funny. This is good for a quick read with some steam to it but I didn't totally fall for the story.
***ARC provided by Netgalley for an honest review***
FOLLOW SMOKIN HOT BOOK BLOG ON:
View all my reviews