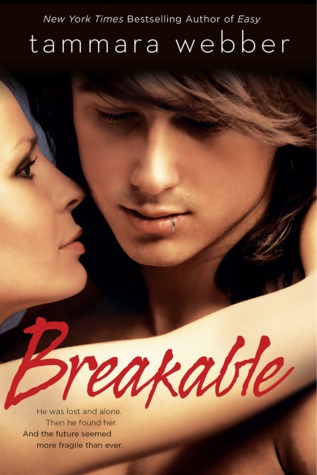 Title: Breakable
Series: Contours of the Heart #2
Author: Tammara Webber
Release Date: May 6th, 2014
Rating: 2.5-3 stars
Cliffhanger: No
He was lost and alone. Then he found her.
And the future seemed more fragile than ever.
As a child, Landon Lucas Maxfield believed his life was perfect and looked forward to a future filled with promise — until tragedy tore his family apart and made him doubt everything he ever believed.
All he wanted was to leave the past behind. When he met Jacqueline Wallace, his desire to be everything she needed came so easy…
As easy as it could be for a man who learned that the soul is breakable and that everything you hoped for could be ripped away in a heartbeat.
About two years ago, I've read my very first New Adult book. It was Easy by Tammara Webber. Before that I only read Young Adult, mostly Paranormal or Dystopia. But after reaching the end of Jacqueline and Lucas' story, when I was swept of my feet and fell in love with contemporary romance, I knew my reading preferences changed… forever. I still feel like Tammara Webber's novel was a turning point in my life as a bookworm, so how could I not read it once again but his time, from Lucas' point of view?
I think every one of you already know the story of Jacqueline and Lucas. That's why summarizing it here feels a little bit useless, so I won't tell you much about how this plot works. Giving as it's written in Lucas point of view, not many things could change. The only additional part was Landon's confessions. Unfortunately, as much as I loved the storyline while reading it first time (and rereading it once or twice), Breakable was boring for me. Yes, I still swooned over Lucas as he's one of my favorite book boyfriends, but… the book seemed to drag and I didn't get the same high I did two years ago.
I wanted to love Breakable and cherish it as much as Easy, but it was very hard to do when I wasn't interested much in Landon's bad boys adventures…I must admit they were very cliché!
I hoped Breakable would be not only retelling of Easy. I wanted to see Jacqueline and Lucas' as a couple in the future. I got only a small dose of them in epilogue, and it was too little to be enough.
What's more, I think I preferred Lucas when he was this mysterious, broken guy. Which brings me to my final thought… I think I have had enough of retellings; no more books like this for me. Sometimes it better to say goodbye to the characters you love earlier, than unnecessary prolong their story and only destroy the good parts. I believe magic can only happen once.
FOLLOW SMOKIN HOT BOOK BLOG ON: