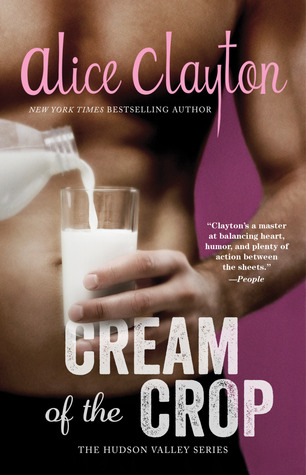 Title: Cream of the Crop
Series: Hudson Valley #2
Author: Alice Clayton
Release date: July 12, 2016
Rating: 4 stars
Synopsis:
Manhattan's It Girl, Natalie Grayson, has it all: she's a hot exec at a leading advertising firm, known industry-wide for her challenging and edgy campaigns. She's got a large circle of friends, a family that loves her dearly, and her dance card is always full with handsome eligible bachelors. What else could a modern gal-about-town wish for? The answer, of course, is...cheese.
Natalie's favorite part of each week is spending Saturday morning at the Union Square Farmer's Market, where she indulges her love of all things triple cream. Her favorite booth also indulges her love of all things handsome. Oscar Mendoza, owner of the Bailey Falls Creamery and purveyor of the finest artisanal cheeses the Hudson Valley has to offer, is tall, dark, mysterious, and a bit oblivious. Or so she thinks. But that doesn't stop Natalie from fantasizing about the size of his, ahem, milk can.
Romance is churning, passion is burning, and something incredible is rising to the top. Could it be...love?
Cream of the Crop was one of my top anticipated reads this year. What an intriguing character Alice Clayton teased us with in book one of the series,
Nuts
! Oscar was a hero like no other, so original and broodingly grumpy. He was that silent character in the background calling for his story to be told. And a huge, strapping hunk of a man who rides a motorcycle and makes artisanal cheese? The mental visuals alone are enough to entice you.
Natalie is a city girl living in Manhattan who has become addicted to visiting the Saturday morning market. Like clockwork, she puts on her sexiest suit of armor and confidently flaunts her curves in pursuit of catching a glimpse of Oscar the sexy milkman. Unfortunately, all of her swagger is sucked out the second she locks eyes with him. He's the only man that can make her turn into a thirteen year old with her first crush.
Cross a bad boy with a supermodel, add a dash of linebacker with a big scoop of Polynesian love, and then you might, just might, have an appreciation for the wet dream across the market from me.
Natalie was a powerhouse of sass and bold fearlessness. She took life and its challenges and made kneel in surrender. And speaking of surrender...she had any man she wanted wrapped around her finger. The confidence she exudes and her comfort in just being her honest self is the definition of sexy. You don't have to be a size zero to be appreciated and desired, and this is something she learned in a painful relationship that she swore never to fall victim again. I really hurt for what she went through, the abuse she endured was truly heartbreaking . But in the end, she became stronger from it and didn't let it rule her life. She was a beautiful, strong and resilient woman.
I loved men, and I didn't apologize for enjoying them. I wasn't looking to get married, I wasn't looking for someone to take care of me, and I certainly wasn't looking for a man to take me home and stick me in an apron.
Oscar was a very enigmatic character, he wasn't what you would call talkative or the sharing type. He could also me a majorly insensitive ass in his comments to Natalie. Not in a mean spirited way, but in a very realistic obtuse way.
(view spoiler)
[ The comment about loving her great, big ass for one. This is not to be confused with Great Big Ass. (no comma) There's a big difference and Natalie was sure to call him on it.) (hide spoiler)]
He's blunt and in your face when he's ready to talk, and Natalie inspires some very dirty words followed by some scorching hot actions. Once Natalie untwisted her tongue in his presence, they put both of their tongues to much better use.
The chemistry between Oscar and Natalie was immediate and intense. There was no doubt that they had an incredible physical connection and compatible personalities. They seemed to click effortlessly and had that comfortable relationship that is so at ease, making them fit without even trying.
My one complaint would be that even with the generous page count, there wasn't enough communication between them. I would have liked to have seen more time spent with them getting to know each other's pasts and learning all their little idiosyncrasies more.
If you're a fan of Alice Clayton's fresh and witty humor, hot farmers, and heroines who are proud to be their most genuine self, than this book could be for you! A highly recommended light and seductive story that's sure to have you daydreaming about Oscar churning butter, and reaching for a tall glass of milk.
FOLLOW SMOKIN HOT BOOK BLOG ON: