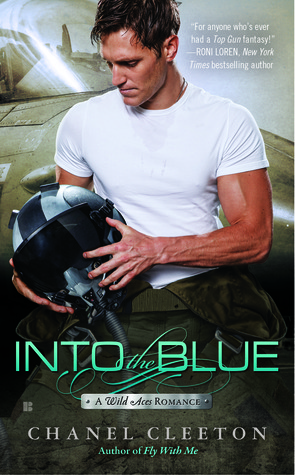 Title: Into the Blue
Series: Wild Aces #2
Author: Chanel Cleeton
Release Date: July 5, 2016
Rating: 5 stars
Synopsis:
From the author of Fly with Me and the Capital Confessions Novels comes the newest in the sexy Wild Aces Romance series.
Eric Jansen—call sign Thor—loves nothing more than pushing his F-16 to the limit. Returning home to South Carolina after a tragic loss, he hopes to fix the mistake he made long ago, when he chose the Air Force over his fiancée.
Becca Madison isn't quick to welcome Thor back. She can't forget how he shattered her heart. But Thor won't give up once he's set his sights on what he wants—and he wants Becca.
Thor shows Becca that he's no longer the impulsive boy he used to be, and Becca finds herself irresistibly drawn to him. But will Thor be able to walk away from his dream of flying the F-16 for their love or does his heart belong to the sky?
After reading (and loving) Fly With Me, I knew I'd be faithfully following this series. Not only did I love the main characters in the first, but the secondary characters were built well enough to hook me easily into wanting to know more about them. This book is about Eric (Thor), Noah's friend and fly buddy in the Wild Aces military aviation squadron.
If you've read book one, you know that Eric is suffering from a case of PTSD due to witnessing a tragedy up in the air
(view spoiler)
[with one of his fellow pilots (hide spoiler)]
. He's hurting emotionally and without his full concentration and confidence, he feels like he's putting the rest of his team at risk. In order to get his head straight, he decides that a visit back to his hometown might be just what he needs. Even if it means facing his biggest regret: Becca Madison. One glance at her and all of his long suppressed feelings came flooding back in a tidal wave. But with the way he handled their break-up, she wasn't giving him an inch. He was in for the fight of his life.
I felt like I was falling, reaching out with nothing to hold on to, the girl whose hand I wanted to grab, just out of my reach.
This was a thoughtfully well-written second chance love story. Becca and Thor had all the history of a deep and broken love along with a lot of bitterness and anger on her behalf. They met young, fell in love, and their futures were mapped out early. But they both had big dreams and Eric made the toughest choice of his life. They both lived in the knowledge that no one else could ever measure up for the last ten years. He was ready to let her back into his life and make amends-whatever it took. But could she risk the same pain and heartbreak that she barely survived the first time around?
He kept sneaking his way past my defenses, and I kept letting him, because no matter how hard I fought to deny it, he had always been my weak spot.
Becca is now a successful attorney, and even if they wanted to explore a future together, how would they navigate their careers together and not lose a part of themselves in each other? This heroine was one tough cookie. She make Eric prove himself time and again and wasn't bending an inch in her resolve to not fall for his charming smile and irresistible dimple. She couldn't afford to be wrong about him again after everything she had been through. I admired her strength, her tenacity in making him prove himself.
Eric was sweet, willing to open himself up to her and be vulnerable. He was clearly ready to earn her trust back and not afraid to face his actions from the past. What he did, and the way he did it was truly despicable. Their separation was handled
very
badly and I couldn't really fault the heroine for her distrust. However, I was rooting for him all along. I found it hard to hold what he did against him. And the more I knew about his mental state and reasoning at the time, I realized that there was a time and place for them to make their relationship work. Everything worked out the way it was meant to, as harsh and destructive as things were.
Their fragile friendship moved to a sizzling hot, physical connection that was stronger than it had ever been. These two just about burned up my kindle. All of their pent up passion and desire for each other combusted when they let their inhibitions go. This author knows how to write sexual tension and need. It was blatant, overwhelming, and thrilling. Becca never stood a chance in holding her heart of the equation with this sexy pilot.
Our hands and bodies became extensions of each other as we reconnected, as we came together once again with an audible click, as though the rightness of it all overshadowed everything else.
If you like second chance love stores, sexy pilots that will make you re-live all of your favorite Top Gun fantasies, and plenty of heat with your romance, then this book will be for you. This is told in dual POV and can be read as a standalone. I'm personally salivating over Easy's book, the third in the series. Ever since book one I've needed to see him finally get his HEA, and after reading the tease at the end I couldn't be more excited. There's tons of promise and potential and
angst in store for the future.
Bring it!
FOLLOW SMOKIN HOT BOOK BLOG ON: