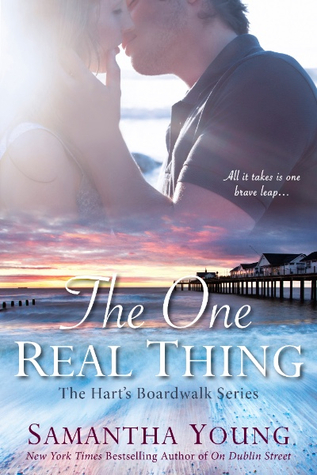 Title: The One Real Thing
Series: Hart's Boardwalk #1
Author: Samantha Young
Release date: September 6, 2016
Rating: 5 stars
Synopsis:
Welcome to Hartwell, a quiet seaside escape where uncovering old secrets could lead one woman to discover the meaning of a love that lasts…
While Doctor Jessica Huntington engages with the inmates at the women's correctional facility where she works, she's always careful to avoid emotional attachments in her personal life. Loss and betrayal taught her that lesson long ago. But when she comes across a set of old love letters in the prison's library and visits the picturesque town of Hartwell to deliver them to their intended recipient, she finds herself unable to resist the town's charm—and her attraction to the sexy owner of a local bar proves equally hard to deny.
Since his divorce from his unfaithful ex-wife, Cooper Lawson has focused on what really matters: his family and the boardwalk pub they've owned for generations. But the first time Jessica steps into his bar, Cooper is beyond tempted to risk his heart on her. Yet as their attraction grows hotter and Jessica remains stubbornly closed off, he begins to realize it will take more than just passion to convince her there's only one real thing in life worth fighting for….
Prepare yourselves, this could be an uncontrollably gushing review. I loved this book
that
much. It's rare when a story's pieces fill every space you didn't know you needed filling, and that's what this one did for me. I've liked a lot of books, but when you feel that rightness wrap around and encompass you every moment while reading it's something completely different. From the moment I opened up this book and stepped inside the lives of Cooper and Jessica I was swept away in their story. It charmed me, made my heart speed up in excitement, and left me feeling complete when I turned the last page. To me, that's the perfect reading experience.
Working as the doctor in a women's prison isn't exactly every person's dream job, but she felt like she was making a significant difference in people's lives. She had a purpose, even if she didn't exactly have much satisfaction in her personal life. She has few friends, and isn't able to allow more than a physical relationship with men. An emotional attachment was something she couldn't afford-risking someone seeing into the core of her was too risky. There was blackness there that could never be exposed.
Jessica's simple vacation turned into a trip that would change the path of her entire life. After finding some old letters that held earth-shattering secrets that never got delivered, something pushed her to finally put them in the hands of the man who needed to see them. It was a tragic love story, one that she couldn't allow to leave unresolved. And it was in that cozy small town on the water she found a whole lot more than she ever bargained for.
(...) for the first time in a very long time I wanted everything with a man. And for the first time ever I was going to see if it was possible to have everything with this man.
Cooper is the sexy bar owner who met one rainy day and immediately, for me, I felt the feeling of coming home between them. As if there was a counterpoint that was finally pulled together and locked into place just by glancing in each other's eyes. It wasn't love at first sight, but more a sense that they were right for one another without even trying. He couldn't get the beautiful doctor off of his mind and he was determined to get to know her. I loved his determination and drive in the face of her reluctance. It only made him more dead set on exploring what they could have together.
I was much too aware of him for my own good. The feelings he incited in me, this stranger with his bar, well...it was just a complication I didn't need.
He was drawn to her intelligence, independence, and compassion for other people. But he soon started to see that she wasn't everything she first appeared. She was skittish about her past, her family. And the more he pushed to try to break through and shatter her silence, you could feel things heading towards disaster. They were desperately clinging to each other by a thin thread, her secrets were ones that had the power to snap their tenuous hold and leave them shattered.
I was way past falling.
I'd fallen.
Hard.
The idea of losing him was crippling.
He wasn't without his own painful past. A horrible betrayal left him incredibly wounded and still trying to heal. But that didn't stop him from realizing the importance of what he found with Jessica. I loved that about him. There was no distancing on his part, he knew what he wanted and he wasn't afraid to work for it.
Honestly, after the build up throughout the book, I was nervous that the final reveal may be deflating. I couldn't be more wrong, the impact was everything it promised to be. Jessica had to come to a place where she finally had the confidence to expose her most shameful secret and risk everything on being accepted for who she was. I had tears in my eyes when she bared herself to him, it really broke my heart. Everything she was carrying around herself had been a heavy weight that needed to be lifted in order for her to feel completely at peace with the man she loved. The letters were the key, bringing everything full circle. I loved the part they played, the tragedy in the story bringing hope in another.
Besides the
amazing
sexual chemistry and heat between these two characters, and the natural growth of their very believable emotions, there was so much more to love. The quaint town of Hartwell was filled with intriguing people just waiting for their own stories. I would read each and every one of their books no questions asked. The author spent a considerable time developing these secondary characters and creating a group of friends that were completely fleshed out and intriguing. I'm officially stalking this series until it comes to a close. I can't wait to see what's in store for us next.
FOLLOW SMOKIN HOT BOOK BLOG ON: