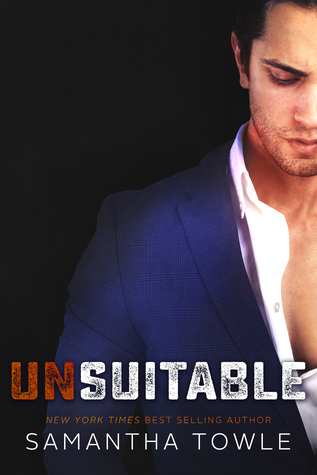 Title: Unsuitable
Series: Standalone
Author: Samantha Towle
Release date: October 1, 2016
Cliffhanger: No
Rating: 4.5 stars
Synopsis:
Daisy Smith has spent eighteen months of her life paying for a crime she didn't commit. Now out of prison, she has only one focus—to get back custody of her younger brother, Jesse, who is deep in the foster care system. Desperate to rebuild her life and show the system that she is responsible enough to care for Jesse, she takes on the only job available to her—working as a maid at the Matis Estate.
On day one of her new job, Daisy meets Kastor Matis, the only son of the owners and her new boss. An enigmatic, handsome Greek god of a man, Kas is closed off, cold, and…well, kind of a bastard.
The more time Daisy spends around Kas, she starts to see there might be more to him than just his cold, bastard ways. He may actually have a heart beating in that frozen chest of his.
But Kas has secrets, too. Secrets that he's determined to keep.
Secrets make Daisy curious.
And you know what curiosity can do…
My whole body is awake. Like I've been in a deep sleep, and he's just touched me to life.
Unsuitable was a story that really caught me by surprise. After reading the synopsis, I was hooked and knew that I needed to get my hands on this story. A romance set in London with an ex-con heroine who works for a brooding, bastard of a boss? Definitely different. Considering the fact that Samantha Towle has written a few of my favorite reads, you didn't have to twist my arm too hard to add it to my TBR.
I'm going to be completely honest and tell you that the asshole hero is not typically what attracts me. I know a lot of people gravitate towards them, but for me, they are extremely hit or miss. For some odd reason, however, my gut was telling me to take a chance on this guy and I'm so glad I did. The opening scene will immediately draw you in and give you a little insight into what makes Kastor Mastis the formidable man he is. But it's nowhere near enough to understand him as a whole. That comes much later.
Daisy Smith is a young woman just released from eighteen long months in prison. Even up until that point, her life had been anything but easy. One of her most defining characteristics was that she was a survivor. She raised her little brother Jesse singlehandedly when her mom abandoned them. Daily life was a struggle, but keeping them together was the most important thing to her.
Betrayal by the man that claimed to love her had everything she worked to hard to hold together slipping through her fingers. Her brother is now part of the foster system, and she's starting an uphill battle to reclaim what she lost. But some things can never be regained. To know that people don't believe her innocence, have
never
believed it is what cuts the deepest. All she can do is try to move forward.
I can't explain how hard it is to know that you didn't do what everyone believes you did and watch them judge your character based on that. Watch them control your life, take away your family. It's painful and frustrating and heartbreaking.
Daisy gets set up with her best friend in a new apartment and a new job from her parole officer. Everything seems to be going positively for her from the start. Until she arrives at Kas' mansion to start cleaning his home and gets a rude awakening. He's not only impatient and abrupt with her, but noticeably hostile. Let me tell you, he is a grade-A asshole. Make no mistake about that. There were times he deserved a good nut punch for what flew out of his mouth at her. But as much as she wanted to tell him to shove his job, she sucked it up and did what she had to do. Building a stable life and getting her brother back was her only concern.
When their attraction started flaring up, neither one of them was receptive to it. In fact, they did everything they could to resist each other. But slowly, you see signs of Kas' affections (slight and brief as they may be) and Daisy's notice of him. These two had a delicious build up of angst, several back and forth moments of struggling with temptation.
His hands on me, the feel of him against my back, just feels too good. He feels like nothing I've ever had before and everything I didn't even know I wanted.
One thing I really loved about Kas was that he was into parkour. It seemed like something so at odds with his uptight attitude, yet strangely fit him so well. He was a man with very little pleasure in his life, but this seemed to be an outlet for the horrible memories that plagued him. Bringing Daisy to practice parkour with him was his way of opening up to her and finally allowing her to see a part of him. But it wasn't long before she discovers a whole lot more than either one of them anticipated.
Let me tell you, I was held captive by this story. On the edge of my seat, and wondering where I would be led next. Even as these two find a small semblance of happiness, you can feel that they're still headed down a dark path. The secrets he's concealing are explosive ones with an indelible impact. What I really loved though, was the fact that the heroine held strong through everything and never lost sight of what was important to her.
Unsuitable had a unique quality that I always look for with my books. The characters were thoroughly intriguing, and the storyline never had a dull moment. Fans of contemporary romance with plenty of passion and an edge of mystery will really enjoy this one.
FOLLOW SMOKIN HOT BOOK BLOG ON: