Title: Roman Crazy
Series: Broads Abroad #1
Authors: Nina Bocci and Alice Clayton
Release date: September 13, 2016
Cliffhanger: No
Rating: 3 stars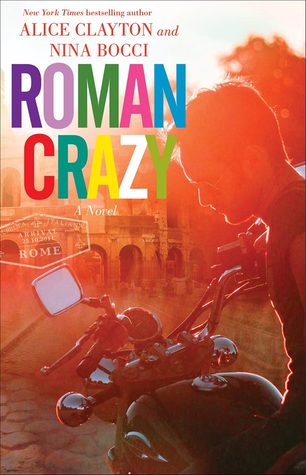 Synopsis:
Avery Bardot steps off the plane in Rome, looking for a fresh start. She's left behind a soon-to-be ex-husband in Boston and plans to spend the summer with her best friend Daisy, licking her wounds—and perhaps a gelato or two. But when her American-expat friend throws her a welcome party on her first night, Avery's thrown for a loop when she sees a man she never thought she'd see again: Italian architect Marcello Bianchi.
Marcello was the man—the one who got away. And now her past is colliding with her present, a present where she should be mourning the loss of her marriage and—hey, that fettuccine is delicious! And so is Marcello…
Slipping easily into the good life of summertime in Rome, Avery spends her days exploring a city that makes art historians swoon, and her nights swooning over her unexpected what was old is new again romance. It's heady, it's fevered, it's wanton, and it's crazy. But could this really be her new life? Or is it just a temporary reprieve before returning to the land of twin-set cardigans and crustless sandwiches?
A celebration of great friendship, passionate romance, and wonderful food, Roman Crazy is a lighthearted story of second chances and living life to the fullest.
Purchase:
About the Authors:
Alice Clayton worked in the cosmetics industry for over a decade before picking up a pen (read: laptop). She enjoys gardening but not weeding, baking but not cleaning up, and finally convinced her long-time boyfriend to marry her. And she finally got her Bernese Mountain Dog.
Nina Bocci is a novelist, publicist, eternal optimist, unabashed lipgloss enthusiast, constant apologist, and a hopeless romanticist. She has too many college degrees that she's not using and a Lego addiction that she blames on her son.
Roman Crazy starts out with a bang. Literally, a bang. Walking in on her philandering husband, Avery was sent into a tailspin of turmoil. She's lost and trying to make sense of where her life could have gone wrong. Throughout her marriage, she's done nothing but give up on her passion, give up on years of training as an artist. And for what? To further her husband's career and make their home the best it could be. Avery's discovery of his marital affair was a blessing in disguise, the catalyst she needed to wake her up and open her eyes to the life that she was throwing away. When her friend invites her to come stay with her in Rome for the summer, there was nothing she wanted more than to get away and get her head straight.
What had felt like comfort for years now felt like an uncomfortable sweater: itchy and tight and smothering. A knowledge that my skin was even aware of, that I didn't have a clue who my husband really was.
I think may women will be able to relate to what Avery is going through. To be facing divorce as your whole life is turned upside down is something that no one ever expects. But when it does, all you can do is put on your big girl pants and start re-inventing yourself. That's exactly what she vowed to do.
From the moment she stepped foot onto those cobblestone streets in Rome, you are truly transported to Italy right along with her. The atmosphere that surrounded her is suddenly all around
you
waking up all of your senses. I would even go so far as to say that Rome was its own character in the story. It was living and breathing right before your eyes. It was without a doubt, my favorite thing about the book, especially since I've not been fortunate enough to visit myself. The attention to detail was absolutely fantastic and written so eloquently.
I was swept up in the city's energy. It seeped into every pore, moving me along like a marionette; by the time we reached the restaurant, I had sensory overload in the best possible way.
Marcello was a fantastic, sexy hero, though I wish we could have gotten more insight into him earlier in the book. We know that he's the one man that she could never forget. We know that he's a scorchingly hot Italian architect, and he holds a lot of resentment towards her for years ago when she disappeared from his life. However, that's about the extent of what we know about Marcello and it didn't allow for the depth in a character that I was hoping for. Did I still enjoy him? You'd better believe I did.
I was a different woman around this man. I felt more like a woman around this man, powerful and sexual and raw and wild.
The way he gazed at her with that intense focus, his
"Tesoros"
, and that tenderness he displayed for her were simply delicious. I just would have liked more from him earlier than their trip to see his family towards the end of the book. He was a bit of a mystery and hard to read for a considerable time.
There was a mess of drama towards the end that simply wasn't to my taste, and I can't say that I was loving these characters' actions at certain points. It was the major deciding factor in my rating. I felt that Avery was more than a little hypocritical and blind to her own faults. Marcello ended up reciprocating some of her mistakes and it was only then that her eyes were opened to how she needed to change.
A huge positive: the fusion of Alice Clayton and Nina Bocci's writing was flawless. The scene was gorgeously set for an entertaining read about two people reconnecting and finding their way back to what's important in life. So, while this particular book wasn't the perfect five star fit for me, I believe this series has incredible potential for future installments. Her friends are due to have their stories told, and I can honestly say that I'm very excited to escape on the adventure that we will inevitably be taken on.
FOLLOW SMOKIN HOT BOOK BLOG ON: