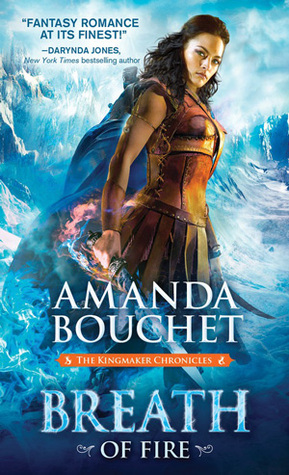 Title: Breath of Fire
Series: Kingmaker Chronicles
Author: Amanda Bouchet
Release date: January 3, 2017
Cliffhanger: Yes
Rating: 3.5 stars
Synopsis:
SHE'S DESTINED TO DESTROY THE WORLD...
"Cat" Catalia Fisa has been running from her destiny since she could crawl. But now, her newfound loved ones are caught between the shadow of Cat's tortured past and the threat of her world-shattering future. So what's a girl to do when she knows it's her fate to be the harbinger of doom? Everything in her power.
BUT NOT IF SHE CAN HELP IT
Griffin knows Cat is destined to change the world-for the better. As the realms are descending into all-out war, Cat and Griffin must embrace their fate together. Gods willing, they will emerge side-by-side in the heart of their future kingdom...or not at all.
You're the shield, and I'm the sword. Together, we'll forge a new world."
Phew!! What a ride these two books have been-almost nine hundred pages of pure adrenaline, angst, and adventure. This high fantasy world filled with ancient Greek Gods, awe-inspiring magic, and battles against impossible odds will have you completely spellbound. I'm not even sure where to start with this review, I'm still kind of reeling and trying to absorb everything that Bouchet has brewing for
Heart on Fire
. While Promise of Fire remains my favorite so far, Breath of Fire was incredibly addictive. It's a book about change, and discovering your path and purpose. These characters, Cat especially, will evolve quite a bit and grow into a strong conviction of what the fates decree she will become:
Harbinger of the end.
Destroyer of realms.
Messenger of unity and peace.
What I loved about book one was the angst, mystery, and uncertainty between Cat and Griffin. And then there's Cat! Cat was one of the most
reckless
fearless heroines I've ever come across with a will of steel, and a biting tongue of a cynic. She's defiantly sarcastic, and sometimes so stubborn you just want to grab her and shake her until her teeth rattle. But she's also a woman who has survived hell and back, and lives every minute of her life in defense mode. She's prickly and untrusting for a reason, but the end of book one sees her finally discovering a new family to fight beside her, to fight
for.
And to finally give her fragile heart and trust to one deserving man. Griffin, Beta Fisa.
Conquerer.
Lover.
Fierce protector.
He's a powerful warrior who's deeply, madly dead-set on making this woman
his
in every sense there is. Which brings me to my first issue with the story. Chapter one starts us out with his abrupt discovery of the colossal secret Cat has been hiding. And to be blunt: though I understood his
re
action, I didn't care for his
actions
or understand them. At all. Griffin is pure alpha, and he has a massive temper which he displayed in the previous book. BUT...he never turned that on Cat. As much as she provoked him (it was A LOT) he never snapped and crossed the line, not once. I didn't feel as if it fit his character to have taken out his anger on her and lose his control to that degree.
Demolishing everything in their bedroom in a fit of rage, pushing her against the wall, and grabbing her arms in a punishing grip to the point of hurting her...just why? Yes, he left and pulled himself together before apologizing, but it started things off on a discordant note for me.
[ Demolishing everything in their bedroom in a fit of rage, pushing her against the wall, and grabbing her arms in a punishing grip to the point of hurting her...just why? Yes, he left and pulled himself together before apologizing, but it started things off on a discordant note for me. (hide spoiler)]
I moved past it, because it was brief and Griffin was quickly adapting to the new situation that Cat's identity brings. As the Kingmaker, he always knew she would be sought after for her ability to detect lies, steal other's magic, and use invisibility. Powers like hers are rare and invaluable, but her enemies are also the most feared in the land. Once he accepted her dishonesty, he never wavered for a moment in his resolve to stand beside her, even if his life depended on it.
I would defy creatures, and Gods, and terrible, brutal queens to keep you safe and by my side. I would move Mount Olympus itself to hold you in my arms and feel your heart beat against mine. You are my soul, and yes, I will fight for you and protect you until my dying breath."
Whereas book one was peppered with more romantic angst, this book was more action packed once it picked up its momentum. They braved the Ice Plains, battled towering creatures, fought enemies with powerful magic, and survived things that lesser mortals never would have dreamed of attempting. But they soon realize that the Gods are in their favor and with Olympus on their side, anything is possible. Cat has lived with dread and a lack of hope for years thinking she would be the harbinger of doom to Thalyria. But she soon comes to learn that her future has a completely different path than she had ever imagined. Once she believes, truly believes, there is no stopping her and this group of men who would lay down their lives for her. But it's not an easy transition for her to step into her new role of leadership.
It's like someone cracked the world over my head. It's falling all around me, and everyone's looking at me to clean up the mess.
There were a couple of moments in the last half of the book towards the end that forced me to lower my rating, as much as I had been enjoying the book. A revelation about Cat that I'm sorry, no way, no how could that
ever
be possible. My jaw dropped and I could NOT believe my eyes. I realize that this is a fantasy book, but it was too far for me.
As well, as much as I fell in love with Amanda Bouchet's incredible talent for writing action sequences that play out like the finest choreographed battle, the Agon Games stretched on much too long for my patience. That could have been much briefer in my opinion and still have had a hell of an impact.
There are so many unresolved threads that promise to tie into a shocking conclusion. The beta team had some very surprising developments and revelations that I can't wait to see be resolved. Or even better...they won't be resolved and these men will get a chance for their own full stories to be told. Though this book wasn't a full, enthusiastic five stars, I still highly recommend this series to anyone looking for fantasy that will have you on the edge of your seat desperate for more. How deep do these books draw you in? It's fathomless, and once you start, you won't escape.
FOLLOW SMOKIN HOT BOOK BLOG ON: