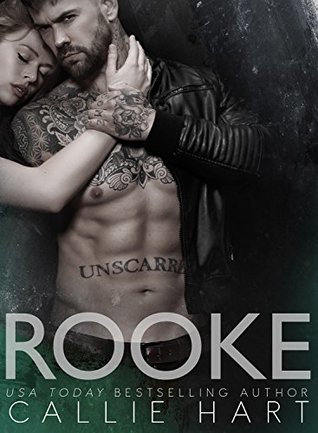 Rooke by Callie Hart
Release date: March 14, 2017
Standalone
*STEAMY/DARK/GRAPHIC CONTENT
PURCHASE LINK:
ROOKE
Watchmaker. Car thief. Heartbreaker extraordinaire.
Rooke Blackheath has spent enough time in juvie to know that he really doesn't want to go to jail. The food sucks, the clothes itch, and there are absolutely no women in sight. Well…none he wants to fuck, anyway.
He should probably stop boosting cars, but the money is stellar and the high is out of this world. And why should he turn his back on something that sets his soul on fire anyway?
The answer to that question comes in an unexpected form: a petite five-foot-three firecracker named Sasha who refuses to give him the time of day no matter how thick he lays on the charm.
Rooke's not easily deterred, though. Just like the watches he builds from scratch, Rooke knows all too well how women tick. Women are a game to him. A game he always wins.
Sasha doesn't stand a chance.
***
Sasha Cross's life has been permanently derailed since her son died five years ago. You wouldn't know it to look at her, of course. She has a great job, a beautiful house, and caring friends. Every week, she hosts a book club featuring the sexiest, most romantic stories on the planet, and every week she falls for a new fictional knight in shining armor.
Fictional men are perfect, though. They don't hurt you. They don't break your heart. They don't cheat on you after your child dies, and they rarely ever leave the toilet seat up.
When Rooke Blackheath shows up at Sasha's workplace, it's clear he's nothing like the men who grace the pages of Sasha's favorite books. Dangerous, arrogant, sharp-tongued and sarcastic, Rooke's not the kind of guy she needs in her life. Not to mention the fact that he's eleven years her junior.
They don't live in different worlds. As far as Sasha is concerned, Rooke lives in a different galaxy altogether. She'd like to keep it that way, but fate appears to have other plans.
When Cinderella lost her shoe, Prince Charming showed up at her door.

When Sasha Cross loses her book, an entirely different kind of rogue comes a-knocking.
His extracurricular activities give him a rush, and line his pockets very nicely for a man his age. There is something very raw, dangerous, and intimidating about Rooke. He's the last thing any woman should be gravitating towards, if they want safe and normal. Sasha has had normal and that didn't end too well for her.
Maybe sensible, reliable men with no psychopathic tendencies are always going to remind me of him, and in turn what we lost. Or maybe it's the fact that edgy, dark, moody men with hidden pasts are bad for women like me, and I hit my self-destruct button a long time ago.
When she meets Rooke at the museum where she works, all she sees is a (too) young, cocky guy with a wicked look that could do serious damage. It wouldn't matter if she was even interested in him, she's hardly his type. Eleven years older, and dragged through hell and back, she's just a shell of a woman filled with nothing but darkness and tragic memories. Little did she know that when she dropped her romance book at his feet, he would use it to crash her book club. He had an unshakable focus, a determination to get close to her and learn all of her chaotic secrets. When faced with his sheer force of will, she didn't have much of a chance.
Rooke is fascinated by her the moment he sees her. It began as a curiosity, but he soon identified with her darkness and couldn't stay away. Sasha struggled a bit in the beginning with her reckless attraction, but soon threw her inhibitions aside. I really felt for her from the beginning. The horrible nightmare that she survived and lives with every day is unimaginable. There was a kind of numbness to her, but she had her moments when it all overwhelmed her and she succumbed to the pain. Knowing what she was getting into with Rooke, I was a little on edge just waiting for the shit to hit the fan.
The night owns him, or at least it owns a decent sized chunk of him. There will always be a side to him that needs rebellion and destruction. The real question is, can I accept that?
I really enjoyed the suspense brought on by the twisted story that Callie created. There was one event in particular at the museum that took me really by surprise. Sasha proved herself to be a woman who is a survivor in any type of situation. She didn't always make the wisest choices for herself, but it was understandable considering what she was struggling to overcome mentally. They couldn't be more different than night and day, but somehow made it work.
Rooke was gritty, unpredictable, and filled with combustible heat. That being said, I wasn't fully on board with certain aspects of the plot. I felt as if we needed to delve deeper into Rooke's violent personality and what made him into the man he was. Plus, the twist towards the end
(view spoiler)
[ His mother apparently took care of "housekeeping." Disposing of two dead people that would have sent him back to prison. This is the woman that he loathes with every breath he takes, a woman who he thought knew nothing of his secret activites. But this interior decorator, a woman whom he can't stand cleaned up his mess? There wasn't a clear explanation as to why this happens. (hide spoiler)]
I wanted a little more background, it didn't feel as if it was addressed to my satisfaction.
The romance aspect was a bit rushed for me, but overall, I thought they worked well together. This was quite a different read from what I've been into lately. It was very refreshing and never failed to capture my interest. If you're looking for a book that's dark, fast paced, and full of steam with an alpha bad boy type of hero, than this could be the perfect book for you.
The love between us is fire and ice. It's loss, and it's redemption. It's pain, and it's comfort. It is everything.
FOLLOW SMOKIN HOT BOOK BLOG ON: