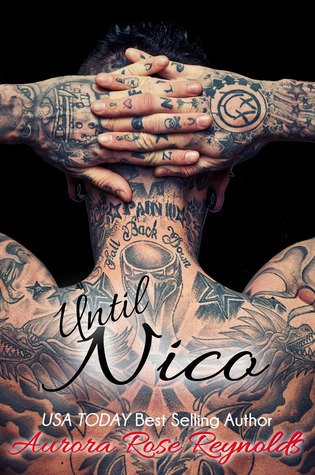 Title: Until Nico
Series:Until #4
Author:Aurora Rose Reynolds
Release Date: June 2, 2014
Rating:4 stars
Cliffhanger:No
Sophie Grates has never had it easy, but she's finding her way through life one step and one day at a time. That is, Until Nico comes in and flips her world upside-down. He forces her to see you cannot live life from the outside looking in, and sometimes you have to step out onto the ledge so you can really enjoy the view.
Nico Mayson knew the moment he saw Sophie Grates that she was the one. His whole life, he has been judged by what's on the outside, so finding a beautiful woman who sees the real him only makes his feelings that much stronger.
Nico knows the kind of man he is, and the things he is capable of, and he will do everything in his power to help Sophie fight her demons so they can have their happily ever after. Everything in life worth having is worth fighting for
[Yes (hide spoiler)]
Until Nico is the fourth book in this series and like all the others, another good read. The fact that I can even say that is really puzzling to me because the whole series follows a plot formula that I usually don't care for: Insta-love. Every Hero in these books are hit my love/lust at first sight. They're all alpha, badass, won't take no for an answer, and know how to do their thing in the bedroom. They're formulaic and pretty predictable. Yet every time a book comes out, I rush to snatch it up and sink into all that badass fluffiness. (I know, it's an oxymoron, but it totally works here.) It defies all laws of logic that I would like these books but I have devoured every one of them and I've always had a pleasurable reading experience. That just goes to show you, that if the characters are developed well enough, and the writing is done right, an author can even make you like something you don't usually like.
One thing I loved about the heroine was that she was a book lover and a librarian. She dressed classy and put together, had a love of high heels, and she was a pretty introverted person. I liked her personality for the most part-she was sweet. In fact, Nico calls her sweet Sophie and I loved that.
Sophie had some rough experiences in the past. The loss of her mother, her father's escape into alcoholism and a resulting incident which changed the course of her life and her attitude towards it. It was many years later, and she doesn't ever date, meet people, or let anyone get close to her. Well, she doesn't really stand a chance against Nico Mayson-and his BOOM!
Nico finds her lost cell phone and contacts her to return it. When they meet, she's this classy, beautiful, and quiet woman. He's completely covered in tats, piercings, and has a faux hawk. She works in a library, he hunts down criminals: a bounty hunter.They seem to have not a single thing in common. But of course, Nico knows right away that it's not an option-he's going to pursue her and she's just going to have to accept that.
Nico is very patient with her. He's very experienced and she's a virgin because of her inability to get close to people. The lust and attraction between the two of them is instant and overwhelming. She's extremely confused about the whole thing. He is definitely never someone she ever imagined being the one to get past her barriers and making her feel comfortable, but he has a way of getting through to her and making her push past her limits. He's sexy, caring, and always looking out for her needs. I loved Nico and I loved them together. This was a perfect opposites attract couple and you really saw how they complimented and brought out the best qualities in each other.
Nico holds off for a long time (for a Mayson, anyway) and gently brings her sexuality to the surface. It was commendable considering from day one, he's been completely turned on and had some naughty fantasies about what they could be doing together.
It may take a little time, but eventually, he lives out every single fantasy and boy did he make Sophie one happy woman. They were HOT!
As always, Ms. Reynolds included the past couples and we got more of the characters we love. This huge growing family unit is very close knit and loving. I've always loved how family plays such a big role in these books and you can see how everyone sticks together and supports each other-and gives each other hell too.
Another thing I liked was the fact that this big, intimidating guy has an adorable girly dog-a miniature pomeranian. He rescued her as a puppy and couldn't give her up. I can just imagine him holding this little fluff ball-it just doesn't fit and it's so adorable.
Sophie has to work past her issues from the past in order to move into the future with Nico. Plus, there is someone out to hurt her and they have no clue who it is. But for the most part, this book is lots of sexy times and enjoyable family moments. This was a great addition to the series. There wasn't a whole lot I could say didn't work for me. If you liked the others in the series, I'm pretty sure this will be a winner for you too.
"I belong to you-will always belong to you. You brought me back to life."
I look around and see a guy staring at me. He's about my age, not much taller than my five feet five inches, cute, and wearing a suit and tie. I start to wave to see if he's the one I'm meeting, but then another guy catches my attention. He's about six three and huge, and I don't mean just in height; his body looks like it's been chiseled from stone. He's wearing black boots, washed-out blue jeans, and a white t-shirt, and every piece of skin exposed is covered with tattoos. His ears have those gauge thingies in them. His dark blond hair is cut low on the sides, and the top is in a fauxhawk. His jaw is strong, with a few days of stubble, and his eyes are so blue that they almost look like contacts. He is beautiful in a way that is unusual but no less gorgeous.
His eyes come to me before looking away quickly, and the next second, they come back to me and do a head-to-toe sweep. I gulp at the intense expression on his face. I glance past him to the other guy—or at least try to—but Mr. Tattoo starts towards me, blocking my view. I want to take a step back, but I can't go anywhere. Then I see my phone in his hand.
"This yours?" he asks.
I nod like an idiot. He shakes his head, running his free hand down his face, and then his eyes sweep over me again.
"You have got to be fucking kidding me," he says, seeming upset.
I look down at myself, wondering how I could've offended him. I look normal—or my working-outside-the-house normal. When I'm at home working, I wear baggy sweats I cut off to make shorts or pajama pants that hang off of me along with tank tops or T-shirts. The few days a week I get out of the house, I like to dress up or at least wear heels.
"This cannot be fucking happening," he growls, and I wonder if he is completely crazy.
"What?" I ask, finally finding my voice. I have to tilt my head way back; even in my four-inch heels, he still towers over me.
"You."
"Me, what?" I ask, confused.
"Never mind. Who is this?" He presses the button on my phone, the screen lights up, and a picture of Jamie Dornan wearing nothing but a pair of jeans takes up the screen.
"Um…that's Jamie," I reply, wondering why he is asking but too afraid to ask him; the look on his face isn't very inviting for conversation.
"He your man?"
"I wish," I mumble under my breath and hear him growl.
My head flies back as I search his face; his jaw is ticking, and his knuckles of the hand holding my phone are turning white.
"What does that mean?" he asks.
"That's Jamie Dornan. He's playing Fifty. I don't know him." I feel my cheeks heat up and look down at my feet.
What the hell's wrong with me? Why am I not afraid right now? I have been scared of virtually everything my whole life, and now, when I should be running for cover, I'm not scared at all. Just a little embarrassed.
"I don't have time for this," he says, and I don't know what he's talking about, but I all of a sudden really want my phone out of his hand before he crushes it to smithereens.
When I look up again, I see that he is walking away. My eyebrows come together, and I wonder what he is doing. Then I realize he still has my cell.
"Hey! You can't steal my phone!" I run after him, grabbing his arm.
He looks down at me then stops short. I'm completely caught off guard when he wraps an arm around my waist, pulling me flush against him. His free hand goes into my hair and pulls my head back, and then he kisses me. No, not kisses—he consumes me. My body starts to buzz like someone just plugged me into an electrical outlet, and I start to feel lightheaded. When he pulls his mouth from mine, I gasp, my fingers going to my lips.
"What was that?" I whisper, looking into his eyes.
"What's your name?" he asks, still holding me close.
"Sophie," I tell him, my answer spoken behind my fingers.
His body is as hard as a rock against mine; I can feel every muscle, every contour, and it takes everything in me to keep breathing. I realize this is the first time in my life I have ever felt small, my curvy figure never having allowed it before.
"Sophie," he repeats, standing up to his full height and pulling me with him. I look around and wonder if time has stopped for anyone else. "My name is Nico."
"Of course it is," I say, staring into his amazing eyes, thinking that a guy who looks like him would have a name like that—cool and hot, something that rolls easily off your tongue but is hard to forget.
"I'll see you when I get back into town, Sophie," he says as he lets me go, making sure I'm steady on my feet.
"What?" I ask, looking around again.
"Here's your phone." He hands me my cell, and I'm still a little lightheaded when he starts to walk off again. I watch in a daze as he leaves, but then he turns around to face me from a few yards away. "Sophie?"
"Yeah?"
"Change the picture on your phone," he demands before he turns and disappears into the crowd.
Aurora Rose Reynolds is a navy brat who's husband served in the United States Navy. She has lived all over the country but now resides in New York City with her Husband and pet fish. She's married to an alpha male that loves her as much as the men in her books love their women. He gives her over the top inspiration everyday. In her free time she reads, writes and enjoys going to the movies with her husband and cookie. She also enjoys taking mini weekend vacations to nowhere, or spends time at home with friends and family. Last but not least she appreciates everyday and admires it's beauty.
FOLLOW SMOKIN HOT BOOK BLOG ON: