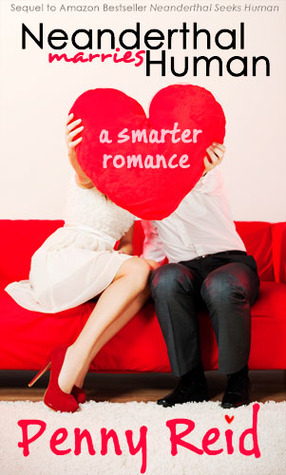 Title: Neanderthal Marries Human
Series: Knitting in the City #1.5
Author:Penny Reid
Release Date: June 14, 2014
Rating: 5 stars
Cliffhanger:No
HEA: Yes
There are three things you should know about Quinn Sullivan: 1) He is madly in love with Janie Morris, 2) He's not above playing dirty to get what (or who) he wants, and 3) He doesn't know how to knit.
After just five months of dating Janie, Quinn—former Wendell and unapologetic autocrat—is ready to propose marriage. In fact, he's more than ready. If it were up to Quinn, he would efficiently propose, marry, and beget Janie with child all in the same day—thereby avoiding the drama and angst that accompanies the four stages of pre-matrimony: engagement, meeting the parents, bachelor/bachelorette party, and overblown, superfluous wedding day traditions. But Janie, much to Quinn's dismay, tosses a wrench in his efficacious endeavors and challenges him to prove his devotion by going through the matrimonial motions, no matter how minute and mundane.
Will Quinn last until the wedding day? Or will he yield to his tyrant impulses?
Regardless, one thing is for certain, Quinn Sullivan will have to learn to expect the Spanish Inquisition (i.e. the unexpected) if he plans to have and keep Janie Morris as his wife.
This book is not a standalone. It is the sequel to 'Neanderthal Seeks Human,' it is book #1.5 in the 'Knitting in the City' series, and it is a full length, 100k word novel.
Again, you must read 'Neanderthal Seeks Human' first before reading this book.
I am a huge fan of Penny Reid and this Knitting in the City series and I was so excited to get a more in depth look and continuation of Janey and Quinn's story. They're the first couple in the series AND my favorite! My expectations were high going in-I had already fallen in love with them, laughed my butt off at them and swooned and went crazy over Janey's special relationship with all her knitting buddies. How could anything compare? The good news is, I was not only satisfied with this book but thrilled to get to spend a little bit more time getting to know them all over again. It just solidified my feelings over why I adore this couple so very much. What do I love about them? Well, in honor of Janey's love of comics, here's a little peek into the adorableness of this couple...
As in Neanderthal Seeks Human, we see Janey in all her geeky glory! She's super intelligent and socially awkward. Although I noticed that being around Quinn's influence has softened her edges and made her more comfortable in her skin. He's good for her that way. And she's good for him because she makes him smile-genuinely smile and want to be the best man he can be. I love how this tough guy goes all soft and tender for Janey-he doesn't see her unique ways as flaws. He enjoys that side of her and loves to engage her in analyzing things, questioning things, or just letting her spew some facts at him when she's stressed. He accepts her 100% how she is and in fact enjoys talking to her about anything. Until her, he hardly ever cracked a smile, but now she's like a ray of sunshine in his life.
He has some issues to work through in order to make a future with Janey possible. Quinn still questions whether some of his actions before he met Janey are morally acceptable or not and because of lingering guilt over certain things feels like he doesn't deserve her. He must also completely come clean about some aspects of his life that he hasn't told her about. And that scares the hell out of him. And of course, there's that little problem about him not being able to keep his hands off of her. Oh, wait, is that really a problem?
I have to say my favorite thing, hands down, about this book was the proposal! Seriously, this section of the book made my cheeks hurt from smiling so much. Their distinctive personalities when mixed together make for some hilarious and heartwarming moments. I loved how well they're matched and how well they completely understand each other from the inside out. Janey doesn't react how you would think to Quinn's romantic proposal-she's shocked and terrified based on the amount of time they've been together. She can't help it-her brain is always working overtime and she's struggling with the fact that they haven't been through hard times yet. How can she be sure they have what it takes to survive? I was feeling both sides of the argument. Logically everything she said made perfect sense, but should she always lead with her head, or lead with her heart for once?
Of course, Quinn is a man on a mission. And that mission is to calm Janey's fears. No matter what it takes-he's prepared to make her his wife.
This book was everything I hoped it would be. It brought back all those warm and fuzzy feelings for this couple, I laughed out loud more times than I can count, and I got to hang with all the knitting girls all over again. I really don't know what I'm going to do when this series ends, but it's not going to be pretty. You think I'm joking, don't you? If you haven't started this series, I'll say it again, you're missing out. You must correct that as soon as possible. These books are untouchable because of their absolutely remarkable and lovable characters, the irreverent humor, and the stories that transport you into that happy place that great books have the ability to take us. Now for my one complaint: I have to wait for the next book???
FOLLOW SMOKIN HOT BOOK BLOG ON: