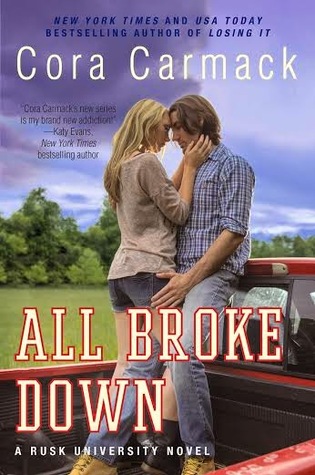 Title: All Broke Down
Series: Rusk University #2
Author: Cora Carmack
Release Date: October 28, 2014
Rating: 3.75 stars
Cliffhanger:. No
In this second book in New York Times and USA Today bestselling author Cora Carmack s New Adult, Texas-set Rusk University series, which began with All Lined Up, a young woman discovers that you can't only fight for what you believe in... sometimes you have to fight for what you love.
Dylan fights for lost causes. Probably because she used to be one.
Environmental issues, civil rights, corrupt corporations, and politicians you name it, she's probably been involved in a protest. When her latest cause lands her in jail overnight, she meets Silas Moore. He's in for a different kind of fighting. And though he's arrogant and infuriating, she can't help being fascinated with him. Yet another lost cause.
Football and trouble are the only things that have ever come naturally to Silas. And it's trouble that lands him in a cell next to do-gooder Dylan. He's met girls like her before fixers, he calls them, desperate to heal the damage and make him into their ideal boyfriend. But he doesn't think he's broken, and he definitely doesn't need a girlfriend trying to change him. Until, that is, his anger issues and rash decisions threaten the only thing he really cares about: his spot on the Rusk University football team. Dylan might just be the perfect girl to help.
Because Silas Moore needs some fixing after all.
[ Yes (hide spoiler)]
"You're really hitting on me? After we just met in jail?"
"Is it working?"
Silas Moore is running back for Rusk's University football team. He's popular, handsome and a troublemaker. Always on his way to mess something up, Silas isn't taken very seriously.
"Football. Fighting. Fucking. That's what I know how to do."
Every guy on his team, along with coaches see him as a great player, but also as a pest. Especially, because of his friendship with Lev, ex-QB who just got out of prison. However, Silas is not like the rest of his teammates. He's not rich, he's not from a good family and the only thing that can change his life is football.
"The bad seems to follow me. Or hell… Maybe it's me that follows the bad. Maybe I don't know who I am apart from that."
After Silas gets in fight with him and is thrown in jail, he gets suspended from the team. He also meets in cell Dylan, sexy, sweet and passionate girl.
Dylan is strong, stubborn and believes in changing the world for the better, or at least making one person's life better. She goes to protests, writes petitions, handcuffs herself to homeless' shelter..
When Silas and Dylan share a cell, something draws them together. And even though, both are very different, they are attracted to each other.
"I will never be able to turn this girl down. Whatever she wants from me, it's hers. No matter what she asks for, I'll find a way to give it to her. She may not be mine, but somewhere along the way, I ended up hers."
Another sweet, fast-paced and hot new adult romance by Cora Carmack, All Broke Down is a great read for all fans of light and heart fluttering stories. Cora once again delivered a story full of drama, hot guys and first love.
The characters were very complex and well-written. I liked them much. The plot was simple, yet sexy and sweet. I liked how the story progressed and was overall satisfied with the outcome. And although, I did find All Broke Down very entertaining, and certainly liked it, I didn't love it as much as previous books by this author. Why? Probably because I reached my limit of same old, same ole' bad boy with troubled past meets nice girl twist. I guess, I would like it more if I finally read about football player who's not an all American stereotype jock. But if you love Cora Carmack, enjoy light reads and swoon over jocks, this is a definite must read for you!!
FOLLOW SMOKIN HOT BOOK BLOG ON:


\