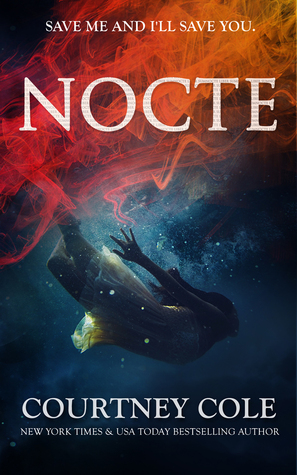 Title: Nocte
Series: The Nocte Trilogy #1
Author: Cole Courtney
Release Date: November 3rd, 2014
Rating: 4 stars
Cliffhanger:. Yes


Save me and I'll save you...
My name is Calla Price. I'm eighteen years old, and I'm one half of a whole.
My other half-- my twin brother, my Finn-- is crazy.
I love him. More than life, more than anything. And even though I'm terrified he'll suck me down with him, no one can save him but me.
I'm doing all I can to stay afloat in a sea of insanity, but I'm drowning more and more each day. So I reach out for a lifeline.
Dare DuBray.
He's my savior and my anti-Christ. His arms are where I feel safe, where I'm afraid, where I belong, where I'm lost. He will heal me, break me, love me and hate me.
He has the power to destroy me.
Maybe that's ok. Because I can't seem to save Finn and love Dare without everyone getting hurt.
Why? Because of a secret.
A secret I'm so busy trying to figure out, that I never see it coming.
You won't either
Save me and I'll save you...
Wow! This book was just… wow *shakes head * I have no proper words to describe what it made me feel! It's crazy story. It's just insane! Yet it is so so fucking good. The best mind fuck I've read in quite a while.
Courtney Cole showed how truly talented author she is. Nocte is definitely something that won't be easily forgotten; it's too freaking good for that. This is a page turner that will keep every reader guessing till the end. It's a romance, it's suspense and everything in between. It will mess with your head and feelings, but guess what? You will love it because of just that!
The story of Calla, Finn and Dare will be branded in my head for a long time I can't express what it made me feel; there were too many things and emotions involved at once. This novel is so complex and so full of life it was hard to even stop reading for a single second. I felt glued to the pages.
For me, Nocte was almost perfect; almost, because I only wished for a little bit more steam between main couple, then everything would be absolutely flawless. That's why the four star rating.
It's best for the future readers to just dive into this novel without any additional knowledge. The surprise you will get at the end if you won't read any spoilers or reviews that summarize the plot is worth it. Do yourself a favor - grab the book and start it immediately as I almost 100% certain you won't regret doing so.
FOLLOW SMOKIN HOT BOOK BLOG ON: