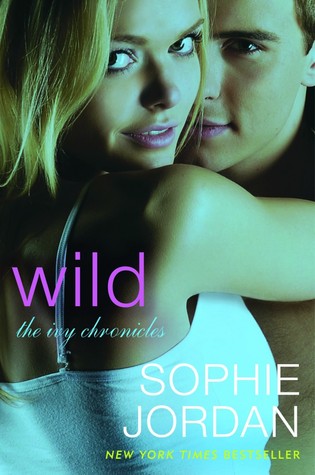 Title: Wild
Series: The Ivy Chronicles #3
Author: Sophie Jordan
Release Date: 18 November, 2014
Rating: 4 stars
Cliffhanger:. No
A good girl goes fabulously bad in the final book in New York Times bestselling author Sophie Jordan's sexy New Adult romance series, in which three Ivy League suite-mates seek higher knowledge of just how far they can go.
Months after her boyfriend dumped her, Georgia can still hear the insults he hurled at her. Boring. Predictable. Tame. Tired of feeling bad, she's ready to change her image, and go a little wild. What better way to prove her ex wrong than a hot night of sexual adventure at the secret campus kink club?
In the shadowy den of the kink club, she unexpectedly runs into Logan Mulvaney, her friend's little brother. A player extraordinaire too hot for his own good, he may be younger, but the guy is light years ahead when it comes to sexual experience. Now he's telling her to go home—"good girls" don't belong here!
Georgia is tired of having others define her. She's going to teach Logan a lesson he won't forget—one white hot, mind-wrecking kiss . . . that leads to another . . . and another . . . and. . . . Realizing she's way in over her head, Georgia runs.
Only Logan won't let her go. Everywhere she goes he's there, making her want every inch of him. Making her forget who she is. Who he is. And just how wrong they are for each other.
[ Yes (hide spoiler)]
I just love reading new adult books, especially when they are all fluff and sweet, sweet love. It's a great escape from my boring reality. When the right mood strikes me the sweeter the book is the better! That's why I enjoy Sophie Jordan's Ivy Chronicles. It's so fluffy, so predictable and yet I seem not to be able to not like it to pieces.
Wild is just like that; sweet, sexy, intense and oh did I mention it's super-HOT? So yes, I very much enjoyed new addition to Sophie Jordan's series, but frankly, I didn't adored it as much as Foreplay. Still though, Wild is incredibly good, yummy story with amazing hero. But no matter how much I seemed to like Wild, I just loved Reece and Pepper story more.
Wild is a story about Georgia and Logan, Reece's younger brother. I've met them in previous books, so I knew that they were complete opposites. And I really couldn't wait to see how they will evolve and fall in love.
Georgia is sweet, innocent, responsible girl. The girl who can do no wrong. She's trapped in a life where she's doing exactly what her parents and boyfriend want from her. She doesn't have much to say. It's wearing her out bit by bit.
So when her boyfriend of four years tells her she's boring and breaks up with her, Georgia is crushed. She finally had enough of being naïve and innocent. She doesn't want to be boring anymore; she wants to be free, she wants to be wild. So she went to the kink club. There, she saw Logan who was heavily making out with two other college girls. She couldn't take her eyes of off him.
Logan is younger; Logan is a man whore. Logan is wild. Logan is everything Georgia shouldn't want. So why did she kiss him and changed their lives? She's not sure. The passionate kiss Georgia and Logan shared made them crave each other so much more.
Wild is intense. It's sexy and a little bit crazy too. I completely swooned over Logan Mulvaney. He was awesome! I only wished the author would reveal a little bit more of the real him. I felt like we only just skimmed the surface.
Jordan clearly knows how to write a good new adult story; the sexual chemistry between the main characters was tantalizing. The sparks flew everywhere! I am still blushing while thinking about some scenes.
"There is no 'us.'"
"Oh, but there will be. We both know why you came tonight." His fingers flexed, each digit a burning imprint on my forearms.
"Yeah?" Was that breathy croak my voice? "Why?"
"Because you haven't been able to forget what it felt like to kiss me, and you want to know if the rest of it will be that good, too." He bit down on my earlobe and a whimper escaped my lips. "It will be."
I couldn't stop reading. I really devoured this novel in a matter of few hours. It's smooth and easy story with enough heat to make a reader burn. The drama is on a low level, with angst almost nonexistent. The story is just pure fun. So, if that's what you are after then Wild will be great read for you. I highly recommend picking it up!
FOLLOW SMOKIN HOT BOOK BLOG ON: