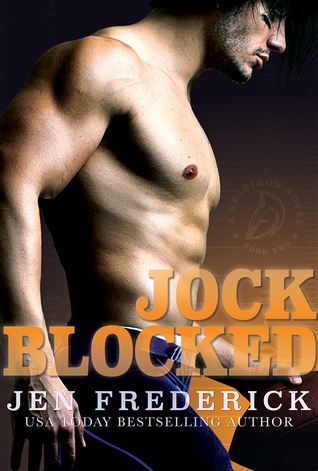 Title: Jockblocked
Series: Gridiron #2
Author: Jen Frederick
Release Date: 11 February, 2016
Rating: 4.5 stars
Cliffhanger:. No


She's always played it safe…
College junior Lucy Washington abides by one rule—avoid risk at all costs. She's cautious in every aspect of her life, from her health, to her mock trial team, to the boring guys she dates. When a brash, gorgeous jock walks into the campus coffeeshop and turns his flirt on, Lucy is stunned by the force of attraction. For the first time ever, she's willing to step out of her comfort zone, but can she really trust the guy who's determined to sweep her off her feet?
He's always played around…
Entering his last year of college eligibility, linebacker Matthew "Matty" Iverson has the team captaincy in his sights. And it's his for the taking, if he can convince his quarterback Ace Anderson to give up the starting position. Luckily, Matty already has an edge—the hottie he's lusting over just happens to be Ace's childhood best friend. Getting Lucy on his side and in his bed? Hell yeah. Matty is more than confident he can have both, but when he falls hard for Lucy, it's time for a new game plan: convince the woman of his dreams that she's not sleeping with the enemy.
[ Yes (hide spoiler)]
I think I should be over college sports romance by now (I've already read so many of them). Strangely I seem to still be able to fall in love with them. I am not sure exactly why but even though they can be quite repetitious I cannot stop craving books about sexy athletes! So it's no brainer that I was delighted to get another delicious story to read. And hell yes, Jockblocked has done its job. I really, and I mean really liked it.
I think it was the carefree and simple way in which this story progressed that got me hooked. It was not insta –love type of book (which irked me in Sacked), Matty and Lucy were attracted to each other for the beginning but it was a 'slow burn' kind of attraction.
"What are we doing"
"We're enjoying each other."
"For how long?"
Forever is a good start in my book but this is my careful girl and she needs a careful answer.
"However long you want it."
Add to it great, flirtatious banter, some very heart – skipping, panty - melting scenes, characters that were made to be together and voila! Super read for a lazy night it is!
All in all, Jockblocked was cute, fluffy, sexy and adorable. Great work by really talented author. On the side note, I think I must be addicted to stories like Jockblocked. They just made me feel so good and light like I have no care in the world. I cherish the moments of being able to forget about all my problems and just smile, laugh and have fun. This is exactly why I love reading and I wanted to thank Jen Frederick for giving me some of this sweet time, giggles and blushed cheeks. She rocks!
"Feel good? Worth the risk?"
So is this novel worth the risk? Yes, yes it so is!
Don't feel hesitant about giving Jockblocked a chance! I can assure you that you won't regret reading it.
FOLLOW SMOKIN HOT BOOK BLOG ON: