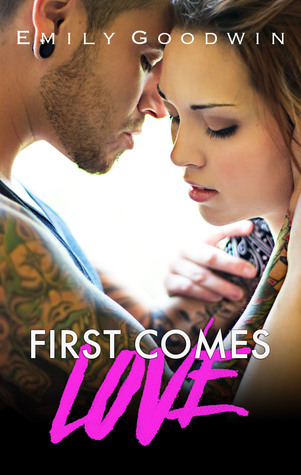 Title: First Comes Love
Series: Standalone
Author: Emily Goodwin
Release Date: 11 February, 2016
Rating: 3.5 stars
Cliffhanger:. No
First comes love.
Then comes marriage.
Then comes a—
Hold up. You're joking right? As if life works off a neat little list like that, moving down, checking things off before jumping to the next task. We're not married. We're not lovers. Hell, we're hardly even friends. Noah Wilson isn't exactly "life partner" material, and he sure as hell isn't "father material". He's my older brother's best friend, and has been off limits, sworn off, locked in the highest tower and out of reach since we met over ten years ago. With his devilish good looks, tattoos, motorcycle, and trail of broken hearts and tears, I've had good reason to stay away from the bad boy my mother warned me about.
Until one night. One stupid, regrettable night that changed both of our lives forever. And now I only have nine months to decide our fate, to see if Noah's rebel heart is capable of anything more than a one night stand.
This isn't a love story. This is a life story. And life doesn't go according to plan.
"Someday, she'll be mine.
Someday Lauren will love me."
First Comes Love is very cute and entertaining read. Sweet, adorable and definitely full of fluff. I enjoyed it. It's fast paced and quick so it was perfect book to read in one sitting and relax after few tiring days.
The plot is very simple, nothing new there, so I didn't have to be much absorbed to get it. I would love to say that there's much more in it than the blurb reveals but that would be a lie. Reader gets exactly what's there – a story about a bad boy (who's the heroine brother's best friend) and a nice girl who share drunken one night stand, decide to pretend nothing happened, but after a while it's not possible because there would be a baby!
"They say you can't change someone, but someone can change for you".
I liked this simplicity, because I needed something predictable yet cute and First Comes Love was it. I also enjoyed the tension between main characters (they had a 'spark'), the humor was great too – I had a smile on my face through most of the book, so I guess Emily Goodwin's done a decent job.
FOLLOW SMOKIN HOT BOOK BLOG ON: