It's that time again! Time for the arduous task of narrowing down the ten books that stand apart from all the rest. 2016 was a year filled with greats, but these were unquestionably special in their own unique ways. These I know without a shadow of a doubt I will return to in the future with the knowledge I have an incredible read ahead of me. The top of the pile...of your TBR pile, that is.
These books don't have to have been published in 2016, the only requirement is that I've read them this year. As well, I chose from a variety of genres and authors. Let me stress: these are in no particular order. I decided to save myself the added pressure of ranking them. Trust me, it's hard enough to even narrow them down to a list.
Now, without further ado...
THE MAN I LOVE (THE FISH TALES #1)
By: Suanne Laqueur
The man is Erik "Fish" Fiskare, a student of technical theatre at a Philadelphia university. At twenty-two, he is the lover and soul mate of Daisy Bianco, a beautiful and talented ballerina. His best friend is William Kaeger, Daisy's charismatic, free-spirited partner.
While deeply in love with Daisy and astonished by their physical passion, Erik is fascinated by Will's bisexuality. But when Will embarks on a disastrous affair with a dancer named James Dow, it pushes Erik's tolerance and trust to the limit. Rejection soon pushes James over the edge of sanity, taking Will and Daisy with him and leaving Erik in the ruins.
The young stagehand soon discovers that in the face of heartache, grief and betrayal, love is not always enough to make you stay. And sometimes, it's the only thing that can bring you back.
Spanning fifteen years and following a man's thrilling emotional journey back to the truth of himself, Laqueur's debut novel explores the complexities of sexual passion, the dark side of devotion and the futility of running from one's past. The Man I Love is an epic tale of love and forgiveness that will linger long after the last page is turned.
Purchase here:
AMAZON
Read my review
HERE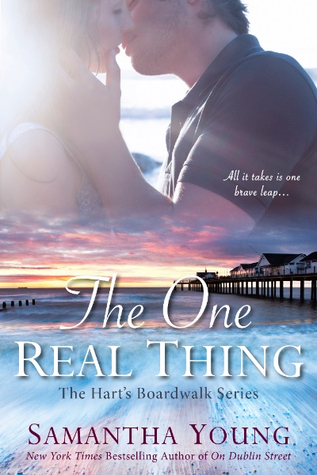 The One Real Thing (Hart's Boardwalk #1)
by: Samantha Young
Welcome to Hartwell, a quiet seaside escape where uncovering old secrets could lead one woman to discover the meaning of a love that lasts…
While Doctor Jessica Huntington engages with the inmates at the women's correctional facility where she works, she's always careful to avoid emotional attachments in her personal life. Loss and betrayal taught her that lesson long ago. But when she comes across a set of old love letters in the prison's library and visits the picturesque town of Hartwell to deliver them to their intended recipient, she finds herself unable to resist the town's charm—and her attraction to the sexy owner of a local bar proves equally hard to deny.
Since his divorce from his unfaithful ex-wife, Cooper Lawson has focused on what really matters: his family and the boardwalk pub they've owned for generations. But the first time Jessica steps into his bar, Cooper is beyond tempted to risk his heart on her. Yet as their attraction grows hotter and Jessica remains stubbornly closed off, he begins to realize it will take more than just passion to convince her there's only one real thing in life worth fighting for….
Purchase here:
Amazon US | B&N | Amazon UK
Read my review
HERE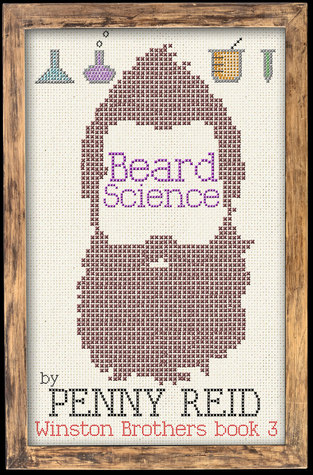 Beard Science (Winston Brothers #3)
by: Penny Reid
Make a deal with the devil and you might get what you want, but will it be what you need?
Jennifer Sylvester wants one thing, and that one thing is NOT to be Tennessee's reigning Banana Cake Queen. Ever the perpetual good girl and obedient daughter, Jennifer is buckling under the weight of her social media celebrity, her mother's ambitions, and her father's puritanical mandates. Jennifer is officially desperate.
And desperate times call for Cletus Winston.
Cletus Winston is a puzzle wrapped in a mystery covered in conundrum sauce, and now he's in a pickle. Despite being convinced of his own omniscience, extortion by the exalted Banana Cake Queen of Green Valley has taken him completely by surprise. So... what's a maniacal mastermind to do?
Likely, the last thing you expect.
'Beard Science' is the third book in the Winston Brothers series, is a full-length romantic comedy novel, and can be read as a standalone.
Purchase here:
Amazon US | B&N | Amazon UK
Read my review
HERE
Back to Yesterday
by: Pamela Sparkman
Everyone loves a good love story. The stories that make you feel warm all over. The kind that leaves you the slightest bit envious because the story belongs to someone else and not you. The stories that make your heart race and on the edge of pain and pleasure. Pain because your heart hurts and pleasure because your heart hurts. An unlikely combination, yet, that's the stuff good love stories are made of.
Ours could have been like that. We could have made a beautiful love story.
But when he was ready for that epic love story, I was afraid to fall in love, too hurt by my past to trust anyone. Then, when I was ready for the epic love story, he was gone.
And I was alone.
And the only thing I got was the pain.
It was time I told him the things that were in my heart but too afraid to say out loud.
I wrote the letter I needed to write and prayed it wasn't too late.
Dear Charlie,

You were right. I was wrong. I've never been more wrong in my life.
There - I said it.
I'll say it a million times if you just come back to me.
Come back to me. Please!

I was so wrong. I do love you.
Sophie
The Silent Waters (Elements #3)
by: Brittainy C. Cherry
Moments.
Our lives are a collection of moments. Some utterly painful and full of yesterday's hurts. Some beautifully hopeful and full of tomorrow's promises.
I've had many moments in my lifetime, moments that changed me, challenged me. Moments that scared me and engulfed me. However, the biggest ones—the most heartbreaking and breathtaking ones—all included him.
I was ten years old when I lost my voice. A piece of me was stolen away, and the only person who could truly hear my silence was Brooks Griffin. He was the light during my dark days, the promise of tomorrow, until tragedy found him. Tragedy that eventually drowned him in a sea of memories.
This is the story of a boy and girl who loved each other, but didn't love themselves. A story of life and death. Of love and broken promises.
Of moments.
Purchase here:
Amazon US | Amazon UK
Read my review
HERE
On Broken Wings (Wild Aces #3)
by: Chanel Cleeton
The author of Into the Blue and Fly with Me returns with the newest, hot and high-flying Wild Aces romance...
A year after losing her husband, Joker, the squadron commander of the Wild Aces, Dani Peterson gets an offer from his best friend, Alex "Easy" Rogers, to help fix up her house. Dani accepts, and their friendship grows—along with an undeniable attraction.
Racked by guilt for loving his best friend's widow, Easy's caught between what he wants and can't have. Until one night everything changes, and the woman who's always held his heart ends up in his arms. Yet as Easy leaves for his next deployment, he and Dani are torn between their feelings and their loyalty to Joker's memory.
But when Dani discovers something that sends them both into a spin, the conflicted lovers must overcome the past to navigate a future together…
Pre-order here:
Amazon US | B&N | Amazon UK
Read my review
HERE
Full Tilt (Full Tilt #1)
by: Emma Scott
"I would love you forever, if I only had the chance..."
Kacey Dawson has always lived life on the edge--impulsively, sometimes recklessly. And now, as lead guitarist for a hot up-and-coming band, she is poised at the brink of fame and fortune. But she is torn between wanting to be a serious musician, and the demons that lure her down the glittering, but alcohol-soaked path of rock stardom. A wrecked concert in Las Vegas threatens to ruin her career entirely. She wakes up with the hangover from hell and no memory of the night before, or how she ended up on her limo driver's couch...
Jonah Fletcher is running out of time. He knows his situation is hopeless, and he's vowed to make the most of the handful of months he has left to him. His plans include seeing the opening of his glass installation at a prestigious art gallery…they do not include falling in love with a wild, tempestuous rock musician who wound up passed out on his couch.
Jonah sees that Kacey is on a path to self-destruction. He lets her crash with him for a few days to dry out and get her head on straight. But neither of them expected the deep connection they felt, or how that connection could grow so fast from friendship into something more. Something deep and pure and life-changing…something as fragile as glass, that they both know will shatter in the end no matter how hard they try to hold on to it.
Full Tilt is a story about what it means to love with your whole heart, to sacrifice, to experience terrible grief and soaring joy. To live life with all its beauty, and all its pain, and in the end to be able to smile through tears and know you wouldn't have changed a thing.
Purchase here:
Amazon US | B&N Paperback | Amazon UK
Read my review
HERE
Paper Princess (The Royals #1)
by: Erin Watt (Pseudonym for Jen Frederick and Elle Kennedy)
From strip clubs and truck stops to southern coast mansions and prep schools, one girl tries to stay true to herself.
These Royals will ruin you…
Ella Harper is a survivor—a pragmatic optimist. She's spent her whole life moving from town to town with her flighty mother, struggling to make ends meet and believing that someday she'll climb out of the gutter. After her mother's death, Ella is truly alone.
Until Callum Royal appears, plucking Ella out of poverty and tossing her into his posh mansion among his five sons who all hate her. Each Royal boy is more magnetic than the last, but none as captivating as Reed Royal, the boy who is determined to send her back to the slums she came from.
Reed doesn't want her. He says she doesn't belong with the Royals.
He might be right.
Wealth. Excess. Deception. It's like nothing Ella has ever experienced, and if she's going to survive her time in the Royal palace, she'll need to learn to issue her own Royal decrees.
Purchase here:
Amazon US | B&N | Amazon UK
Read my review
HERE
From Sand and Ash
by: Amy Harmon
Italy, 1943—Germany occupies much of the country, placing the Jewish population in grave danger during World War II.
As children, Eva Rosselli and Angelo Bianco were raised like family but divided by circumstance and religion. As the years go by, the two find themselves falling in love. But the church calls to Angelo and, despite his deep feelings for Eva, he chooses the priesthood.
Now, more than a decade later, Angelo is a Catholic priest and Eva is a woman with nowhere to turn. With the Gestapo closing in, Angelo hides Eva within the walls of a convent, where Eva discovers she is just one of many Jews being sheltered by the Catholic Church.
But Eva can't quietly hide, waiting for deliverance, while Angelo risks everything to keep her safe. With the world at war and so many in need, Angelo and Eva face trial after trial, choice after agonizing choice, until fate and fortune finally collide, leaving them with the most difficult decision of all.
Purchase here:
Amazon US | B&N Paperback | Amazon UK
Read my review
HERE
This is Love
by: Caroline Nolan
Rachel Miller had love, life and happiness...until she didn't. Uncertain of how to cope and move on without him, Rachel's life comes to halt as she mourns the loss of her fiance Ben. Then one night she discovers it doesn't have to. By way of dreams, Rachel and Ben continue to live the life they had planned together. It's unconventional, it's not even real, but it's enough for Rachel. For the first time since Ben's death, she's happy...whole. That is until she runs into someone she barely knew from years ago and suddenly real life is just as great as her dream one. Now Rachel doesn't know what to do. Will letting someone new in threaten what she has with Ben? Or will their love story threaten her new happiness? Is it crazy to chase after a ghost while being caught up by someone very real?
Purchase here:
Amazon US | B&N Paperback | Amazon UK
Read my review
HERE
Looking for more 2016 favorites?
Check out these amazing blogs for their top picks!!
The Crazy World of a Book Lover | Feeding My Addiction Book Reviews Relentless Romance |
Stacey is Sassy
Rachel Reads Ravenously | Vanilla & Spice Books
Read More Sleep Less | The Racy Lit Reader
Dirty Girl Romance | Wrapped up in Reading
I Love Book Love | Book Babes Unite
Reading Frenzy Book Blog | Foxy Blogs
Night Owl Reader