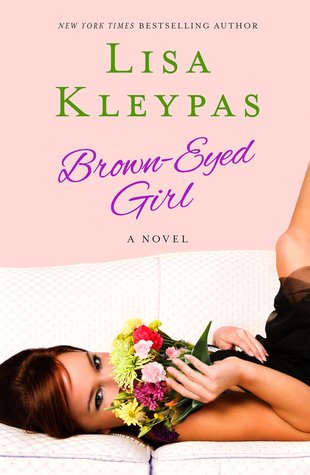 Title: Brown-Eyed Girl
Series: Travises #3
Author: Lisa Kleypas
Release Date: August 11, 2015
Rating: 4 stars
Cliffhanger: No
Wedding planner Avery Crosslin may be a rising star in Houston society, but she doesn't believe in love--at least not for herself. When she meets wealthy bachelor Joe Travis and mistakes him for a wedding photographer, she has no intention of letting him sweep her off her feet. But Joe is a man who goes after what he wants, and Avery can't resist the temptation of a sexy southern charmer and a hot summer evening.
After a one night stand, however, Avery is determined to keep it from happening again. A man like Joe can only mean trouble for a woman like her, and she can't afford distractions. She's been hired to plan the wedding of the year--a make-or-break event.
But complications start piling up fast, putting the wedding in jeopardy, especially when shocking secrets of the bride come to light. And as Joe makes it clear that he's not going to give up easily, Avery is forced to confront the insecurities and beliefs that stem from a past she would do anything to forget.
The situation reaches a breaking point, and Avery faces the toughest choice of her life. Only by putting her career on the line and risking everything--including her well-guarded heart--will she find out what matters most.
This has to be the biggest gap between books that I can remember. Six years! And I was just as excited when this landed on my Kindle as when I first heard that Brown-Eyed Girl was in the works quite a while ago.
That
is how much I adore this author. I realized that this is my Twenty-fifth book by her that I've read and she still has that indescribable magic in her writing that provides such vivid and flowing elegance. There really is no romance author out there like her. Admittedly, I took a little break from reading her after the Friday Harbor series. For some reason, I wasn't feeling that same excitement so it was really wonderful to have those old feelings click back into place here. It doesn't take the place as my favorite Travis book, but a really decent addition nonetheless.
Avery is a beautiful, voluptuous redhead who spends her days planning romantic and memorable weddings with her sister. She has her own business, she's intelligent, non-nonsense, and she doesn't believe in love. That's right. She knows the most romantic ways to propose, the best wedding locations, how to decorate a wedding reception with elegance and style. But when it comes to her own love life, she's completely uninterested in finding her soul mate.
Her father was a no-good philanderer and set the worst example for what love is.
Like the slam and fade of a destructive drug, the high never lasted long enough, and the low left you empty and craving more.
The only good thing that came from her father was finding her half-sister. As for her mother, she had a revolving door of marriages that left an even more permanent stain on her perception of romance. So when she runs into Joe Travis at a wedding, as devastatingly handsome as she finds him, she slams down her walls of defense immediately.
Ah, Joe. He was a sexy one. He didn't have Hardy's intensity, Jack's smooth charm, or Gage's brooding qualities. What he had was this innate warmth and tenderness, all wrapped around a core of strength. He knew at first glance that he wanted to pursue Avery and her dowdy, baggy clothing wasn't putting him off like she'd hoped. He saw through her armor and wasn't letting her push him away. I loved his persistence and patience with her. How he quickly saw her wounds underneath her attitude and gently coaxed her around.
After her moment of weakness the night they met, (a one-night stand) she knows that he's capable of making her feel passion like no one ever has before. And that scares the hell out of her.
I wanted him. Every part of me wanted him. We were alone, and the rest of the world was far away, and I knew somehow that if I slept with him, it would be extraordinary. To a woman who'd lived twenty-seven years of ordinary, one night with a man like this didn't seem too much to ask.
How does this man make her want things? Things that couldn't ever lead anywhere because even if she did believe in love, his family is in a whole other social stratosphere. It was impossible. So why couldn't she seem to stay away from him?
You could really feel the sensuality, the pull between these two characters. Joe was one determined man and he was willing to use any skill in his arsenal to get Avery to relinquish her fears.
After being jilted at the alter by her ex, she wasn't willing to trust easily and change was something foreign to her. So he had a quite a big challenge on his hands. Avery has to change her whole outlook on happily ever after. On what's important in life. The value of taking risks over the safety of solitude. Although she was a pretty closed off heroine, I never disliked her. She was tough when the situation warranted, but her vulnerabilities exposed her softer side and made her relatable. And together, she and Joe made one mesmerizing couple.
Can we talk about this author's skill with the written word for a second? I swear, the way Lisa Kleypas writes is so breathtaking at times she could make the littlest action sound like poetry. It's so graceful and flowing, it never fails to sweep me away.
In the privacy of my imagination, I had relived his kisses, I had tasted them in my dreams. But nothing was close to the reality of him, the heat and soft, searching pressure, the intense sensuality of the way he brought up the desire slowly.
My only reason for not rating it a bit higher was the fact that it lacked a certain amount of angst and intensity between the two main characters that I've experienced in the past. It just wasn't quite on that same extra-special level as some others I've read. But I enjoyed Avery and Joe's book very much. Avery's road to self-discovery, Joe's steadfast patience and sexy persistence. And the humor was really well done, it added a nice layer of lightness to the overall feel of the book.
If you're like me, and follow this author religiously, you'll be happy to know that there are definite possibilities for future connected books. Her sister had quite an interesting side story a love/hate attraction that I would love to see fleshed out in it's own full book. There was also another secondary character with huge potential, so I'm keeping my fingers crossed on that front. If you're a fan of this series, I would definitely recommend giving Brown-Eyed Girl a shot.
**Pssst...Past characters of the series DO make an appearance. If you're hoping to see some past beloved characters you won't be disappointed.**
FOLLOW SMOKIN HOT BOOK BLOG ON:


<
View all my reviews