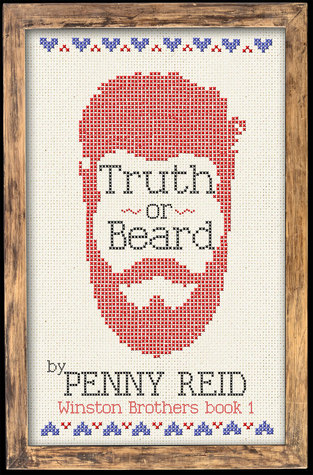 Title: Truth or Beard
Series: Winston Brothers #1
Author: Penny Reid
Release Date: 21 July, 2015
Rating: 4 stars
Beards, brothers, and bikers! Oh my!
Identical twins Beau and Duane Winston might share the same devastatingly handsome face, but where Beau is outgoing and sociable, Duane is broody and reserved. This is why Jessica James, recent college graduate and perpetual level headed good girl, has been in naïve and unhealthy infatuation with Beau Winston for most of her life. His friendly smiles make her tongue-tied and weak-kneed, and she's never been able to move beyond her childhood crush. Whereas Duane and Jessica have always been adversaries. She can't stand him, and she's pretty sure he can't stand the sight of her…
But after a case of mistaken identity, Jessica finds herself in a massive confusion kerfuffle. Jessica James has spent her whole life paralyzed by the fantasy of Beau and her assumptions of Duane's disdain; therefore she's unprepared for the reality that is Duane's insatiable interest, as well as his hot hands and hot mouth and hotter looks. Not helping Jessica's muddled mind and good girl sensibilities, Duane seems to have gotten himself in trouble with the local biker gang, the Iron Order.
Certainly, Beau's magic spell is broken. Yet when Jessica finds herself drawn to the man who was always her adversary, now more dangerous than ever, how much of her level-headed heart is she willing to risk?
I decided to write few short sentences about how much I liked Truth or Beard.
It is just so adorable, cute and so good! I've fallen in love with this story. I really needed something to read that would just stop me from thinking about all the bad stuff and will put me in a great mood. I am delighted that Penny Reid managed to do just that! I think I have some serious crush on her… I love her sense of humor!
I had so much lighthearted fun with this one! It was very sweet, butterflies in your belly kind of romance, which I've been reading with a huge smile.
FOLLOW SMOKIN HOT BOOK BLOG ON: