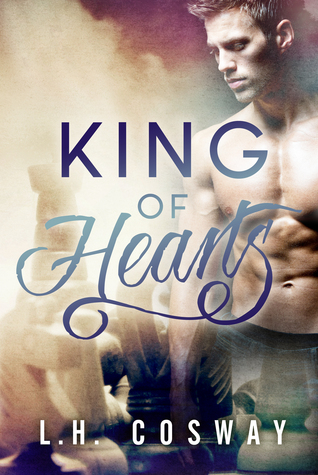 Title:King of Hearts
Series: Hearts #3
Author: L.H. Cosway
Release Date: July 24, 2015
Rating:5 stars
Cliffhanger: no
I used to rule the world.

There might be wolves on Wall Street, but there were crocodiles in Canary Wharf. Some of us craved money. Some of us craved power.

I liked money, and power had its advantages, but what I really wanted was to excel, to surpass the men who came before me. I never cared much for love and romance until I met Alexis.

I could feel it the very moment she walked into the interview, with her outspoken charm and vivacious personality. She cast all the others in shadow, made me laugh when life held no humour. Our friendship should have remained professional, but it wasn't long before the lines started to blur.

You know what they say about the best laid plans of mice and men? Well, I never foresaw where my plans would lead, and only in my darkest hour did I finally see the light…

You can have all the money and prestige in the world and still be the poorest man alive. And love, well, I hate to use a tired old cliché, but love can be the thing that truly sets you free.

L.H. Cosway's next standalone romance, King of Hearts will be released in the summer of 2015.
I had a feeling there was far more to Oliver King than met the eye.

I feel so fortunate to have been given the opportunity to read this book early. I'm not afraid to admit that L.H. Cosway is one of those authors for me that I will do some major social media stalking. Her storytelling always takes me to a place where I've never gone before and I never want to return from. It doesn't matter what the premise or characters are like, I can always trust that she will write something that will move me. And that is what sets her apart from so many other authors.

This is a second chance romance to all of those who aren't familiar with the previous books in the series. We met King in Hearts of Fire when he's in a really dark place in his life. Knowing where he will end up, I knew going in that there would be a separation, but if you haven't read HOF, be prepared for the story to be broken up into a "before and "after".

I had a feeling King would steal my heart, but I had no idea how much Alexis would win me over as well. She is now one of my favorite heroines, probably tied with Freda from Painted Faces. If you've read it, you're probably doubting me right now, but trust me, she is going to convince you. I love strong heroines. No, I need them. And this lady right here has every female character trait I love and more.




She's had to struggle and fight for good things to come into her life, but she never lets anyone make her believe she is less. She's confident and values herself and that is something that never falters throughout the book. Not only is this heroine have lady balls of steel, she's witty with a killer sense of humor. And her blunt honesty perfectly matches King's, it's one of the things that made them incredible together.




They were like a male/female version of each other and I couldn't get enough of their banter and flirting in the "before". It was insanely good!

..."If Mr. Hirota is willing to do business in a place like this, then I worry how he might behave with a woman who looks like you."
I chuckled and deadpanned, "Tell me about it. Wherever I go, I'm constantly terrorized by men getting spontaneous erections around me. It's such a chore being a sex bomb."

All the teasing and covert longing between them made for some top notch sexual tension. This is one of the many things that this author does so well. After she realizes that she is in major lust with her new boss Oliver King, bigshot investment banker, she tells him one little white lie to keep her hormones in line. And that works-for a while. But as they develop a warm friendship and attachment to one another it becomes increasingly harder to hold back all of her true feelings.

Once King and Alexis get past their initial standoff, first off they burn up the sheets together, (and a few other surfaces). It is scorching, people. I'm not even going to try to explain how much chemistry these two characters have. Anything I say wouldn't be enough. But I'll leave this little bit right here for you:

He climbed up the bed until his hands were braced on either side of my head.
He sucked in a deep breath, his eyes traveling back and forth between mine as he swiped his thumb across my bottom lip. His voice was husky as he spoke. "The way you come is fucking devastating."
The way he spoke was fucking devastating.




As hot as this part of their relationship was, what really convinced me of their love was how much they had in common, and the time they spent getting to know one another during their friend phase. It really makes you believe in their compatibility and the flawlessness of them as a couple. Waiting for disaster to strike and come between them was a shadow hanging over my head and I knew that it was not going to be easy to read.




One of the things that sets this book apart is the way L.H. Cosway presents us with her tortured hero. Who doesn't love reading about that hero that's living in darkness only to be led into the light by the heroine? What you don't usually see is each side of that character's downfall. We see King at the top of his game, on top of the world. And we see him destroyed and broken and very, very lost. We see every facet of his life and that's what I really loved about King of Hearts. It was a beautiful story about survival-a love that endures through tragedy and a man who becomes stronger through it all. I can't say enough about this story. The beautiful message it conveyed was so inspiring and touching.




There really is a special quality in each and every one of her books that enchants me, an essence that you feel so distinctly even though each story is so individual from each other. She writes about perfectly imperfect characters. Ones who will charm you and make you want to be a part of their lives, even if it's only for a short while. King of Hearts was no exception. The only thing predictable about it? How much it will make you feel. Do not miss out on this book!



FOLLOW SMOKIN HOT BOOK BLOG ON:


["br"]>["br"]>["br"]>["br"]>["br"]>["br"]>["br"]>["br"]>["br"]>["br"]>["br"]>["br"]>["br"]>["br"]>["br"]>["br"]>["br"]>["br"]>["br"]>["br"]>["br"]>["br"]>["br"]>["br"]>["br"]>["br"]>["br"]>["br"]>["br"]>["br"]>["br"]>["br"]>["br"]>["br"]>["br"]>["br"]>["br"]>["br"]>["br"]>["br"]>["br"]>["br"]>["br"]>["br"]>["br"]>["br"]>["br"]>["br"]>["br"]>["br"]>["br"]>["br"]>["br"]>["br"]>["br"]>["br"]>["br"]>["br"]>

View all my reviews