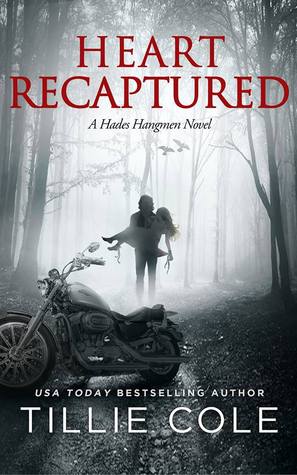 Title: Heart Recaptured
Series: Hades Hangmen #2
Author: Tillie Cole
Release Date: December 14, 2014
Rating: 5 stars
Cliffhanger:. No.
Even salvation can be delivered through the love of the damned
…
Only love can set you free.
A few long weeks after being reluctantly ripped from the comforting embrace of her sacred prophet
'
s religious commune
—
the only life she has ever known
—
a terrified Delilah is thrust into a world enveloped by evil and swimming in sin.
Steadfastly devout in her faith, and retaining the deep belief that her soul is innately tarnished as a branded
'
Cursed woman of Eve,
'
Delilah is determined to find her way home to her people in The Order and away from the corrupt and damned outlaw motorcycle club
—
The Hades Hangmen
—
who hold her at their secluded compound for her protection
—
a 'protection' she strongly resents.
Delilah yearns to return home, convinced that only amongst her own people, and under the holy guidance of the Lord
'
s revealed prophet, can her Satan-spawned soul be truly saved. Conditioned her entire life to believe she is a witch... a life-long temptress
…
the devil
'
s whore... Delilah increasingly resents her beautiful face, her shapely body and her sensuous effect on men. But when a man of the motorcycle club
—
a deeply sinful yet stunningly beautiful man
—
is charged with her care, Delilah begins to see that this dangerous and moralless sinner from the 'outside' may offer her something she did not know could truly exist: unconditional love.
Kyler
'
Ky
'
Willis loves his life: a daily abundance of brotherhood, liquor, the freedom of the open-road and
—
best of all
—
his pick of hot women. Raised a biker brat and now VP of the most notorious MC in the States, Ky has no shortage of club sluts warming his bed; a situation he takes full advantage of
…
until a certain blonde enters his life
…
a gorgeous pilgrim-blonde he can
'
t get out of his head
…
a pilgrim-blonde he and his club recently-rescued from some backward religious cult
…
and a pilgrim-blonde he
'
s been ordered to keep the hell away from and his whorish hands off.
When yet another in a lengthy line of drunken blunders forces Ky to reluctantly take charge of the pilgrim-blonde
'
s care, he realizes that there could be more to this woman than just supermodel looks and a stacked set of tits. He begins to see that she could be the woman who could do the impossible
—
tame his wild ways and capture his reluctant heart.
But the unyielding bonds of Lilah
'
s past are strong, her
'
people
'
determined and, with a new Prophet in charge and hell bent on revenge, they are mightily reluctant to let her go...
"We are all fallen in some way, Lilah."
Heart Recaptured totally blew my mind. I am still a little bit breathless even after hours that have passed since I finished this fabulous roller coaster ride. This is certainly one of the best books Tillie Cole has written so far.
It's a heart throbbing, intense MC story. It's full of love, passion and intensity. Absolutely stunning and gut-wrenching, gritty, raw and beautiful Heart Recaptured is a book like no other. And it definitely goes into my the best of 2014 list.
After reading 'It ain't me babe' few months ago, I was hooked. It was spectacular start of powerful series and I was anticipating the sequel from the moment I finished the last page of the first book. When I finally started Ky and Lilah's story I knew it would be good, but I certainly didn't expect it to be that mind blowing! I cannot put in words how much I loved Heart Recaptured. I lived and breathed this story. I felt it in every cell of my body.
Delilah was raised in strict commune. She never knew the life outside of the fence; so now that she's been freed by Hades Hangmen, it doesn't feel like that for her. She's missing the old ways. The real life seems for her like hell. Especially with all that hedonistic bikers. They fuck, they drink, and generally are demons…
Kyler is The VP of Hades Hangmen; he's crude, vulgar and loyal to the club. He was also asked to show Lilah how is the real life outside of commune.
"Every single second of my life...because it eventually led me to you...it lead me to fall so deeply in love with you, Ky...the man who recaptured this bruised and battered heart."
Heart Recaptured is painfully strong story; it's about survival and redemption. It's a brilliant romance between a broken, lost young woman and rough around the edges man. They seemed so different, but yet so perfect for each other. I am so in love with Ky and Lilah! They both made this novel shine.
"I felt safe with Ky. I knew he was my protector... And even out in this unfamiliar world, and with as little time spent with him as I had had, I instinctively knew he would protect me from danger.
But be aware! This book is real roller coaster. You will be laughing, you will certainly be turned on, and you will need tissues close to you when the time comes.
I need another book in this series right this second.
"You are my unattainable dream come true."
*Review Copy was provided to me by the author, Tillie Cole, in exchange for honest review *
Ky turned the key to the vehicle, and the machine roared beneath us. I expelled a shout of surprise and tried to find purchase on something to hold me still.
"
What is happening?
"
I shrilled, holding a handle on the door.
Humor was back in Ky
'
s face and he said,
"
One
, calm the fuck down. The truck
'
s just been switched on. And
two
, yeah, we
'
re leaving the compound. I ain
'
t cooking no damn food, and somehow, I don
'
t think you
'
ll want one of my sluts doing it.
"
"
I do not want to leave the safety of these walls,
"
I said in reply, trying my best to calm my frantic heart and ignore the comment about his
"
sluts.
"
Ignoring me, Ky pulled a lever on the side of the wheel, and the vehicle moved forward and the gates began to open.
Ky reached down, patted my knee, and said,
"
Tough shit, sweet cheeks. Lesson two, there
'
s more to life than being caged in a protective bubble. You had it at that cult; now you
'
re locking yourself away here. Gotta take life by the balls at some point and squeeze those fuckers with the skill of a whore.
"
My knee tingled from where his hand had touched my skin. Unused to these reactions, I prayed,
Lord, give me the strength to do this today. Give me the strength to resist this sinful man.
"
So? You gonna shut the fuck up and grab those balls?
"
Ky said, his eyes dancing with mischief.
I nodded and tried to appear relaxed. I could not tell him that my people would be coming back for me, Maddie, and Mae. I remained silent, ready to observe what was about to be revealed as the heavy steel gates opened, letting in the evil outside world.
As we rolled onto the road, I admired the large trees surrounding the small winding lane.
This is what it would feel like to fly,
I thought, the vehicle quickly gaining speed, the trees a flash of greens and browns to my unfocused eyes.
The world began to rush by so fast that my eyes could not fathom what they were seeing. As I absorbed God
'
s divine creation, for a moment, I forgot Ky was in the machine with me, that I was away from my people. For but a sliver of time, I forgot
…
everything.
Amazon & USA Today Best Selling Author, Tillie Cole is a Northern girl through and through. She originates from a place called Teesside on that little but awesomely sunny (okay I exaggerate) Isle called Great Britain. She was brought up surrounded by her English rose mother
—
a farmer
'
s daughter, her crazy Scottish father, a savagely sarcastic sister and a multitude of rescue animals and horses.
https://www.goodreads.com/author/show/7074846.Tillie_Cole