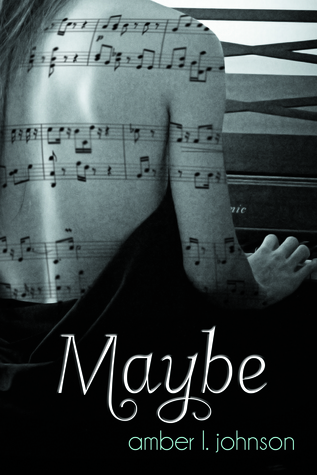 Title:Maybe
Series:No
Author:Amber L. Johnson
Release Date: February 12, 2015
Rating:4 stars
Cliffhanger: No
Letting go is hard. Admitting you need each other is harder.

Emily Portman loves her job. A writer for Breakout! Magazine, she shadows and showcases up-and-coming bands. When her next assignment takes her to Austin, Texas, she can't wait to add the city to her map of places she's visited. Places she's left without looking back. Her plan is to keep moving on, and the last thing she needs is a man holding her back. She's not going down that road again.

Tyler Macy is stuck in a rut. Despite his exceptional talent as a musician, he has chosen to take a back seat with his music and let others grab the limelight. Wounded and mistrustful, he doesn't appreciate his friends' efforts to bring him back to center stage. Emily comes onto the scene and sees his full potential, but he fights to stay in the shadows, shutting her out before she can add to the scars another woman gave him.

For Tyler to find his music again, he needs to accept the help that Emily and their friends offer. When he discovers that his muse lies underneath Emily's skin, it is still not enough to keep her from walking away. Neither will admit what they really want until it is too late.

Emily is once again thrown in Tyler's path when she is assigned to join them on tour. Despite the pain in his past, Tyler sees that she is worth it, even if she's stolen both his heart and peace of mind. In order for them to be together, they both must discover whether the music and their passion are enough to overcome the obstacles that separate them.

Maybe finding love is worth the risk.
This is my first read by Amber L. Johnson. I never did read Puddle Jumping, the novella that came out this summer that gained so much popularity. I had heard an overwhelming amount of positive reviews for her work, so when I saw this new release, I thought it would be the perfect book for me to introduce myself to this author. Musician books are one of my favorite sub-genres in romance and I've read quite a few of them. while Maybe didn't have a whole lot to offer that I haven't already read in the past, the evocative writing of the music scene and the hero in particular really won me over and impressed me. It was light on the angst and very sweet but also had some surprisingly decent steamy scenes.

When Emily, a writer for Breakout! Magazine is sent to meet Tyler's band and do a piece on him, she gets a lot more than she bargained for. Tyler was your typical brooding and smoldering eyed, talented musician who had quite the aura of mystery surrounding him. And he also lived right above her and liked to keep her awake during the night with his incessant drum playing. Let's just say she wasn't exactly charmed by him. But she's nothing if not professional and she's more than happy to do her part in bringing him into the spotlight.




She can't help but be impressed by his huge talent, but working with up and coming artists has left her a little cynical about stardom and the people surrounding musicians. She'd rather poke out her eye than become a groupie or a band member's girlfriend. To her consternation, however, this mutual attraction that they seem to have isn't fading no matter how much she tries to ignore it.

He doesn't disappoint, and this attraction, this thing I'm not supposed to feel, overcomes me. Even though it shouldn't be this, it's all I want.

Tyler and Emily have this constant sizzling sexual tension that was right there under the surface of all their interactions.

In the beginning, I had Tyler pegged as more of a beta hero. Sweet, yet troubled and a little bit damaged. And then he'd let his dirty mouth come out to play and I figured he's nicely balanced out somewhere in the middle. I loved this guy so much. He wasn't your typical cliché manwhore musician. He wasn't rude and nasty because of some overly dramatic past. He was just a good guy who got burned badly by someone and now he's just trying to move on from that hurt and find the courage to let someone else in. But with Emily only staying temporarily, it seems she would be the last person who he should trust his heart with again. What happens when she leaves and takes his song writing inspiration right along with her?




Eventually, the inevitable happens, and she has to head back on the road when her job is done. The uncertainty of how they would be reunited, and their angst in needing each other but not wanting to was so poignant. I really felt their distress and hunger for each other. Would they find a way to make the impossible possible? Would chasing happiness with Tyler mean giving up her career and carefree lifestyle on the road that she'd enjoyed for so long?

I really enjoyed this book. not only was the hero sensitive yet sexy, he was unfailingly committed to her even during their long separation. That's a huge selling point for me considering he's a rising rock star who has women throwing himself at him. And Emily was a no-nonsense heroine who was intelligent and had a lot to admire. She had morals and held strong to them despite her boss pushing her to do questionable things.

This book was about opening yourself up to new possibilities and taking a chance on love. It was one of those books that didn't annoy me at any point and I felt that both the main characters were likable. I would definitely read more from this author in the future. She has a voice in romance that I won't mind tuning into. If you're in the mood for a book that's light on the drama and angst but high on emotions, this may be the one for you.


FOLLOW SMOKIN HOT BOOK BLOG ON:





["br"]>["br"]>["br"]>["br"]>["br"]>["br"]>["br"]>["br"]>["br"]>["br"]>["br"]>["br"]>["br"]>["br"]>["br"]>["br"]>["br"]>["br"]>["br"]>["br"]>["br"]>["br"]>["br"]>["br"]>["br"]>["br"]>["br"]>["br"]>["br"]>["br"]>["br"]>["br"]>["br"]>["br"]>["br"]>["br"]>["br"]>["br"]>["br"]>["br"]>["br"]>["br"]>["br"]>["br"]>["br"]>

View all my reviews