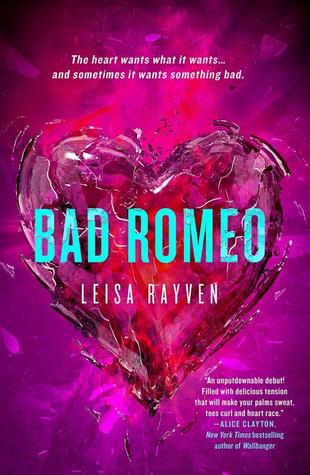 Title: Bad Romeo
Series: The Starcrossed Series #1
Author: Leisa Rayven
Release Date: December 23, 2014
Rating: 5 stars
Cliffhanger:. Yes
When Cassie Taylor met Ethan Holt at acting school, sparks flew. She was the good girl actress. He was the bad boy about campus. But one fated casting choice for Romeo and Juliet changed it all. Like the characters they were playing, Cassie and Ethan's romance seemed destined. Until he broke her heart and betrayed her trust. Now the A-list heartthrob is back in her life and turning her world around. One touch at a time. Cast as romantic leads once again, they're forced to confront raw memories of the heartbreaking lows and pulse-pounding highs of their secret college affair. But they'll also discover that people who rub each other the wrong way often make the best sparks
Compelling, breathtaking, exceptional; those are words that would describe exactly what kind of experience was reading Bad Romeo. Believe me, this story is just so good I couldn't stop reading, it's that mesmerizing. Every chapter was a beautiful heart pounding piece of sensational tale that left breathless and desperate for more. I don't remember when was the last time I felt like this while reading a book.
This story is told from Cassie Taylor's point of view, young and ambitious actress. When the book starts, she's running late for a rehearsal of a Broadway play she's staring in. What makes her very unsettled is the fact that she will work alongside Ethan Holt, her ex-lover and the man who broke her heart. She's not exactly ready to see him. She's still hung up on him, even though he's the biggest douche ever. But the heart wants what the heart wants, right? So now, Cassie is about to face the biggest challenge, she needs to stop feel things toward Ethan, work on this play and finally be happy.
Ethan Holt is dangerous for Cassie's heart. The moment they see each other is like time stopped and the sparks begin to fly. Their amazing chemistry hits Cassie all over again and now that she plans to ignore Ethan she has to quench this need for him. But it's not easy. Ethan wants to redeem himself; he wants Cassie back.
As the chapters pass, reader goes back and forth between present and past slowly learning the true about Ethan and Cassie's relationship. The story sets perfect pace, fast enough to satisfy yet slow and steady. Not everything was revealed, which made me go crazy in the best way possible.
Leisa Rayven took me on unforgettable journey full of heartache, scorching chemistry, intimacy and oh did I love it! She completely nailed this story! Her characters were so vivid and so full of life; they seemed like real people not a fictional couple. Their heartbreak, their loss, their strong need to be together, I felt it all. I ached with them, laughed with them, cried when the emotions overtook me, was pissed at them, annoyed with them and literally felt every single thing. That makes Leisa very talented author. It's not easy to write a book that is so easy for me to connect with it.
What's more this book is as intense as it's funny; so while being on emotional rollercoaster ride I was still able to laugh out loud at the hilarious situations Cassie was in. She was fantastic, strong and clever heroine and I loved her to the moon and back. Even though she made some mistakes along the way, never did I want to slap her. She was perfect!
As for Ethan… wow. I have no words. He's a little bit like your normal tortured asshole ish hero, yet at the same time he's so much more! He's mysterious, complex and hypnotic. He's perfectly imperfect and so, so intriguing! I fell In love with him.
Together Ethan and Cassie were incredible. So sexy and so arousing they made me burn! Bad Romeo has some best sex scenes I've read. Arousing, sensational and smoking they made my heart beat faster.
There is one thing more that has to be said. The book ends on a positive note, giving readers hope, yet it still is a little bit cliffhanger – ish. So be warned, Bad Romeo will shake you to the core and the ending can make you feel frustrated. You will want second part of the story immediately.
Overall, this romance is spellbinding. It will captivate every reader with its absolutely beautiful plot, intense characters and love so strong like no other. It's a story that will be forever in my heart and it certainly earned the title of one of the best books I've read this year So mark your calendars ladies! Bad Romeo is a novel that cannot be missed.
ARC kindly provided by St. Martin's Press via NetGalley in exchange for an honest review.
FOLLOW SMOKIN HOT BOOK BLOG ON: