Meet Blake & Chloe in Where the Road Takes Me
in this new coming of age novel by
Amazon UK:
http://amzn.to/1BYBqPP
Chloe has one plan for the future, and one plan only: the road. She's made a promise to herself: don't let anyone in, and don't let anyone love her. She's learned the hard way what happens if she breaks her rules. So she's focused on being invisible and waiting until she can set out on the road—her dream of freedom, at least for a little while.
Blake Hunter is a basketball star who has it all—everything about him looks perfect to those on the other side of his protective walls. He can't let anyone see the shattered pieces behind the flawless facade or else all his hopes and dreams will disappear.
One dark night throws Chloe and Blake together, changing everything for Blake. For Chloe, nothing changes: she has the road, and she's focused on it. But when the so-called perfect boy starts to notice the invisible girl, they discover that sometimes with love, no one knows where the road may lead.
Chloe lifted her gaze and locked it with mine. She shook her head again and groaned, "Fine." Then she took off her shirt.
My hands had touched her bare skin, the curve of her hips, and her tiny waist, but I'd seen her body only once, when she was in a bikini, and that had been for only a minute. But that was nothing compared to seeing her like this. Up close. So close her sports bra–covered breasts were just under my nose.
I struggled to take my eyes off her chest, but I finally made it to her face. She had her hair tied up in a messy knot on top of her head, like she often did. But a few strands were stuck on her neck and on her face . . . and a little sheen of sweat covered her arms and her stomach, her chest, her breasts . . .
"Blake," she repeated, and I trailed my eyes back to hers again.
She pouted before she said, "Give me the ball?"
I shook my head and hid the ball behind my back.
She pouted again. "Please?" she whispered. Then a hint of a smile broke through.
"Are you trying to seduce me into giving you my ball?"
"Because over the years of building walls and living my life one day at a time, I'd learned to accept my fate and never hope for more than what I had. I'd never questioned the way I thought about my life. But Blake—he made me question it. He made me want to change it. To change my outlook. And to change myself. But I couldn't. And I wouldn't. Because one day, sooner rather than later, I'd be gone. And I'd leave them all behind."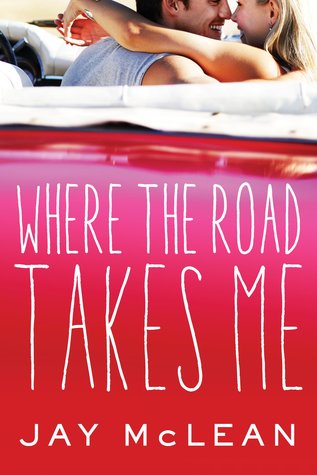 Title:Where the Road Takes Me
Series: Standalone
Author: Jay McLean
Release Date: February 10, 2014
Rating:3 stars
Cliffhanger: No
When I saw the synopsis for this, I was thoroughly intrigued by the idea of a girl who's plan to escape on the road eclipses everything and everyone around her. My first impression of what the basis of the book was going to be wasn't quite what I had thought-there's a lot more to it than a free-spirited girl who wants to escape and explore on the road. This is really a YA coming of age story at it's heart, but it deals with some very adult topics-it wasn't about a couple of silly teens bumbling through first kisses and crushes. Although there was a serious tone to a good portion of it, there was also some very sweet, adorable moments between the MCs that I enjoyed. It also wasn't heavy on the sexual content as it was YA, but what was there was enough to get the blood pumping.


I did, however, have two main issues with the book: one, the hero's immediate emotional connection to the heroine which I completely wasn't understanding or feeling. And two, the heroine never really won me over-she just simply wasn't one of my favorites. I'll get to that in a bit.

Chloe is a high school senior who has lost her family and now lives in foster care. She's spent all of her high school years determined to be the girl who blends into the background. She doesn't want to form emotional attachments to anyone because her only goal after graduation is to hit the road and experience and appreciate life to it's fullest. Blake is one of the popular crowd and the school basketball star but no one knows how unhappy he truly is. His father is ex-military and cold, and his mother is a neglectful alcoholic.

Numbness.
A constant state of numbness was my euphoria.
You couldn't tell. No one could.

The book starts out with Chloe and Blake's first meeting. Here lies issue number one. I could very easily be in the minority here, but my personal feelings were that as soon as he sets eyes on her, he starts to grow this weird emotional attachment to her. Yeah, they had a couple of laughs and an intense moment, but he's frantic to spend more time with her, he's stumbling over his words, and unable to stop thinking about her. And I'm sorry, but I couldn't dig out a reason why from their encounter. He comes up with things like:

Every goddamn time she said my name, it was like a freight train running through my mind.

It felt like someone had taken away the gray dullness behind my eyes and splashed color into them. Like I was seeing things in a different light, from a different life.

This is all within the first couple of hours that he knew her. It wasn't insta-love, it was more insta-intensity, and I couldn't find anything to back that up. This set the book off kilter, and it wasn't until they spent a lot more time getting to know one another that I was able to acknowledge their feelings.

Chloe unknowingly gets a job where Blake works and he makes it his mission to get to know as much as she will allow him. She tries to stay emotionally removed from him, but he forces through her barriers like a bulldozer. They have just a short few months to spend together until graduation. He knows she plans to take off after school, but he's willing to take whatever he can get from her. Chloe's determination to seek the road is actually a symbol of her running from an uncertain future. It was her way of sticking her head in the sand and not dealing with her fears. The problem was, she wasn't seeing that she was giving up the most important things in life by doing that-the people who loved her.


I kept reminding myself that this is Young Adult and not to expect mature, rational decisions the majority of the time. It's about the heroine's growth and learning to have the courage to face her future. Yet her behavior and decision making process was frustrating me to no end. There were a couple times where she treated Blake very badly and her tragic past and uncertain future wasn't enough to gain my sympathy or acceptance. Blake, however was almost too perfect to be true. He was the epitome of patient and understanding and attentive. I really ended up adoring him and how he put her needs above his own.

"You look nice."
"You already said that."
"I did?"
She nodded. "Maybe you deserve to be told more than once.

The last 25% of the book was fast paced, and left me biting my nails until the resolution. It was a touching tale about loss, courage, and love during the most unexpected time. Jay McLean undoubtedly has the writing chops to back up a book that will pull at your heartstrings. Her books take you on lots of highs and lows and feeling a wide array of emotions. I wasn't sold on every aspect of this story, but overall, I enjoyed the message and the touching moments between this young couple. It's not your everyday, average story either so anyone looking for a fresh spin on young love that beats the odds may want to check this one out.
FOLLOW SMOKIN HOT BOOK BLOG ON:


View all my reviews
Jay McLean is the author of the More Series, including More Than This, More Than Her, More Than Him and More Than Forever. She also has two standalones coming soon titled Where The Road Takes Me, and Combative.
Jay is an avid reader, writer, and most of all, procrastinator. When she's not doing any of those things, she can be found running after her two little boys, or devouring some tacky reality TV show.
She writes what she loves to read, which are books that can make her laugh, make her smile, make her hurt, and make her feel.