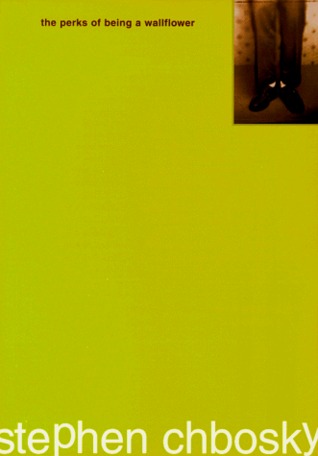 Title:The Perks of Being a Wallflower
Series: Standalone
Author:Stephen Chbosky
Release Date: February, 1999
Rating: 5 stars
Cliffhanger: No
And while he's not the biggest geek in the school, he is by no means popular. Shy, introspective, intelligent beyond his years yet socially awkward, he is a wallflower, caught between trying to live his life and trying to run from it.

Charlie is attempting to navigate his way through uncharted territory: the world of first dates and mix tapes, family dramas and new friends; the world of sex, drugs, and The Rocky Horror Picture Show, when all one requires is that perfect song on that perfect drive to feel infinite. But he can't stay on the sideline forever. Standing on the fringes of life offers a unique perspective. But there comes a time to see what it looks like from the dance floor.

The Perks of Being a Wallflower is a deeply affecting coming-of-age story that will spirit you back to those wild and poignant roller-coaster days known as growing up.
I read this book almost in one sitting. (If I hadn't started so late in the day, it would have been.) I have to say it really shocked the hell out of me how much I ended up enjoying it. It's not that I've been living on Mars or just flat out ignorant of the fact that this book was hugely popular. Or even that there was a movie made of it a couple years ago. This just isn't my typical type of book and really didn't ever plan on reading it. I had this impression that it would be a sort of cheesy, high school book about a nerdy introvert that's mostly fluff but fun. But that's not what I got at all. The more I read, the more I realized that this was such a pensive and thoughtful look on those fragile teen years. When everything is bright and exhilerating, but on the opposite side of the coin, painful and uncertain. And it was so genuine feeling, at times I found myself wondering if any of this was based on the author's real life experiences.

We all have ideas of what we think we'll like based on our past reads. But lately, all these books that have so much so-called potential have been falling flat too many times. So I agreed to read this with my friend and just keep my mind open to something different. And clearly, based on my rating, I'm glad I did. I didn't analyze it as I read it, or even pick out quotes. I just experienced it. And you really can't read this one any other way.




This book is entirely written through Charlie's narrative in his letters to a mystery person. And that mystery person is open to interpretation of who it is he's pouring his heart out to, and I loved that. It was very personal and diary-like and allows us into his deep-set hopes, dreams, and fears. I loved how engagingly it was written, it really brought me back those school years when everything was uncertain and your future right there on the horizon.




Yes, Charlie was a shy introvert, but he was defined by much more than that. And you experience his experiences through his eyes. You feel his emotions through the mundane details as well as the more evocative details of his life. He's a deep thinker, and mature before his years, but in other ways still kind of naiive. Really, you see that this intelligent boy with a genuine heart is kind of drifting through life feeling invisible by his family and everyone at school. His best friend's suicide in middle school deeply affected him as well as his Aunt's death later on. An now he just trying to find people who will finally make him feel at home.

Enter Sam and Patrick. They're seniors and Charlie a lowly freshman. But they show him immediate acceptance and all of a sudden he's not just that lonely, quiet kid anymore.




Charlie is so sweet and charming he just takes over your heart with his thoughts on love, family, school, and his ponderings of what the future will hold. How the past has effected those he loves and how his actions at that moment will affect his own future. When he came up with the idea to give his mother a present on his own birthday to show his love and appreciation for her, it just put the biggest smile on my face. Or when he gave everyone Christmas gifts that were personal and unexpected. Most guys that age aren't so insightful but in other ways he was idealistic and unable to face certain realities. Like his love for Sam. The dreaded truth or dare kiss at the party was not his finest moment.




I came to love Sam and Patrick just as much as Charlie. Their acceptance and friendship was in a word, everything. They brought out Charlie's courage, his adventurous side, and helped him open his eyes to a lot of things.

Even though there wasn't the type of romantic thread running through it that I'm used to, or even remotely any amount of erotic moments, I wouldn't have changed the story in any way. It just illustrates how we need to step outside our self-constructed reading boxes and shake things up. I'm so happy I made the decision to read this, it's so thought provoking and something that will stand out for it's thoughts on love, friendship, and one boy's self-discovery.


FOLLOW SMOKIN HOT BOOK BLOG ON:


["br"]>["br"]>["br"]>["br"]>["br"]>["br"]>["br"]>["br"]>["br"]>["br"]>["br"]>["br"]>["br"]>["br"]>["br"]>["br"]>["br"]>["br"]>["br"]>["br"]>["br"]>["br"]>["br"]>["br"]>["br"]>["br"]>["br"]>["br"]>["br"]>["br"]>["br"]>["br"]>["br"]>["br"]>["br"]>["br"]>["br"]>["br"]>["br"]>["br"]>["br"]>["br"]>

View all my reviews