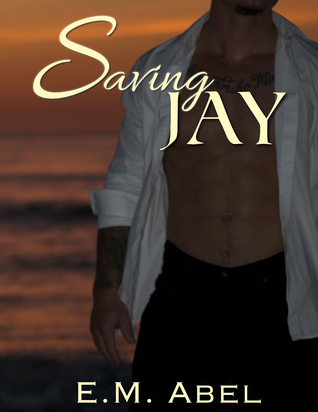 Title: Saving Jay
Series: Breaking Free #3
Author: E. M Abel
Release Date: February, 2015
Rating: 4 stars
Cliffhanger:. No
Jay
My life was a dark and desolate place. Consumed by work and full of regret, loneliness had become my closest friend. Ink and a tattoo machine were my therapy, a way to claim my own skin with the art that I loved.
The day I walked into her shop, I knew I'd found what I needed.
The light I'd been looking for.
When I first looked into those blue eyes I saw a depth behind them that I wanted to explore. Jason "Jay" Clarke was more than a perfectly pressed suit and dimpled smile. He was a man with a heart of gold drowning in the weight of his world.
He wanted me to mark him.
I never expected him to soothe my aching heart.
When our worlds collide and Jay begins to fall apart, will my love be enough to save him?
'Love was the one thing I'd always wanted most and never seemed to get right.'
This is a novel where two broken souls together become a little less broken.
I really enjoy reading E. M Abel's books. Every time I read something she wrote I was in for an endearing ride. Her books are steamy, passionate and powerful. There is no over the top drama or crazy shit going there, just pure, raw love story between two 'normal' people. Real characters with real problems and flaws. I like that I can always count on getting realistic story. It's refreshing.
Saving Jay is authentic yet it keeps readers on the edge of their seats. The characters are relatable and likeable and it's very easy to connect with either of them. The sexy times where obviously awesome and hot and the chemistry between the main characters off the charts. And even though I thought the plot was a tad bit too slow sometimes I really enjoyed it.
"You let me into your heart," he murmured as he swept the backs of his fingers along my jaw. "You took my ugly dark piece of art and turned it into a masterpiece."
FOLLOW SMOKIN HOT BOOK BLOG ON: