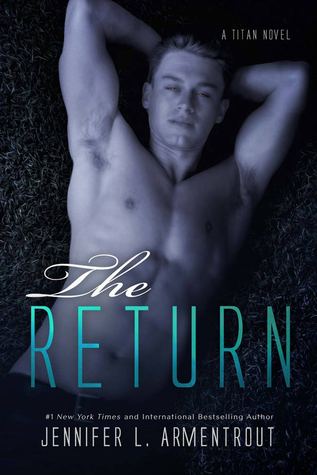 Title: The Return
Series: Titan #1
Author: Jennifer L Armentrout
Release Date: February, 2015
Rating: 4 stars
The Fates are cackling their bony asses off…
It's been a year since Seth made the deal with the gods that pledged his life to them. And so far, the jobs they've given him have been violent and bloody–which is kind of all right with him. But now Apollo has something else in mind for Seth. He's got to play protector while keeping his hands and fingers off, and for someone who really has a problem with restraint, this new assignment might be the most challenging yet.
Josie has no idea what this crazy hot guy's deal might be, but it's a good bet that his arrival means the new life she started after leaving home is about to be thrown into an Olympian-sized blender turned up to puree. Either Josie is going insane or a nightmare straight out of ancient myth is gunning for her.
But it might be the unlikely attraction simmering between her and the golden-eyed, secret-keeping Seth that may prove to be the most dangerous thing of all.
Because history has once again been flipped to repeat.
Book 1 in the new adult paranormal TITAN series, spin-off to the best selling COVENANT series
[ Not yet (hide spoiler)]
It's been a year since Seth started working for the Gods. He changed. He realized his mistakes and now he feels guilty for what happened. He finally understands how wrong he was and how much he hurt others. When Apollo sends him on a mission, he's happy to go. He's task is to protect Josie, a girl that's innocence and beauty is almost blinding. He never really thought he could feel this way toward anyone….
"Say that I'm not just the Apollyon," he whispered, his voice harsh.
Tears built in my throat. "You're not just the Apollyon, Seth."
His eyes drifted shut, his face tensed as his fingers splayed across my cheeks. "I don't even know who I am anymore. Or what I ever was."
Oh goodness, that ripped right through my chest. "You're just...you're just Seth."
A tremor moved through his arms. "And you...you're just my salvation."
I should probably start off with confessing that I've never truly liked Seth. In my eyes, he was this irritating, immature problem-causing obstacle that constantly made it hard for Alex and Aiden to be together. So, nope I definitely wasn't Team Seth nor did I expected he will get his own spin off. I really thought I could live without his story continuing, but damn, this is JLA's book we're talking about. If she wrote it, I needed to read it. Period. So Seth got a benefit of the doubt from me. I gave him a second chance and decided to relax and maybe enjoy his story. Very quickly, I found myself liking what I read. In a couple of chapters Seth started to grow on me. He stopped being annoying; on the contrary I started to find his teasing ways amusing. And I reached the end of The Return with a wide smile on my face. I liked it!
While reading The Return, I realized that Seth deserves love and devotion too. That despite his mistakes he's good guy. And I really liked him with Josie. They are perfect for one another.
My only issue was the repetitiveness; I felt like Alex and Aiden story was rewritten, just the names changed to Seth and Josie. So many scenes where like the walk done the memory lane. Seth was a bit like Aiden thinking he doesn't deserve Josie. Josie not only shared some parts of Alex's looks but also some of her personality (feisty, stubborn) and she pushed Seth. Even some of the training reminded me of Aiden and Alex. I hope that this will change in the next few books. I want Seth and Josie to be completely unique and original…
Despite that I enjoyed The Return and cannot wait for more. I feel that the suspense and action will really start in the next installments.
FOLLOW SMOKIN HOT BOOK BLOG ON: